(3x) Even a plus size gal can look sexy and be comfortable.
I almost gave this outfit a "vroom" rating because when he sees it - his motor starts running.

I love this piece. It's sexy. It's comfortable. I can choose to wear it several ways. I can wear it in the bedroom or under clothes while running errands and know that nobody at Walmart knows there's a hot'n sexy woman inside this plus size body. It's simply enough that I know!
Published:
Pros:
Comfortable material
Very stretchy
Can be worn more than one way
Cons:
garters are sewn onto garter belt (which they should be)
I apologize to my normal lingerie readers for the fact that I'm not using my normal format for this review. However, there are three pieces to review and I want to share a fair amount of photos. I hope you understand.
First of all, for those of you who've read enough of my reviews may know - this is a very
different
item for me to be reviewing - especially if I'm showing you photos. But truth be told, I fell in love with this product the first time I saw it on the site. This was another one of those products where you add it to your wish list - take it off - add it again - put it in your cart - take it back out - and keep going through a cycle until finally you break down and buy it cause you just HAVE to know how it looks. A lot of women didn't seem to care for it cause of the halter style ribbons but I thought that was a bit sexy and I figured it could be removed (it can be cut off or tucked into the bra).
This is currently available on Eden Fantasys in sizes Small, Medium, Large, 1x, 2x and 3x.
The tags state that this is 92% polyester and 8% spandex. It can be machine washed with a gentle cycle and tumble dried on low. I would use a lingerie bag when washing this.
There are three pieces here - the bra, the panties and the garter belt. The bra has a wet-look to it on the sides and under the cups. It also has underwire but the cups do not have any padding. I was surprised to find out that it is very comfortable to wear along with being quite pretty. My husband LOVED the halter look to it and now I find myself wondering if I could have tucked the straps into the bra without them showing and worn it as a halter style to really shock him. Oh well.
The bra itself has a total unstretched length of 39" along the band. However, it is very very stretchy and can easily stretch to 45". There are three sets for the closure so you have a 1" area to play with as far as when you hook it. The cups are approximately 10" wide by 8" long, not counting the lace on top.
Unstretched, the black panties are 20" wide in the waist and 25" wide (easily) when stretched. Unstretched, they are 10" long to the bottom. I wear size 10-12 underwear depending upon the brand and these are very comfy. My daughter wears size 9 and she is the one who is modeling the panties for you.
The garter belt is 20" wide at the top unstretched, and easily stretched to about 30" at the top. Not counting the lace at the top or the bottom, the longest part of the red fabric at the front is 8" and the shortest part is about 3.5". The garter straps are sewn on and can adjust to about 10" or maybe 11". I haven't played with them enough to tell.
Now for some close-ups of the items: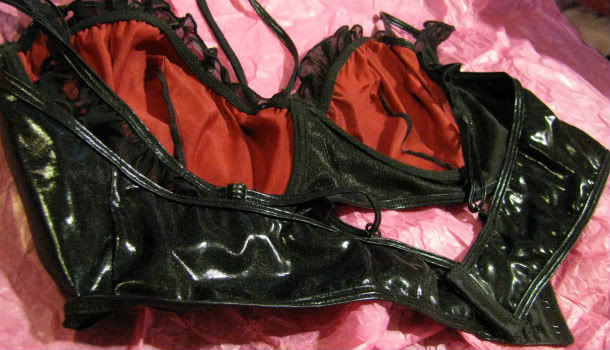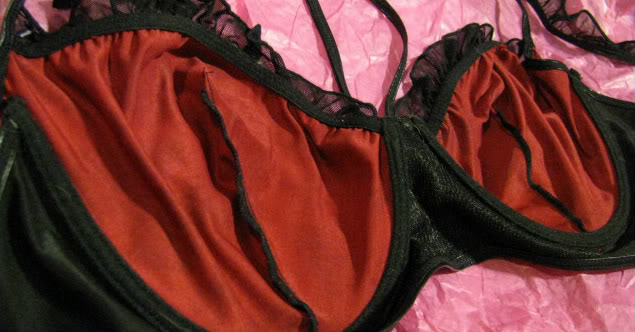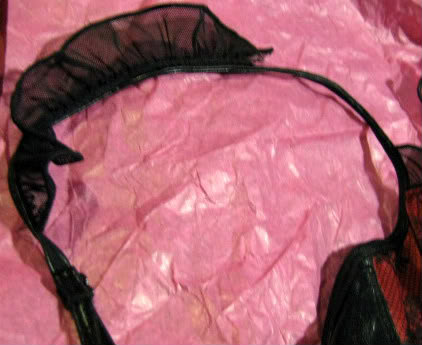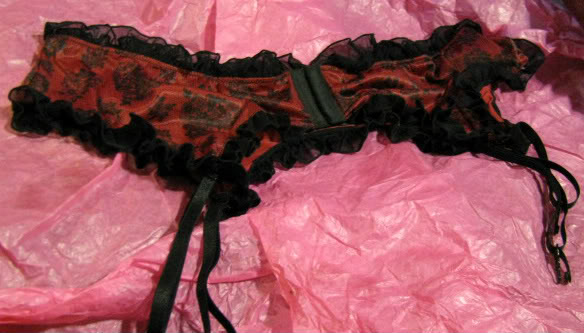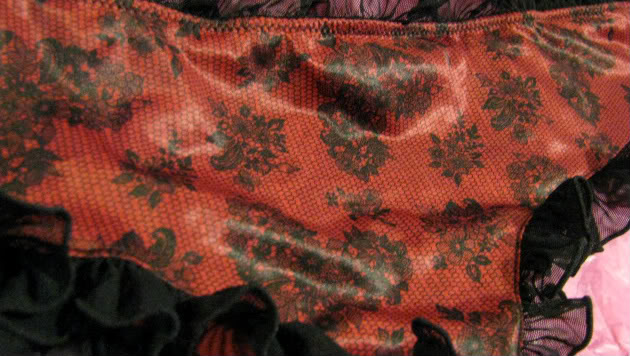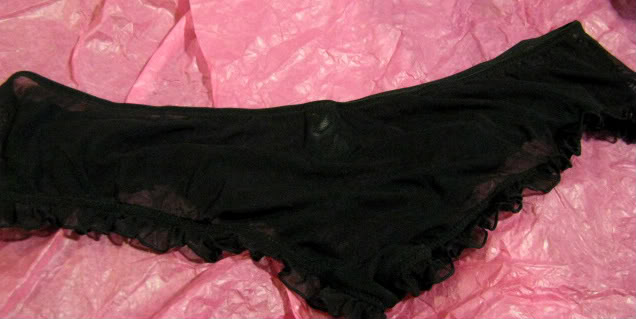 I will model the front and side for you - and a close-up. However, I'm not pleased with the way the shot of the rear turned out.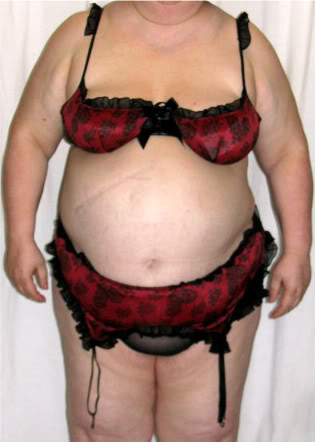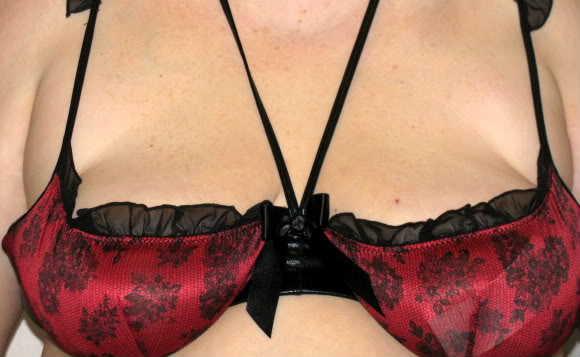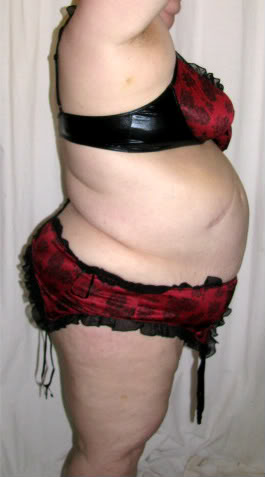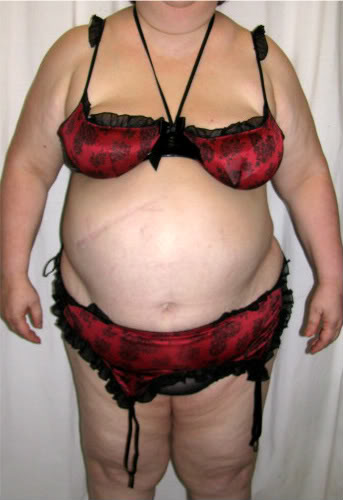 My daughter wears size 8/9 panties - here she is wearing the panties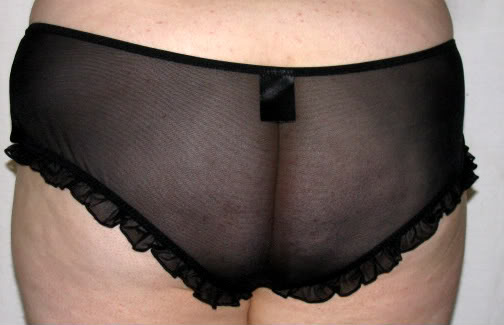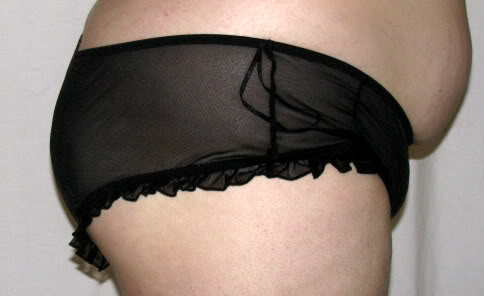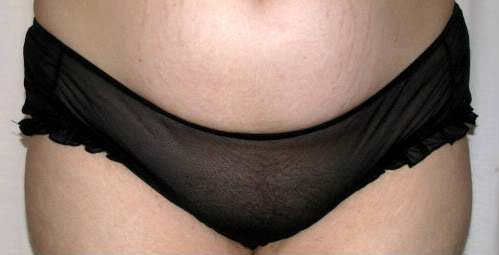 See how much the garter belt stretches on her?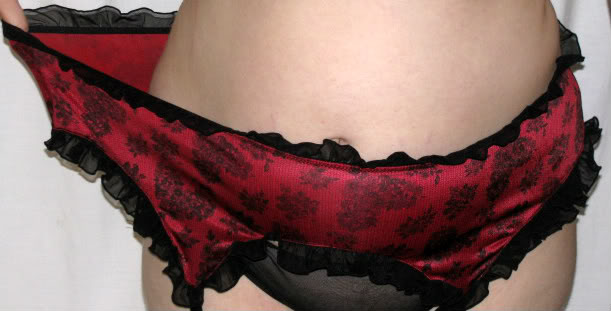 She wears a 42D and here is the bra on her: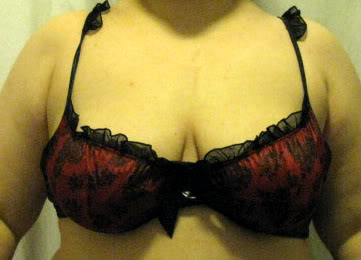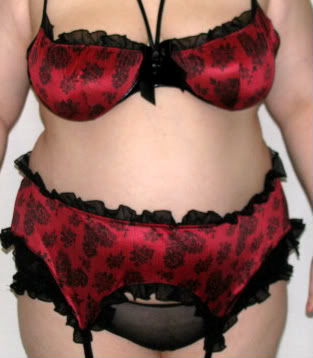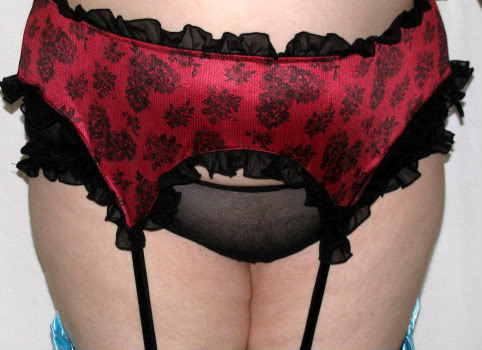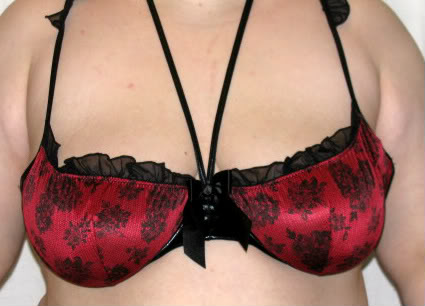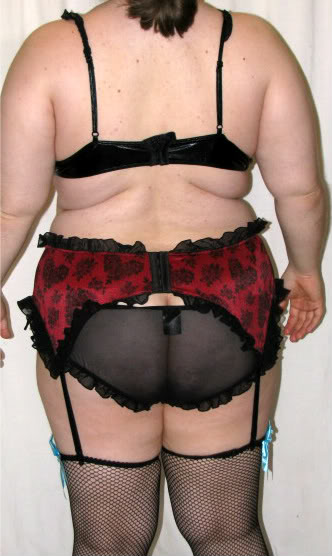 She was modeling some stockings for another review: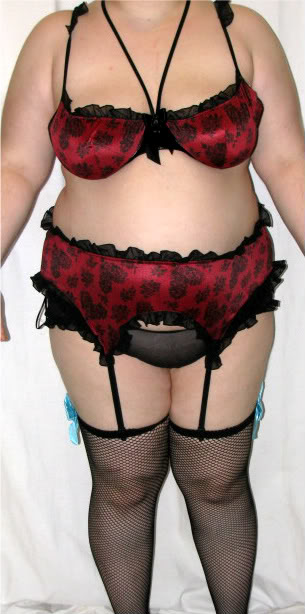 Experience
I absolutely adore this set, as does my daughter. I think she looks really good in it but it's MINE...ALL MINE! I may put this set under lock and key or something to keep it for me. Actually, I think she's happy with the stuff she's gotten recently and will leave this alone.

I think this set gave me an extra sense of confidence - that as a plus-size woman I could find a comfortable piece that had the "wet look" to it and was somewhat sexy. It makes me want to look for more "wet look" products in my size. I even liked the bra with the halter straps and think I'm going to try to wear it with the normal straps tucked in.

My husband's eyes really lit up when I wore this. I don't think I'll wear the garter belt as I don't really do stockings (although I may be about to add some to my wardrobe). However, I love, love..did I mention that I LOVE the panties? Yes - I do love them.

I give this a 5 for comfort - 5 for sexy - 5 for giving me hope of being sexy and as many more 5s as I can give it.

Personal note
Every time I consider not adding pictures to reviews - someone will contact me and share how much they appreciate my willingness to be open and share photos. You have no idea how much those notes mean to me and when you say something looks good - I seriously look at the piece and study it to see what it is that makes me look good.

I am not proud of my body at all, and I see some of the cute slim girls modeling the outfits on here and I almost drool over how good they look. Me? I was size 16 in high school - I've always been big boned. I never thought I could look sexy until I discovered this site and decided that I deserved sexy stuff for me - even if my man said it didn't affect him. (It turns out - he likes seeing me wearing pretty stuff..imagine that?)

Anyway - the reason I do this - that I "expose myself" to y'all is not because I'm proud of my body or that I want to show off pictures. It is because I believe that there are a number of beautiful women out there who are scared to feel sexy or not confident enough in their own inner beauty to explore their outer beauty also.

If that describes you - please - do yourself a favor. Find ONE sexy pieces that you love and get it for you. It doesn't even have to be from Eden. But find one piece and tell yourself that not only are you pretty inside - but pretty outside - and that you deserve to feel pretty.

You see - you need to be willing to see your own beauty before others can sometimes.

Ok - I'll shut up now.
This content is the opinion of the submitting contributor and is not endorsed by EdenFantasys.com

Thank you for viewing
Bedroom bordello bra and garter set
– bra and panty set review page!