(3x) Not Quite "An Affair to Remember"
Its really hard to give this a rating because I try to start at a 3 and go up or down from there. I'm giving it a 3 because they thought to line the cups and the G-string with alternating fabric and that is cute. But honestly, I really don't think its worth the price...at least not the full price.
Published:
Pros:
underwire support
lined cups
pretty color contrast
Cons:
G-string
is just "so-so" for looks
I was hesitant to buy this product because it is from Fantasy Lingerie and they are not one of my favorite companies. I have a few pieces from them but I find that some are flops while there are a few I have enjoyed.
After buying this, I find myself still so-so about them.
What it is … how to wear it
This is a tieback babydoll and it is designed to be worn in the bedroom. I would not wear it to sleep in because it doesn't feel that sturdy and I toss and turn a lot in my sleep.
This item is currently available at Eden Fantasys in: S,M,L,1x,2x and 3x.
Packaging
This simply came folded up and wrapped in pink tissue paper.
Material & Care
This is made of 100% polyester. The tag states that it can be machine washed in warm water with a gentle wash and then tumble dried on the low setting. Do not wring or twist this.
Design, Sizing & Fit
According to the sizing chart, my bra should be 51"-54", my waist 40.5"-43" and my hips 51.5"-54.5". I should wear clothes from sizes 22-26.
.
I am currently 275 pounds, wear 18-24 tops, wear 44D bra, with a waist of 49", hips of 57" and a torso of 18-19" long.
Based on these measurements this item should normally not fit me except for the fact that this design is open in the back and ties with a belt. Therefore, it is not form-fitting and should be ok.
Specific Measurements
center top of front to hem
22"
top of cup to hem
28"
width of front
approximately 21" under cup & 60" at hem
cup width & length
8" wide and 6" long
strap length
18" adjustable 1/2" width slip style strap
The belt is 1 1/2" wide and a total length of 92".
G-string/thong description
The Triangle shaped G-string is 7" wide at the top and 9" long. It is lined with the same beige material that the bra area is lined with plus there is a 3" wide by 4" long black crotch liner in the crotch area.
Close-up photos
Close-up of Thong: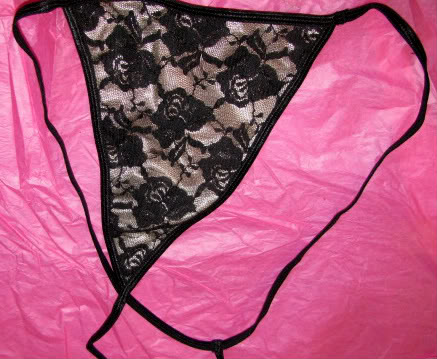 Close-up of the lace front on top of the pink tissue paper it came in: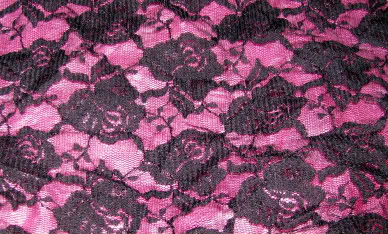 Close-up of the bra area: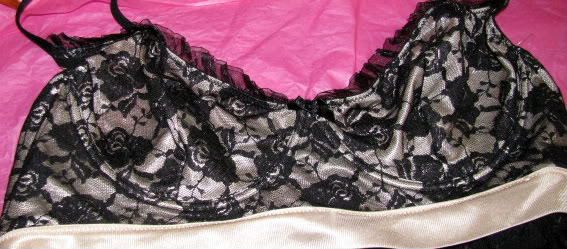 Modeling the Garment
As you may know, I do photos of the front, side, back and then a close-up to show you the breast support.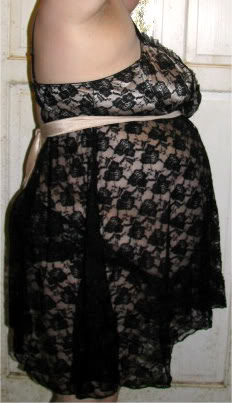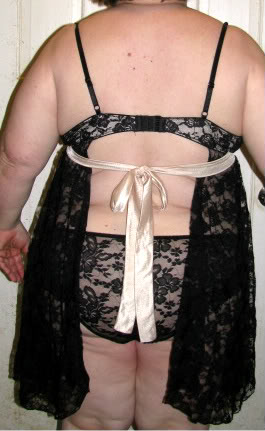 (The underwear is from Walmart - not from Eden)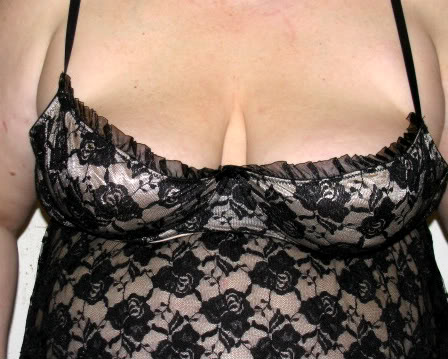 Yes, I know I'm a big crooked but I was retaining fluid!
Experience
Comfort & Final Thoughts

Ever had an outfit that others might say looked good on you but you felt like "eh...its ok".

This is that type of outfit. For comfort, from 1 to 5 with 5 being most comfortable, it is probably a 4. It isn't itchy or scratchy and I like the lining in the cups a lot. The lace isn't the type of lace I like because I prefer my lingerie to have some spandex in it, it just seems to make the lace feel softer.

To be honest with you, I wouldn't pay the full price for this if I found it locally. Its slightly higher than a Walmart quality item but its just not outstanding enough to excite me. My husband liked it on me but not as much as so many other things he's seen me in.

I wouldn't want to sleep in it because of the ribbon that ties in the back so I would pretty much wear it long enough to get his attention and then take it off to play and leave it on the foot of the bed.
This content is the opinion of the submitting contributor and is not endorsed by EdenFantasys.com
Thank you for viewing
Nude affair tieback babydoll & g-string
– babydoll and panty set review page!