(3x) She Rules The Night
DreamGirl took the concept of the "little black dress" that every woman should have and turned it into a chemise for the bedroom. Dress it up, dress it down or simply dress in it - you will enjoy how it looks and feels.

He'll enjoy it too.
Published:
Pros:
Comfortable, Feels like second skin, Great breast support
Cons:
You have to take it off sometime
I went back and forth several times with this chemise. I'd put it in my cart and take it out. I bought 6 other lingerie items for my 30% buyout and thought I would be happy. Then I went back and looked at the picture of this again and regretted I had ignored it. So I broke down and bought it with the 20% off "pleasure" sale that Eden was having.
I'm so glad I did.
WHAT THIS IS...HOW TO WEAR IT...
This is a gorgeous black chemise that is very slimming and comfortable to wear. I recommend it for "bedroom use only" because it is a longer length and would not look as good worn with pants. However, you might have more creativity than I do.
It is currently available on Eden Fantasys in S,M,L.XL,1x,3x. It is only available in black. There are several other "Midnight Mistress" products from DreamGirl and there are links to them at the bottom of the review. However, at this time, they are not available in the plus sizes.
The chemise and thong simply come wrapped up in a pink tissue paper. There is no plastic bag and no pretty padded hanger. Once you put on the chemise though, it will not matter to you how it arrived.
MATERIAL & CARE:
The tag states that this was "made in China" and must be hand washed in cold water and line dried. I think this probably could go in the washing machine on a delicate cycle with cold water if you used a lingerie bag, however, I am not 100% sure because of the underwire support it has.
The shell is made of 92" "polyamide" and 8% spandex. The trim and thong are made of 93% "polyamide" and 7% spandex.
According to
Wikipedia
, polyamides are often "used in textiles, automotives, carpet and sportswear due to their extreme durability and strength."
DESIGN:
I want to start out by saying that this garment is very very VERY comfortable. Normally when I have a lingerie item to review, I take the pictures and then run to get the measurements so I can write the review to share. I love being able to share the reviews with you.
In this case,I went into the bedroom to remove the chemise and just sat there. Then I sat there some more. My bunny came up and sat in my lap and I sat there even longer. Then I took off the chemise and started playing with it in my hands. I was looking at how stretchy it was. I examined the lace pattern a bit more. I kept touching the chemise and simply wanting to put it back on - forget about reviewing it for everyone. You don't need the measurements - right? Its enough to simply say that it felt like a second skin - right?
I finally made myself take the measurements and make my notes so I could quickly put it back on again.
To be honest with you though, I find myself without words to describe the design so I'm going to focus on the measurements and share a couple of close up pictures and then let the pictures of it on me show you the design.
There are 3 hook & eye closures along the back and three different settings. I had this on the smallest setting but if you used the largest setting, you can add another 1" to this (1/2" for the middle setting)
back - top to hem - 20" unstretched
front - top of center portion to hem - 21" unstretched, 23" stretched
front hem - 27" unstretched
The cup is 7" long from top to bottom
attachable garters - 8" long but stretch a bit
Optional straps - up to 20" long, 1/2" wide - the quality of straps you'd find on a slip
Underwire support - full length/width of cup
Thong - 21" wide unstretched, 11" long, 4" across, has liner in crotch where you could put a bullet
CLOSEUPS: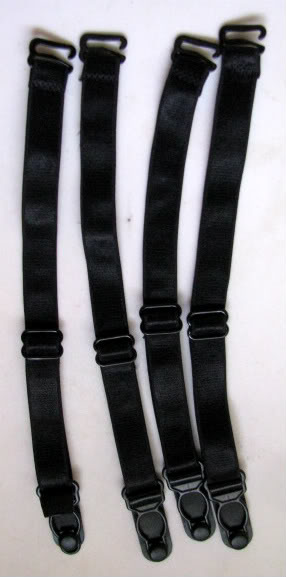 Garters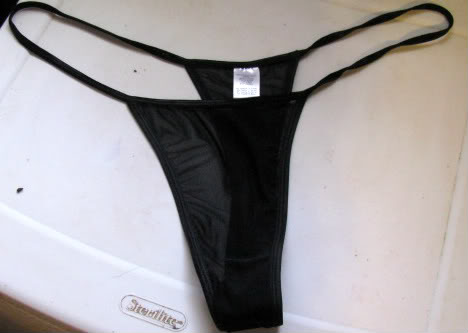 Thong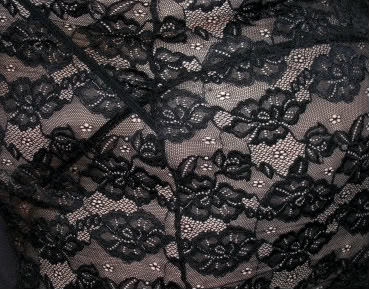 Close-up of lace pattern
SIZING
According to DreamGirl's sizing chart, for 3X I should wear sizes 18-20, have breasts 48-54DD, a waist of 40-44", hips of 50-56" and a weight of 225-275 pounds. I wear sizes 18-24 (just recently learned I was wearing tops that were too big), bra size of 44D, waist of 49" and hips of 57". Because my waist is 5" larger than the largest recommended size, this does ride up on me a bit.
I love the length of this chemise because I think that it would work well even for women with longer torsos than I have.
Experience
PICTURES:
They say pictures are worth a thousand words - so here is my mini story. Before I saw the photos, I told my husband, "I feel like a Bond Girl" and he replied, "Only you don't have some stupid name...".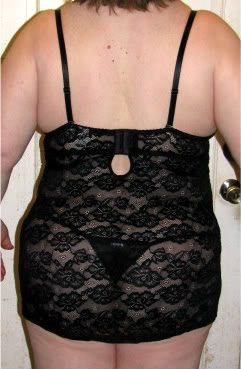 Back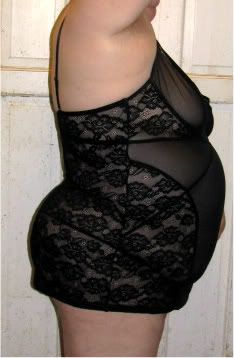 Side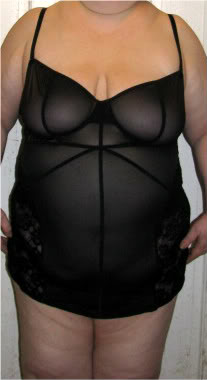 Front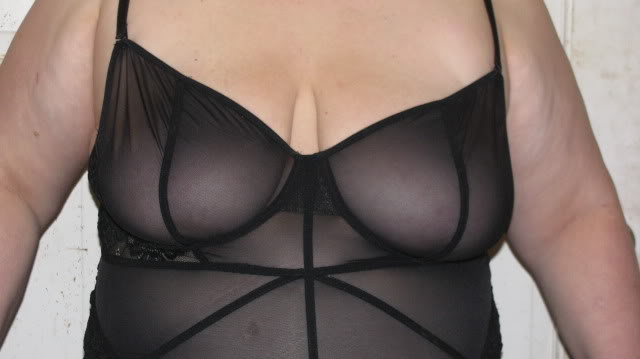 Close-up of breast support
After seeing the pictures, I realized that I have the
potential
of being a Bond Girl...at least to MY "James Bond". To be honest with you, that's all that matters to me!
This content is the opinion of the submitting contributor and is not endorsed by EdenFantasys.com

Thank you for viewing
Black midnight mistress chemise
review page!