If you can kiss the midnight mistress, never kiss the maid. (XL)
This is a beautiful, high-quality set that could've been a huge win for me- but didn't quite make it. For those who occasionally (or more than occasionally) find cups to be too narrow, this is one of those pieces. The cups will not accommodate breasts larger than a medium C. I was pleasantly surprised to find that this chemise has removable straps- and that I much prefer it without them.
Published:
Pros:
Gorgeous design, Good quality, Detachable garters/ straps, Easy to get on and off, Soft and stretchy
Cons:
Cups a bit narrow (on my wide chest), Not particularly flattering (on me), Not for large breasts
To whom it may concern: I am terribly sorry (even more so than usual) about the quality of some of the following pictures. It would seem that my camera charger has fallen off the face of the earth, and I had to use my husband's hateful camera to capture all but one of the following images. Due to an extreme oversight, it is impossible to use self-timer and multi-shot at the same time, so the usual hundred-and-something photos I have to cull through (and even then I sometimes have one or two blurry shots) was more like...thirty. *sighhhhhh*
This set came packaged neatly on a hanger inside of a plastic sheath.
Included in this set: A chemise, a matching thong, 4 removable garters, and 2 removable shoulder straps.
The chemise tag reads: Hand wash in cold water, Line dry. Shell: 92% Polyamide 8% Spandex. Trim: 93% Polyamide 7% Spandex.
The thong tag reads: Hand wash in cold water, Line dry. 93% Polyamide 7% Spandex.
The chemise, laid flat. While this is clearly a crappy picture, this is not a crappy garment. It is put together very well and the materials are very nice. The cups and front panel are a very soft mesh that has a fair amount of stretch to it. The rest is a beautiful non-scratchy floral lace.
I don't believe that the product page mentions that the shoulder straps of this chemise are removable, but they certainly are, and I'm glad. I actually prefer it without the straps. It makes the cups less hateful towards my body (more on that later).
Of course, the thong. The thong is well made and is probably the best fitting thrown-in-as-a-matching-whatever piece of underwear I have. One would expect, based on the bottom pic, that the transparency of this piece would be more than what it is. I can barely see my nipples through the chemise (but then, my nipples are fairly light).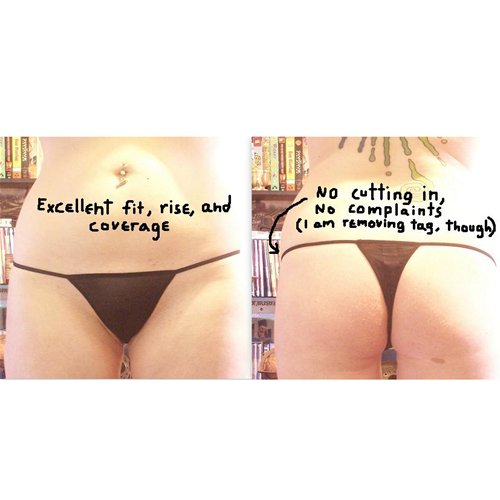 As far as "comes with matching thong" goes, this is about as good as it gets. I am keeping these as a legitimate pair of underwear.
In case anyone gives a hoot, I reckon these would fit hips from about 40 to 45 inches comfortably, and up to 48 inches still-comfortably-but-a-little-less-so.
SIZING INFORMATION
Eden's
DreamGirl Size Chart
doesn't include XL, but the DreamGirl website says that an XL should fit:
Size 14-16
Cup D/E
Bust 38-40
Waist 31-33
Hips 40-42
Weight 160-180 lbs
Me:
Size 16
Cup C
Bust 42
Waist 32
Hips 42
Weight 180 lbs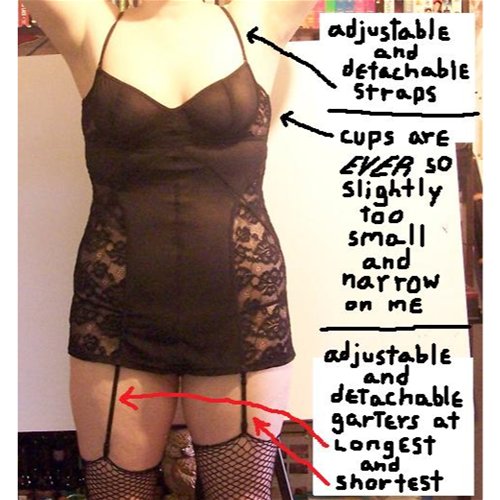 Here we go. I'm a little less than crazy about this pic. A breakdown of the fit on me, starting from the top:
The straps are comfortable. As long as someone wearing this has breasts small enough to actually fit the cups, there should be no issues with the straps digging into the shoulders.
The cups are just a tad too small and narrow for me. Though, where narrowness is concerned, I do have a very large and wide frame. If someone's never had an issue with cups being too narrow, it shouldn't be an issue here. The cups are rather small, and probably won't fit anything over a medium C (and CERTAINLY not D's or E's like the size chart says). The cups do provide some support, but obviously are not padded or push-up or anything.
The waist is about one inch too loose for me, so it detracts some from my natural waist. The material of this garment doesn't really "fall" very well, so if it isn't filled out, it will only add visual bulk to the torso. I believe a 33" or 34" waist would be the smallest to fit the XL while still filling it out.
As far as hips go, the lace does draw the eye to the sides and down. This piece will emphasize love handles and hips, and perhaps not in the most flattering of ways.
The detachable garters are just fine and dandy.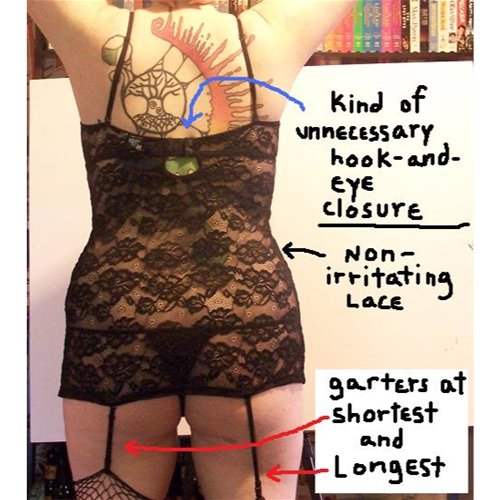 For what it's worth, I am 5'8", and this only comes halfway down my ass.
The back has a small keyhole thing going on, with a hook-and-eye closures with 3 settings of 2 eyes.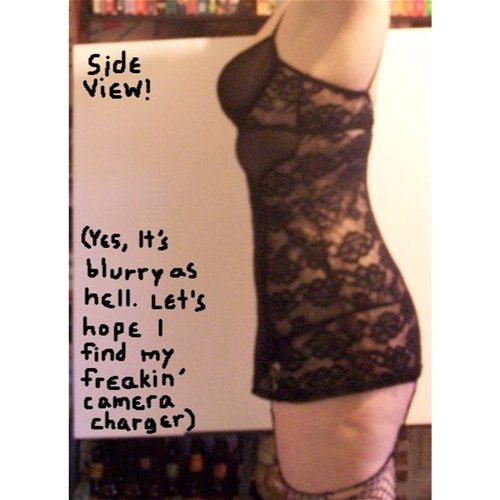 Customary side view.
Experience
(continued)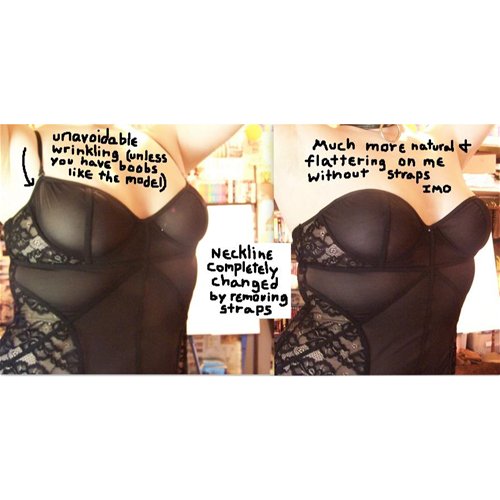 A comparison to show how much difference there is between straps and strapless where the neckline is concerned. I much, MUCH prefer strapless in the case of this piece, but be aware that removing the straps makes the breast support negligible. The straps are what provide the support.
I know it looks like my boobs fit properly in this thing, but they are not fully in the cups. They are doing that thing where the underwire is JUST short of being flush with the skin and is instead just sort of hovering over my ribcage like a child that does not want to be put back on the floor.....hopefully you know what I'm talking about. It's doing it less so in the strapless pic, though.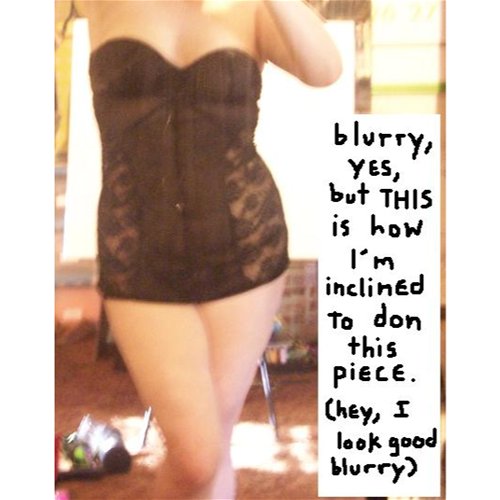 I think I can actually pull off this piece in this manner, which excites me because I really do like this and don't want to forsake it.
MORE SIZING INFORMATION
My best estimations for a redone size chart:
Cup- B- Small end of C
Bust- 38-41
Waist- 33-40
Hips- 40-48
Thanks for reading and feel free to ask questions :)
This content is the opinion of the submitting contributor and is not endorsed by EdenFantasys.com

Thank you for viewing
Black midnight mistress chemise
review page!