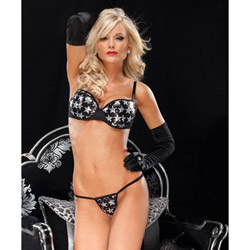 Star sequin bra and g-string
Bra and panty set
by Coquette
A big disappointment
All-in-all I can't say that the price tag of this set really warrants worth buying because of the fail on the bra. It's cute, and if you're wanting to wear something that can be ripped off right before sex, this may work for you. But for long term wear, this is a bad choice.
Published:
Pros
Pretty design
Cons
Sequins not put on well enough
Under-cup spillage
There are two main parts of this as to why I don't like it. Both are very disappointing. For one- the sequins are not well attached and are shedding and splitting. This is completely depressing for me! It is occurring worse on the bra than on the panties. Then the second part I hate is that the way the padding in the bra is set. There is a ton of padding at the bottom, about an inch of padding. There is so much padding sitting right on the underwire of the bra that you fall out! I do shows as a drag queen so I stuff my bra with little gel cups. Well by little I mean D so I guess not quite so small! But they slide out the bottom of this bra! And it is not as if I picked the improper sizing. I usually get 34 to 36D cup bras for my performances and they have never failed me!

For the sizing I picked an XL. Coquette has run small for me before so I always go up a size. This may not have been a good idea here. The chart says it will fit 14-16 dress sizes with a 42-44" bust and 34-36" waist. This is a D cup fit. I'm 36" around where the bra should sit. This bra band is not tight enough, or the padding is just so thick in the cup that something doesn't work right and the fillers I put in always slide out from under the bra. So I had my girlfriend check the fit on her, she's slightly smaller than me and her boobs fell out from under it also. We even stitched the bra tighter and darted the sides to see if maybe the band was just too loose. This was not the case. There was no overspilling on top, so the actual bust size would fit up to 44" bust just fine. The measurements are fairly accurate I believe, it may just be the padding in the bra. I really can't put my finger on it as to why the under spill keeps happening.

The design was cute, but not well made. The sequins are held on by what appears to be a super thin sewn string. It unravels and the sequins either split in half or fall off with very little wear. It started splitting the first time I wore it, and I wasn't even wearing anything over it! It can be worn under a shirt easily, the sequins aren't large enough to really show through a shirt well, though if the shirt is tight you might see that there is some sort of design on your bra. I didn't wear mine under clothes because I couldn't keep the fillers in the bra during my performance. The panties are cute, but have the same stitching problem. They fit well enough. The g-string design is basically that the strings over the hip meet in the back and are stitched there. It does not have a slide or adjustable area in the back.

While these are not an itchy fabric on the inside lining, the sequins themselves are scratchy. I can't imagine that bothering you because you're not really rubbing against them unless you wear this under something. It would be ok for long term wear if the cup spill problem was fixed. The sequins falling off could be avoided a little by making sure you don't snag them or rub against ANYTHING. I don't know if I rubbed against mine to make them split or what happened. I don't recall it, and they seem to be splitting and falling off anyway.
Experience
The color and style are true to the pictures on here. Everything about this outfit is very "what you see is what you get". My only issue is the sequins splitting, I think more string should have been sewn as opposed to one little string and some glue to hold them in. The bra is poorly designed because of the under spill but I can't really figure out why. Again, my only guess is that there's an inch of padding in this.

For girls: You can cover your parts respectively with this g-string. My girlfriend had no problem. Usually she complains that the g-strings don't have a large enough patch to effectively cover "a fat girl's bits" as she puts it. (I totally don't think she's fat, those were her words)

For transgender/transsexual/cross-dressing guys: If you tuck properly and well, then this will cover enough for you to appear feminine down below. The material patch on the g-string is actually nicely designed.
This product was provided free of charge to the reviewer. This review is in compliance with the FTC guidelines.
Thank you for viewing
Star sequin bra and g-string
– bra and panty set review page!