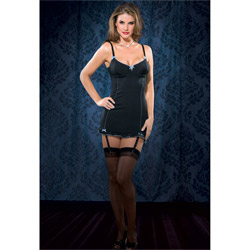 Lace up back gartered chemise
Gartered chemise by Coquette
A Chemise That Really IS What It's "Cracked" up to be!
For an average price you can get a seriously sexy chemise that really accentuates your curves while concealing your flaws. A sure way to capture the attention of any onlookers! You won't be disappointed.
Published:
Pros:
Multiple sizes, fitting, durable, adjustable.
Cons:
Zig zag stitching appears low in quality.
My relationship with Coquette, the makers of this chemise, has been a love-hate one. Some pieces of their line of lingerie have been so-so and others just weren't worth it at all. Since I am typically a believer in getting what you pay for, and past purchases from the brand were on the cheaper side, I decided to test my luck with this piece. My luck must have been in good standing because I was really impressed by the Lace Up Back Gartered Chemise.

Feeling a little anxious, I tried this one-piece on as soon as it arrived at my doorstep. I was able to simply slip the chemise over my head without having to untie the corset or unbutton the lower back, but for those who may have trouble these fasteners are there for a reason. Once on, I had to adjust the straps, which happened to be very adjustable with lengthy straps. A lot more so than my everyday bra. It was nice being able to get a near custom fit.

The spandex material is super stretchy and fitting to the body and its curves. It makes it easier for women of different sizes and shapes to fit. I chose the black, though this also comes in a pink color. As most know, black tends to conceal those flaws us women tend to obsess over even though we know it is ridiculous. Either way, we want to feel confident and this chemise is here to help!

The built in bra of this chemise is lightly padded and underwired. It provides support and even a bit of lift. The garters detach beneath the skirted hem of the chemise, making the fasteners undetectable once the garters are removed. The corset back is adjustable, but since the rounded ties that are attached to thread the lace are so stretchy, you may not even need to untie it. Below the corset there is a large circular cutout that shows off your bare back. The unexpected exposure of skin is really sexy and makes this piece so unique. Then there's that small teardrop slit that slides down just enough to reveal the crack of your rump. It is incredibly eye-catching and completely caught my fiance off guard. He suggested I continue to invest in this new "high end" lingerie I received.

The only thing that really discredits that high end appeal to me is the blue zigzag stitching that runs beneath the bust down to the hem and also halfway down the back. Some may not mind or even like this stitched look, but to me it just really took away from the chemise.

The chemise seems to be a combination of materials. The Eden description says that it is made of nylon/spandex, while the tag on the outfit says 30% nylon and 20% spandex. It also describes the chemise as 'lycra'. The tag states that this is to be hand washed only.

I am completely taken with this stunning mini. I am not particularly picky when it comes to lingerie but I am not going to talk up every piece I own either. This one is special. It deserves to be hung up in the closet and that is where I intend to keep it. I am even considering ordering this in pink! If you were hesitant about buying this, then reconsider because I am pretty sure you will be satisfied (as will your mate!).
This product was provided free of charge to the reviewer. This review is in compliance with the FTC guidelines.

Thank you for viewing
Lace up back gartered chemise
review page!