A Look To Turn Heads
The Tatiana Corset and Thong is a style that is fresh and different from all the babydolls filling your lingerie drawer. Dreamgirl nailed this piece by providing quality in the think elastic and sheer polyester to create a unique style. As long as you order the right size for your body, this will be a piece you will turn heads in!
Published:
Pros:
+ Well constructed
+ Sexy
+ Unique
Cons:
- elastic may not be flattering on some body types (especially in the thong)
First Impressions
The Tatiana corset and thong caught my eye because of how different it is. I loved that is was almost futuristic and super sexy, so of course, I had to have it! I am not at all disappointed in my choice either! If you have any familiarity with DreamGirl products you know good and well sometimes they aren't the highest of quality. However, this piece is VERY well made, I was actually impressed. No loose strings, the zipper zips well, and everything about this piece is well made. I actually feel like it will hold up well to use.
The thong is also very different! I was excited to see that it wasn't just your typical basic thong. It's got a spandex type waste that matches the criss cross spandex in the bodice of the corset. The thong is lined and the material is a polyester.
Sizing/Fit
For those of you who don't know, Dreamgirl lingerie runs a tad small (at least that has ALWAYS been my experience with them. I wear a 36C bra, but ordered the 38 because of two reasons a)I knew the elastic would squeeze me in some not so sexy places, and b) Dreamgirl runs small! This is how it fits on me.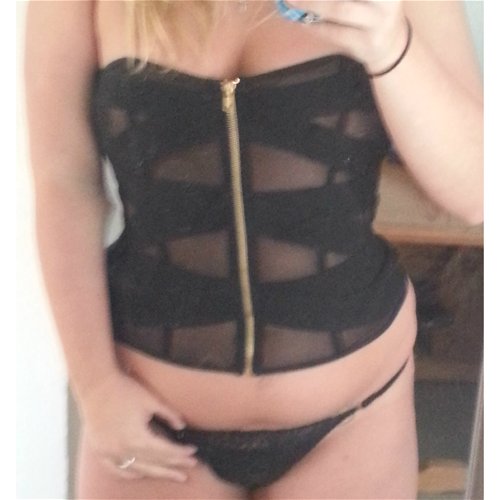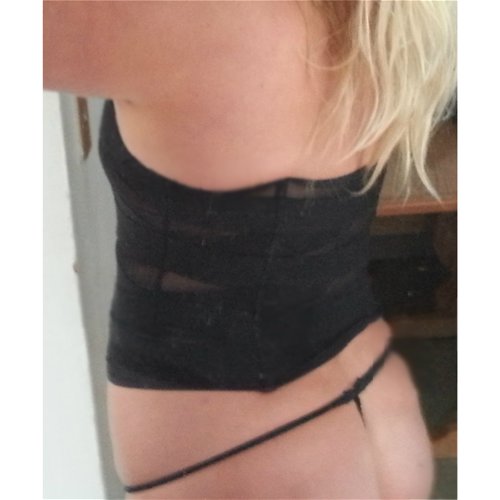 As you can see, I'm no tiny girl, and the spandex does squeeze me a little bit. You might also notice I am not wearing the included thong in these pictures. Why? Well...although it does fit me, I am not a fan of the way it fits me! The design of the thong has criss-crossing elastic which will squeeze any amount of excessive fluff on your hips.It's well made...but it didn't fit me in a way that felt sexy. However, I do quite like the corset.
At the longest point (so the zipper) it's 13" long. If you have a long torso, or are looking for something to cover you all the way down, this isn't going to do it for you. As you can see it tapers to a shorter length in the back.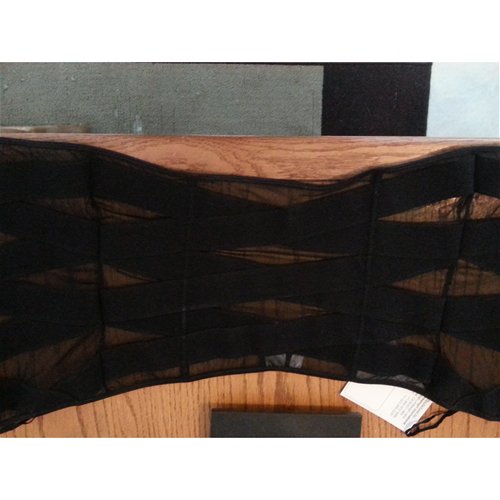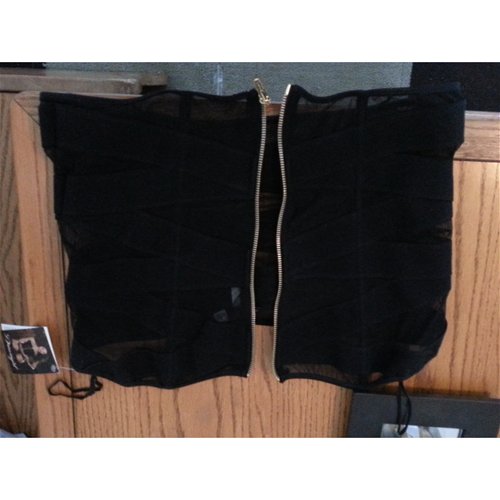 Another point of mention is that, like I said before, I am a 36C, and although this 38 fits me decently, it takes a little bit of work to squeeze myself into it and zip it up myself. It's probably about a two minute process for me to get the zipper all the way up. There is room for someone bigger than myself in the size, but the elastic bounces back to its original position faster than you can zip it which makes it take a while to put on sometimes ;)
Material, Design and Texture
I am pleased to report the zipper isn't irritating against your skin. The crisscrossing on both the thong and the corset are made of thick elastic strips which are actually very durable feeling. The remainder of the piece is made of polyester which is sheer. I did not find the piece itchy or irritating during prolonged wear.
There is no under-wire in this piece, and it is fully boned with metal boning in the "princess style." I didn't really know what that meant, so I googled it to share with you!
Google results on princess boning
:
"Princess seams are long rounded seams sewn into women's blouses or shirts to add shaping or a tailored fit to closely follow a woman's shape. They are sewn into the front and/or back of a shirt, and extend from the waist up to the arms.
The princess seam style of dress needs no waistline at all, since it does its shaping without darts, by joining edges of different curvature. The resulting "princess seams" typically runs from the shoulder (or under the arm) curving gently over the bust point and down to the lower hem. This creates a long, slimming look, often seen in dresses with an "A-line" silhouette."
Care and Maintenance
Instructions do say to hand wash only in cold and hang dry. I would suggest following these rules to avoid damage to the construction of the pieces
If you have further questions feel free to drop me a message or a comment and I will do my best to help you out. This is a well constructed piece that is really quite sexy! I would give it 5 stars for constructions and just urge you to be cautious about the tighter fit if your a bigger girl like myself =)
Follow-up commentary
3 months after original review
I am impressed with this toy's life. It hasn't lost stretch or bounce back in it's elastic and it looks just as sexy as the day I pulled it out of the package. There hasn't been any issues with the zipper yet either which I had worries about. I think the best part of this look is it's fun, futuristic feel. Still nothing negative to say about this outfit.
This product was provided free of charge to the reviewer. This review is in compliance with the FTC guidelines.

Thank you for viewing
Tatiana corset and thong
review page!