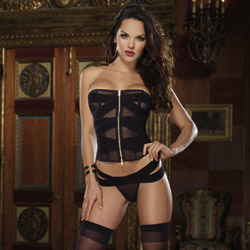 Tatiana corset and thong
Corset
by DreamGirl
Tatiana Holds Me (Too) Tight
If you're less squishy than most of us, or you don't mind elastic that digs a little, then this is a super sexy bondage-inspired look that makes smaller breasts look amazing. Order a larger size if tight elastic is a problem for you, or you'll be disappointed.
Published:
Pros:
solid construction, sexy bondage-inspired look, easy to put on
Cons:
Elastic without much give causes unsightly lumps. Order a larger size than usual.
Elastic is not terribly forgiving. Anybody who has worn a pair of panties that was a hair too small understands what I'm talking about. I'm comfortable in my skin when I'm naked, but stick me in a pair of panties with elastic that is too tight, and it totally kills the sexy.

You might see where I am going with this. This corset is made of thick bands of elastic, with a fine mesh in between them. On a model with a supporting team of photo editors, this garment looks amazing and the overall silhouette is smooth. On a regular human body, however, elastic can constrict and cause some unsightly bulges on either side. I'm on the small side of normal in the US, but this corset gave me all sorts of crazy insecurities. If you look at the closeup manufacturer pictures of the thong, you can even see the model's skin bulging a bit. So, this is my lesson to you: buy this corset in your true size or larger, if you want to avoid the "too tight elastic" effect.

CONSTRUCTION:
The elastic is very tough and industrial. Even the mesh appears to be solidly attached. If I had to guess which part would fall apart first, it would be the very bottom of the front of the garment, where the boning meets the bottom seam. There are no formed cups or underwire for the breasts. I assume that the "my breasts are so voluptuous that they cannot be contained by this lingerie!" effect is meant to compensate for the lumpy silhouette many of us will experience. The mesh is transparent enough to allow the nipple to show through, but the black color means that you have to be looking for it. Of course, your nipple may end up behind one of the elastic bands, depending on how high you prefer to wear the garment.
THE ZIPPER:
The picture seems to indicate that the zipper has two pulls that hang out at the top and the bottom of the zipper when it is fully closed. The zipper is normal, with only one pull. It is gold in color and very, very sturdy. It doesn't creep down at all while being worn. It is very easy to put on quickly, without assistance, which will be great for a lot of people who find corsets too time consuming. The zipper doesn't like to sit flat against my body, especially when I am sitting down instead of standing up straight. It curves out when it joins two mesh panels and comes in when it joins elastic. Most corsets force you to sit up straight with their boning and stiff materials. This corset allows you to bend at the waist and slouch, but the results are less attractive.
EXTRAS:
This corset does not come with any sort of thigh highs, and there are no garters or loops with which to attach them. The thong was made of the same wide elastic materials, and was similarly sized. If you're squishy around the hips (and who isn't?), it may well dig into your skin. If you have full hips, err on the side of too big rather than too small. The thong is truly a thong and not a g-string, and it has a black cotton lining sewn into the crotch area. The mesh fabric is definitely transparent enough to see pubic hair through.
PACKAGING:
I received my corset and thong hanging from a black plastic hanger, with a clear plastic bag over the top. The corset has black ribbons attached in the armpits to allow for hanging it, but they can easily be removed with scissors. I wouldn't keep them tucked inside the corset, because you can see them through the mesh panels. The thong has the same ribbons at the sides, and you'll definitely want to remove those.
CLEANING:
The tags inside the corset and thong say "dry clean only" (and "made in China"). I threw the thong in the laundry, just to see what would happen, and it emerged looking just as it did when I received it. You'll want to avoid exposing it to a lot of heat, so it would be best to wash it by hand and skip the dryer. I would not be surprised if this corset survived a few runs in the delicate cycle of your washing machine, but it will be hard on the boning and I wouldn't recommend it if you want to get a lot of life out of this corset. Personally, I would spot clean the corset, or wash it by hand if necessary, rather than dry cleaning it, and throw the thong in the cold delicate cycle and then let it air dry. Who dry cleans a thong?
Experience
I really wanted to love this, but the sizing was unexpected and I found it unwearable in the size I ordered. According to a measuring tape, I ordered the correct size, but what can you do. With this "corset," one should definitely order larger than your true size. I couldn't get up the nerve to wear this in front of a partner. Beware overtight elastic!
This product was provided free of charge to the reviewer. This review is in compliance with the FTC guidelines.
Thank you for viewing
Tatiana corset and thong
review page!