A New Favorite?
I have a pretty nice collection of corsets thanks to the beauty of EdenPoints, but few that I'd really feel comfortable wearing outside of the house. This cute, classy corset from Escante is quite a bit less expensive than many other corsets on the site, but doesn't lack in quality.
Published:
Pros:
Shaped to your figure instead of just being cut straight up and down, straps are adjustable
Cons:
Hits my waist at an odd spot, may not work on every body type.
I think this might be my new favorite corset, you guys!
This corset by Escante was my first piece from that brand, so I was a little unsure of what to expect. A around $20 cheaper than the average Coquette corset, I was a bit unsure about how the quality would be, but I was pleasantly surprised!
The corset arrived in a simple plastic bag. There were two tags attached to the corset, one with the standard photo of a model in the corset, the other with simple instructions about how to put it on. I thought the latter was a nice touch, even though the info was pretty basic: As someone else mentioned in their review of an Escante corset (I can't remember who, I'm so sorry), there was a little bit of black smudged on the back of one of the tags that seems to be the result of the corset's laces fading onto the tag.
The corset's design is pretty simple, with laces up the back, 7 pieces of boning and a zipper hidden in one side for easy on and off. Unlike many other corsets I have, the boning does not run in a straight line that works against your bust, but on a diagonal. This design element plus the positioning and angle of the pinstripes help to create the look of a torso that narrows towards your waist. The boning is flexible plastic, so it is obviously not going to shape you like steel-boned corsets would, it's mostly just there for light support.
The corset is made of 97% cotton, 3% Elastane. The cotton feels a little like stretch denim, or like what a pair of nice dress pants would be made from. There is a tiny bit of stretch to it, but not much. The area near the laces in the back is made from a totally different fabric, which is solid black with a little bit of sheen to it. Both this fabric and the laces themselves feel really nice and sturdy! There are two sets of laces, which come from the top down and from the bottom up to meet in the middle, so you can adjust the fit of each half easily. LOVE that, since I need extra room for my boobs!
The construction of the corset is great. Stitching is straight and sturdy, there are no loose threads or jagged edges, and I get the feeling you could wear this for years without it breaking down. The tag says it should be hand washed separately in cold water with a mild soap, and should not be ironed. If you are curious, it's made in Mexico.
The shoulder straps are not removable, but they are adjustable. The straps are made of the same fabric as the corset for the first 8 inches or so, but then transition to the same style of strap found on bras, with lots of stretch and a little sliding buckle to adjust the length. I love that this gives the appearance of normal straps from the front, but still offers the ability to make adjustments to fit!
Currently, this is only available in sizes 32, 36 and 38. You should select a size based on your bra band (ie I'm a 38D, so I went with the 38). If you are trying to pick between two sizes, I suggest going with the smaller of the two, since the laces up the back give you plenty of room to adjust.
Experience
Here are some measurements for the size 38:
12.5" tall where it laces up the back
13.5" tall on the side where the zipper is
35.5" around the bottom hem when laced up as tight as possible
I'm 5'11", and was thrilled that this is actually an ok length on me, since so many things end up too short. The adjustable straps let you add or take away a little length, which is nice. The only awkward part about the length is that on me, it ends exactly where the waistband of my jeans is, like on the dot, so it tends to try to slip in as if I've tucked it in, which can look a little weird.
As tends to happen with corsets, this smooshes my boobs a little flat, but the way it is shaped to flatter the body instead of work against it really helps. Since there is no designated bust area, any cup size will work, you'll just have to adjust the laces to fit. Since I leave it really loose in the bust, this is super easy to breathe in, since my chest isn't constricted at all. It's not the most comfortable thing to lay down in, but I'd have no trouble wearing it to a bar or concert for a couple of hours.
My favorite thing is that this is actually something I could/would wear in public! I've bought a few corsets in the past with that in mind, but in person they just looked too much like lingerie. This one really can be worn with jeans, a skirt or pants with no one thinking "Um, is she in her lingerie?"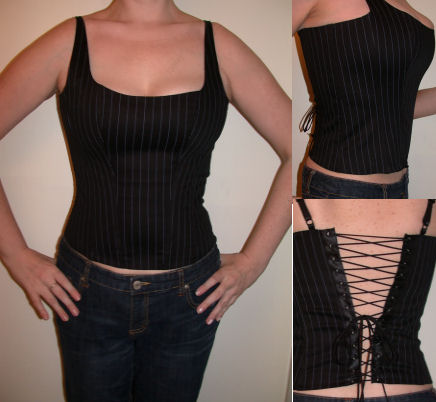 I rarely give things 5 stars, but I genuinely can't think of anything substantial that could be improved upon here. Although it isn't necessarily going to flatter everybody, no corset really can, so I'm not going to hold it to impossible standards.
This product was provided at a discounted price in exchange for an unbiased review. This review is in compliance with the FTC guidelines.

Thank you for viewing
Apprentice side-zip corset
review page!