Adorable and Super Comfortable in Size 32
This is a great little piece to add to your collection, but I suspect it might be on its way out the door at Eden (it's on sale!), so if it appeals to you in any way take a chance on it. I really love it and I dream up different ways of wearing it out and about.
Published:
Pros:
Excellent Quality, Can Accomodate a Variety of Sizes to a Point
Cons:
No XL and Up
Introduction:
Thank you,
Crystal1
for bringing this gorgeous garment to my attention with your review.
Corsets and I do not get along. We're constantly in a battle. I fuss and moan about how they do my chest no justice and they fuss and moan that I sould get something with underwire instead. Well neener-neener! I won---this time!
Material:
This corset from Tesa is made of 97% Polyester and 3% "Elastane", otherwise known as "Spandex", AKA "Lycra". So, Elastane is basically the generic for spandex which is the generic for Lycra, the "brand". The material feels very much like a high-quality pair of dress pants, as
Crystal1
pointed out in her review. This translates in my mind to durable. Outside of completely pushing this garment past its limits, I can't foresee anything happening to this garment for quite sometime. Absolutely fabulous!
The lacing is braided and resembles a thin, but sturdy shoe string. There are four pieces of lacing total that are threaded under and over for a criss-cross pattern and the ends of each set are tied together for ease of tightening. I had difficulty tightening it myself, but that's because I'm an uncoordinated disaster when it comes to stuff like this. My husband did a great job for me, however!
Quality & Design:
As you can see in the product pictures the straps are a little thicker in the front than the back. I'm kind of indifferent about that. Some women have shorter torsos than most and so this is where that comes in handy. The straps are easily adjustable, but they don't give you a lot of room to work with, in general. They only extend to 14 inches at most.
There are eight pieces of boning in total, strategically placed throughout the nine panels. Why nine? Not really sure myself, but they appear to give the corset a tapered appearance so it elongates the waist and hikes up the bust a little bit even though it doesn't have underwire.
The grommets for the lacing are brushed metal in black and I suspect that over time this will eventually turn to silver, which would compliment the pinstriping. All of the other components for the straps and lacing are done extremely well. I've pulled and tugged and pulled and tugged and nothing seems any worse for the wear at this point. I've worn this and adjusted it at least six times since I bought it.
I also think that because this has a double-set of lacing that it helps keep the corset from loosening up throughout the day, as I didn't have problems with feeling like it was coming undone and the knot stayed in place fairly well.
Care Instructions:
The tag says to hand wash this and this is one of the few times that I agree. I wouldn't want to throw this into the machines due to the plastic boning. I would be afraid it would either melt or bend and ruin a perfectly awesome corset. Hang to dry. Make sure you've got plenty of time to wait because it takes quite awhile before it's completely dry.
Sizing - Both the Manfacturer's and My Own: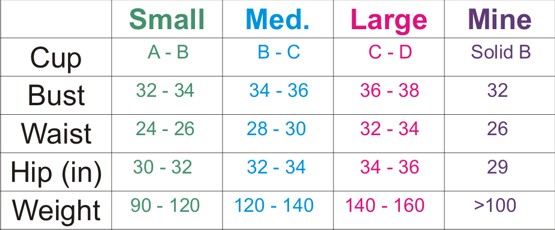 For once, I believe Escante's sizing chart is correct. Given that you can lace up the back to your liking, this garment can accomodate a variety of body shapes and sizes.
This fits me perfectly and I am able to get the look I want with it as you can see here: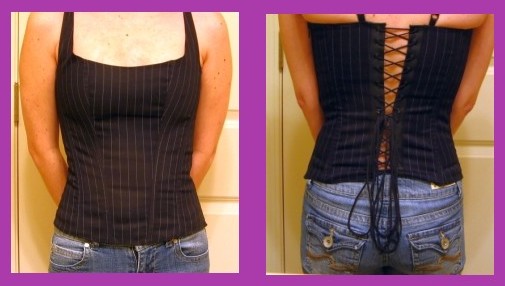 I have a small chest---a small wide-set chest. I would like to believe this is because I have the shoulders of a linebacker with the waist of a thirteen year old gymnast. My hips? Well, they're pretty much irrelevent when it comes to this specific garment in terms of fit, but it's the overall presentation at hand. When my waist is cinched, my 29 inch hips appear to be wider, but it also makes my shoulders look like I stepped out of 1988 when power suits were all the rage.
Typically, I will attempt to mask this by putting something on underneath strapless or spaghetti-strapped shirts. Because of the lack of a modesty panel on this particular corset, I settled against this specific look and decided to rock it as is.
Overall Impression:
Boy, do I feel like a million dollars when I wear this! It's so comfortable and the fabric is of fantastic quality. I can tighten this all the way closed and my breasts will finally come up front and center, but it isn't until then. That's kind of frustrating, but as I said before, I'm used to it. It's not worth not being able to breathe for just a little bit of cleavage.
This product was provided at a discounted price in exchange for an unbiased review. This review is in compliance with the FTC guidelines.

Thank you for viewing
Apprentice side-zip corset
review page!