A twist on the usual thong!
If Eden offered these in other colors besides red and black, I would be all over them! I have come to find out that these holiday thongs really get my partner in the mood when he sees me come out in these. They have an appeal to them that is far from the norm. You don't see many of these types on Eden, so if you are wanting these for your lingerie collection, I would suggest buying your size while you can find it in stock because these will probably sell out quickly.
Published:
Pros:
Flirtatious, Comfortable, Racy
Cons:
No cotton crotch liner
The holiday black thong by Coquette in size XL arrived to me in a clear packaging that was sealed on one end. This was not be useful to keep the panty in, so after I washed them, I just kept them in my lingerie drawer.
Let me start by saying that these thongs are very arousing to my partner. He kept admiring the style and the cut of the panties. He said that he had never knew that there were a pair of thongs as sexy as these. The different layers of the lines on the back just give them a seductive appeal.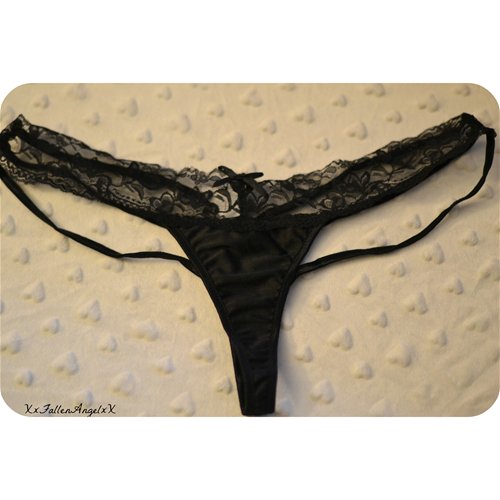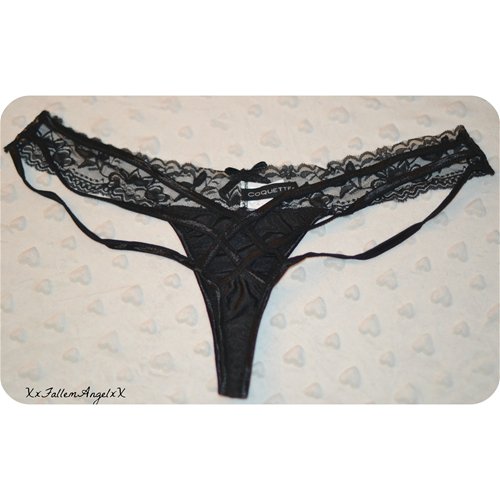 Sizing
These thongs by Coquette were purchased by me in the XL size. These actually fit me great. They do show a lot of bare skin, only because of the lines in the back. This detailing is what makes the thong so slinky and spicy.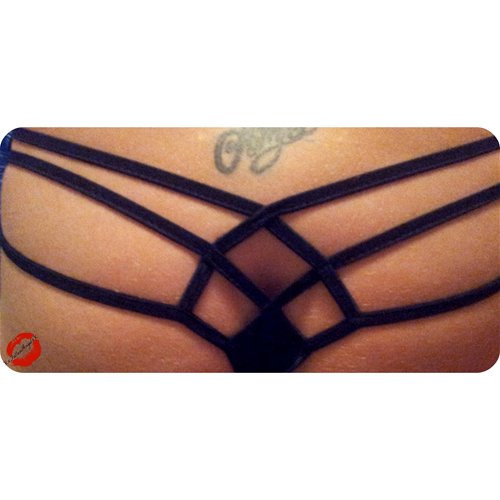 As per Coqette's sizing below, this thong is stretchy and seems to run about normal size for the OS/XL. It could possibly fit a 1X/2X if you fall on the low end of the size chart for the 1X/2X.
Cup Bust (in) Waist (in) Hip (in)
Small 4 - 6 B 34 - 36 26 - 28 36 - 38
Sm/Med 6 - 10 B 34 - 38 26 - 30 36 - 40
Medium 8 - 10 B 36 - 38 26 - 30 38 - 40
Med/Lg 10 - 12 C 36 - 40 28 - 32 38 - 42
Large 14 - 12 C 38 - 40 30 - 32 40 - 42
X Lg. 14 - 16 D 42 - 44 34 - 36 44 - 46
O/S 4 - 14 B 34 - 40 26 - 32 36 - 42
1X/2X 18 - 22 D 46 - 50 38 - 42 46 - 52
3X/4X 24 - 28 D 52 - 56 44 - 48 54 - 58
Q/OS 18 - 26 D 46 - 54 38 - 46 48 - 56
My sizes-
Breast/Bra Size- 38F
Waist- 37.5"
Hips- 42"
Height- 5'2"
Torso length from collar bone to top of pubic bone- 25"
I like the fit and they work for my body size perfectly.
My behind is shorter in the cheek area but they stick out further, rather than longer and flatter cheeks, if that makes sense. I am a shorty at 5'2" so these work great for me.
There is a small bow on the front center of the thong, this bow was sewn on by a machine and is sewn on really well.
If you want it removed, this may be a hard task because of being sewn directly onto the lace and it may cause damage to the front of the thong if you try to remove by a seam ripper.
In terms of coverage in the back of the thong, there isn't much.
Measurements
Waist measured across unstretched: 17"
Waist measured across stretched: 23"
Top front to top back unstretched: 15.5"
Top front to top back stretched: 15"
Satin Bow Size: Bow was made using 1/8" ribbon and bow is a little over 1"
Side panel(Hip) Measurements from top to bottom: 2"
Leg opening unstretched: 14"
Leg opening stretched: 19"
Length of total crotch area: 5"
Crotch Width at middle: 3/4"
Width of lace trim: A little over 2"
Length of lace across front of panty: 17"
Straps in back measure at: 10.5"
These thongs stretch both vertically and horizontally.
Material/Style
These panties are 80% Nylon and 20% Spandex. The nylon makes for a smoother appearance and the spandex makes up for the stretch that you get with these thongs.
The front of the thong was very soft and comfortable. There is a lace trim that runs along the full front of the panty and it's also comfortable and does not itch me. The crotch doesn't itch, cut in, or dig into my crotch area.
The straps in the back aren't the smoothest material but they don't bother me. They could possibly bother someone else.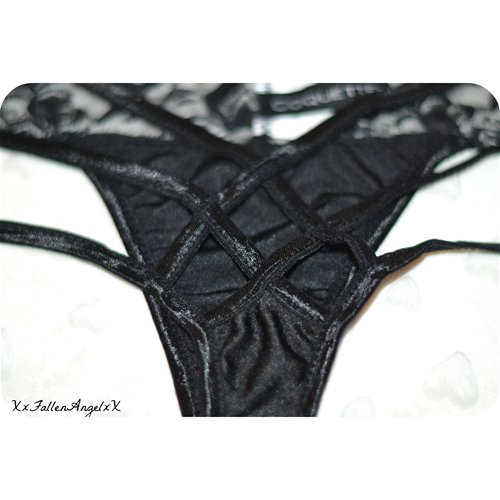 There is no cotton crotch liner in the thong. I would have liked to see one in these panties. This is the only flaw that I see.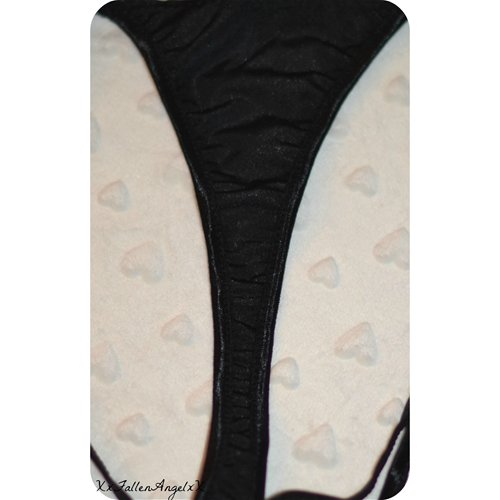 It took a second to get the straps situated perfectly when I first put them on but when I did, they looked attractive.
Care
For the care of these thongs, please hand wash and hang to dry. I know that we can sometimes get away with washing some thongs in the machine on a gentle cycle. As for these, with the straps and all, I washed by hand. I didn't want to take any chances by tearing these or ripping off a strap.
Experience
(Continued)

I washed these in Woolite, like I usually do but any lingerie or gentle wash can be used.

You can also purchase a lingerie wash from here: [https://www.edenfantasys.com/sex-toy-accessories/toy-cleaners-wipes/dona-lace-lingerie-wash]


Since these are very lightweight, you can place them on a hanger after washing and hang up on your shower rod to dry. These should dry fairly quickly.

Experience


These fit me rather well and they sit higher up on the hips on my body. These will work well for taller people because the crotch area is very lengthy as well.

These will go with many of my lingerie pieces that didn't come with panties or thongs. These are very versatile because these are a black thong with lace, not other designs or colors. You could match these with baby dolls, corsets, chemises, etc.

I wore the thongs with this [https://www.edenfantasys.com/sexy-lingerie/babydolls-and-chemises/forbidden-mischief-halter-baby-doll]




It looked really racy as a set with the baby doll. There are so many options for these thongs. You could wear them with black garters and some stay up, lace thigh highs.

I'm sitting here just coming up with all kinds of ideas on what to wear with these in the future.

There are 3 tags sewn to the front of the lace and they do show up well when being worn. I opted to cut these out when I wore them for the second time. They were really an eye sore and the thongs look and feel so much better now without the tags being on them. No more itchy tags on the front of my thong!

On the side panel, there are 3 straps that come off each of the sides, they follow around the back in a intertwined pattern that meet at the middle of the back. This gives a ton of the detail to the panty and this is my favorite part.

Since there is no crotch lining, I wouldn't suggest to wear these for a longer period of time.

There is no cotton crotch to catch the moisture and buildup of moisture on fabrics other than cotton can sometimes cause yeast infections in certain people.

These can be worn under clothing and they have nothing that bulges or sticks out.
Follow-up commentary
1 month after original review
I really love these sexy thongs! The back is so sexy, if mine ever rip, I'll definitely buy some more! These are a piece that every girl or guy should try!
This content is the opinion of the submitting contributor and is not endorsed by EdenFantasys.com
Thank you for viewing
Holiday black thong
– sexy panty review page!