Alas, Cupid Has Struck Me! (1X/2X)
I'm pulling out Cupid's arrow as I type. I fell in love with the Red midnight mistress chemise from DreamGirl.
I never thought that I'd love something with the color red in it as much as I do this lingerie. I definitely feel like a hot little sex kitten while I'm wearing this set. It fits so perfect! It doesn't have any major flaws and my breasts fit perfectly! Okay, since I got that off my chest, literally; It's time to talk about this wonderful garment. This is perfect for Valentine's Day!
Published:
Pros:
-Fit's perfect
-Will fit many sizes
-Any gender can wear this and be comfortable
-Lightweight
Cons:
-Thong was a little saggy
The Red midnight mistress chemise by DreamGirl in size 1X/2X is such a pleasure to own. I'm excited to have this set to add to my overflowing lingerie closet. It ranks highly in comparison to my other sets.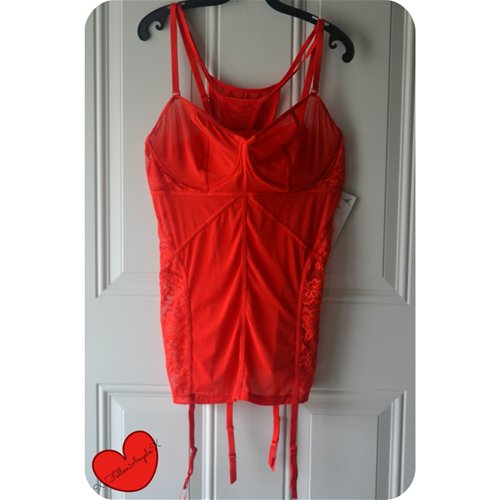 The chemise set is well made and the materials that are used in the set are lace and a sheer polyamid and spandex mix. The lace flower pattern is that of a larger flower with smaller ones around it. It's a beautiful pattern.
The set is stretchy both vertically and horizontally. The thong is made of the same materials minus the lace. The chemise has removable straps that are adjustable to a wide variety of lengths. The cups on these have a metal underwire in them but there is no padding. The cups are sheer. I've included a photo to show the sheerness and cup size.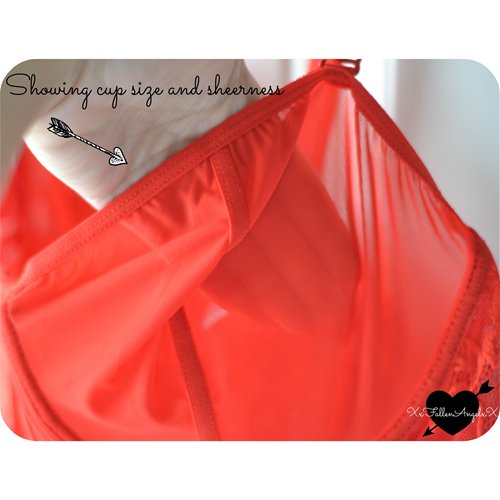 The chemise fits larger breasts well. The 1X/2X size stretches well and will accommodate breast sizes up to 38F. Much more than that would be pushing it and they would probably hang over. There is a seam sewn into the middle of the cups that follow down through the full chemise. This seam was sewn with a Serger, which is a commercial sewing machine. These are stitched well and they help contour the body. On the sides of the cups, there are lace panels that run to the back of the chemise. The main part in the front middle is sheer. There are panels sewn into the sides which are made of lace. The lace isn't the softest material before washing but it does get softer when hand washed the first time. It didn't irritate or itch me once it was washed. In the back of the chemise, there is a bra closure which consists of 3 rows of eyes and one row of hooks. Each row contains either 3 eyes or hooks.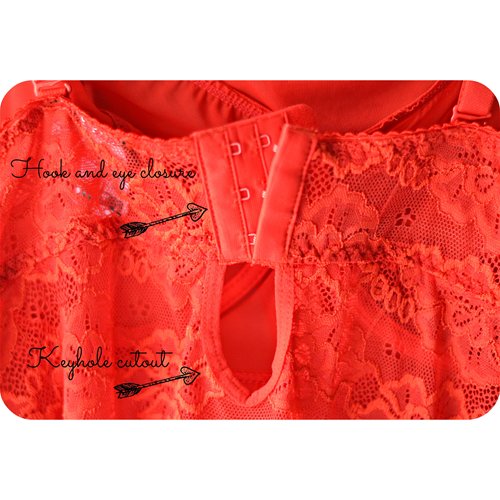 This system works well for supporting larger cup sizes without pulling up the back of the chemise from the weight of the breasts. There is a keyhole cutout under the closure. This adds a sexy touch to the back of the chemise. There are 4 garters on the chemise and they are fully adjustable and removable. The removable garters have clips that are metal. Both the garters and the elastic shoulder straps are the same smooth elastic. These feel very durable and they hold well. They are a little wider, which again, is good for supporting larger breasts without digging or cutting into shoulders. The straps are just shy of 1/2" wide.
Thong
The thong is sheer and it has a very soft elastic for the waistband. It's different than the elastic on the shoulder straps and garters. It's much softer. There is a cotton crotch lining on the thong. I'm a petite female and the thong hung down on me in the crotch area. Women or men who are over 5'3" may not encounter this issue. I've noticed this in some sets because of my shorter torso length. The thong did seem comfortable when worn. I liked that it wasn't cut very thin or narrow in the back. It didn't make me feel like I had to pull out a wedge all night. For the most part, it stayed put. It could have been because it was a little loose and long on me.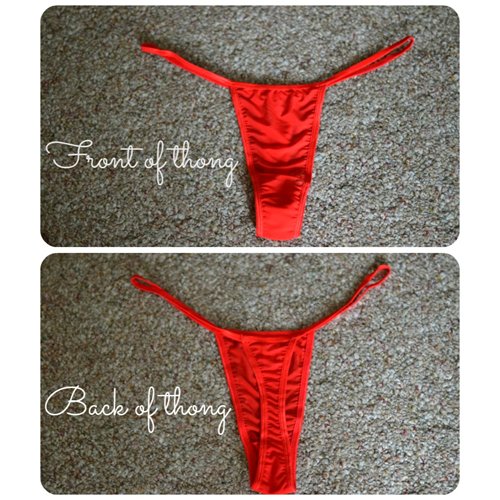 My sizes:
Breast/Bra Size- 38F
Waist- 36.5"
Hips- 42"
Height- 5'2"
Torso length from collar bone to top of pubic bone- 25"
Chemise Measurements:
Bra underwire length: 11"
Bra cup diameter: 7 1/2"
Shoulder straps longest length: 18" - unstretched
Shoulder straps longest length: 22" - stretched
Shoulder straps shortest length: 9 1/2" - unstretched
Shoulder straps shortest length: 12" stretched
Total length of chemise unstretched: 20"
Total length of chemise stretched: 24"
Waist measured across unstretched: 18"
Waist measured across stretched: 22"
Cup size will fit Large C- F best.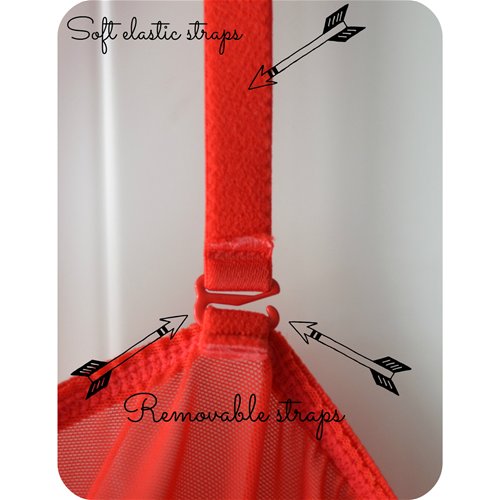 Garters
Garters at shortest length: 5 1/2"
Garters at longest: 8 3/4"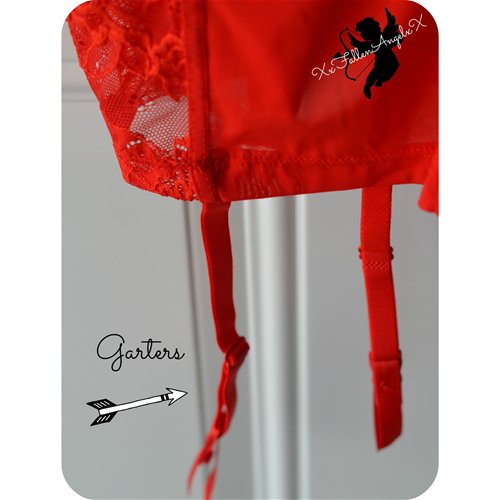 Thong Sizing
Thong back is T-shaped
Waist measured across unstretched: 18"
Waist measured across stretched: 22"
Top front to top back unstretched: 19 1/4"
Top front to top back stretched: 23"
Length of cotton crotch panel: 5"
Width of cotton crotch panel: 2" in front of panty, 1" in back of panty
Full size front: 7 X 7 X 5"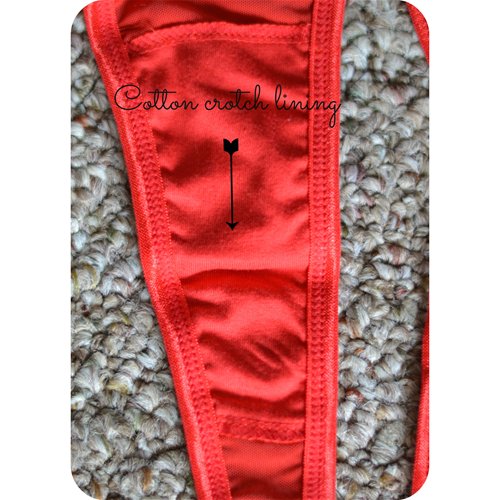 Experience
Continued-
DreamGirl Size Chart for 1X/2X
Size Cup Bust (in) Waist (in) Hip (in) Inseam (in) Weight (lb)
1X/2X 16 - 18 D - DD 40 - 48 36 - 40 42 - 48 36½ 165 - 225
You can find the full chart
here.
EdenFantasys carries this chemise set in both solid black and solid red.
They also carry the sizes:
Small
Medium
Large
XLarge
1X/2X
3X/4X
The Chemise set is made from:
93% Polymide
7% Spandex
The thong was comfy and stretchy and non irritating. It has a very small cotton crotch that is red in color. On the back of the thong, there is a tag. Although, it's not itchy and it has a silky feeling, I'm going to remove it because it's easily viewed while wearing.
On the back of the chemise, near the back closure, there are 3 tags. The bottom one is for the materials, the middle one is the brand tag and the very top tag states that the garment was made in China. That tag has 3 languages on it.
The chemise fit me well with plenty of room to spare. It was a little loose all over my body except for the cup area. I know that it's supposed to fit snug but it seemed to run a bit bigger. I didn't have a problem with this as it flowed from my body like a lightweight dress. I was able to move around in the piece without feeling constricted. The garters and shoulder straps fit perfectly for my height and will also work for someone much taller than me. This piece can be worn completely strapless but it didn't stay up on me well when I tried to wear it that way. I liked to wear it without garters to play in the bedroom. I especially love the lace on the sides and back of the chemise.
I also paired the set with my black gloves and red gloves. It looked great with both. My red lace top fishnets looked killer with the set. It was a perfect match. You can find them
here.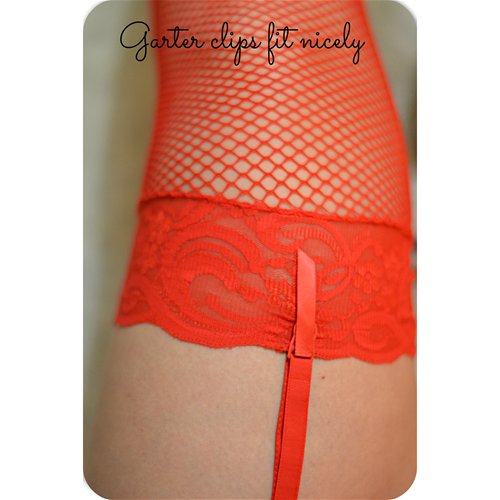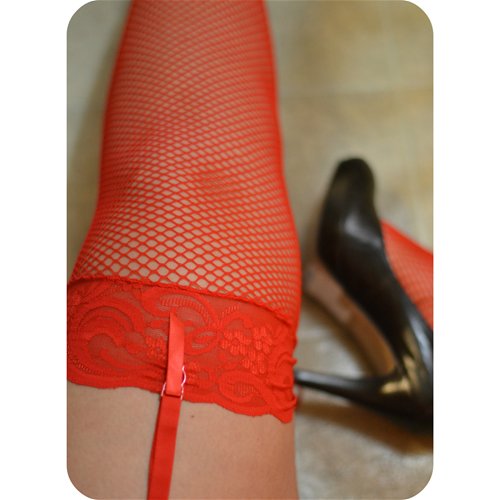 Care/Washing
The chemise set with thong can be washed in cold water, by hand. Hang to dry on a line or plastic hanger. Do not place in dryer. I used the lingerie wash
here.
You can also use any liquid detergent of your choice.
To store this set, I keep it on the plastic hanger that it arrived with. I hang it up in my lingerie closet.
Packaging
The set was packaged in a clear plastic bag that was sealed at one end. It was on a black hanger with the Dreamgirl brand on it.
Conclusion
I really love this set, it's going to be perfect for Valentine's Day! This set is very flattering and sexy.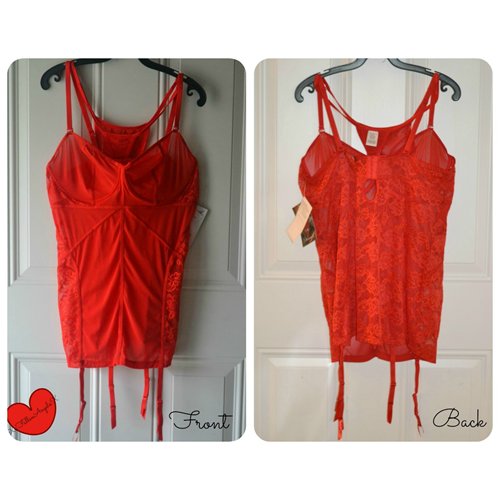 Follow-up commentary
2 months after original review
The red midnight mistress chemise is still such a hot piece in my collection! I have only worn it a few times, but it was so nice! I kept it for special occasions!
This content is the opinion of the submitting contributor and is not endorsed by EdenFantasys.com

Thank you for viewing
Red midnight mistress chemise
review page!