Lady In Red
While this wasn't my favorite piece it got my partner going, it will be pulled from the lingerie stash from time to time. If you are looking for red lingerie that is comfy I would look into this if you don't have issues with it pulling out your problem areas.
Published:
Pros:
Several Sizes Available
Removable Garters/Shoulder Straps
Underwire
Cons:
Lines that run over the front
Hand wash for those who actually hand wash
What is it & Who is it made by?
The
Red Midnight Mistress Chemise
is manufactured by
Dreamgirl
, it comes in several different sizes ranging from
small to 3X/4X
. This piece is a gartered chemise meaning it is shaped like a dress but isn't really form fitting. It has
four
garters that are removable that you can use to wear stockings with it.
Red Midnight Mistress Chemise
comes with the standard matching thong that most lingerie comes with. It too is red and made out the same
Polyamid and Spandex
material.
Sizing
I got my
Red Midnight Mistress Chemise
in size
3X/4X
. According to the
Dreamgirl
size chart the
3X/4X
should fit someone who is:

Dress Size Bra Size Bust In. Waist In. Hip In Inseam In. Rise In. Weight in Lbs
3X/4X 18 - 20 DD 48 - 54 40 - 44 50 - 56 37 9½ - 10 225 - 275
I am not comfortable giving out my exact measurements or my weight, but I do fall into the measurements for the
3X/4X
as stated by
Dreamgirl
.
Material
As mentioned above there are
two
different materials used to make this
chemise
I will describe each material below.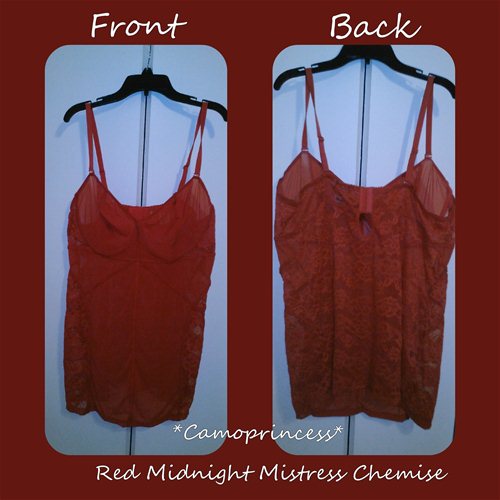 Polyamid
is described as,
polymer containing monomers of amides joined by peptide bonds.
It is said that
polyamid
is a strong material. It is a form of nylon.
Polyamid
is easy to take care of you can use a mild washing soap and hand wash it in water, for drying it is best to lay it flat to dry or hang to dry.
The second material is
Spandex
, spandex is known for its stretchiness, it is strong and can be stretched time and time again yet go back to its original form. To wash this material you would need to use tepid water with a mild soap. Hand washing is the best form of washing when it comes to this type of material. After you wash it, it is best that you hang or lay flat to dry in an airy place.
The
polyamid and spandex
are both smooth soft materials. I didn't find any parts of the material to be rough against my skin. I had no type of irritation from the material either, the material is thing and could easily be snagged on jewelry or fingernails so be careful with that. Both materials are sheer and you can see through them very well.
Style & Design
This is a
chemise
, they are mentioned as a loose fitting, straight dress but there are times where it can be fitting around the hips.
The bust area does have cups that have underwire in them to help provide you the support you may want and need. The cups on the
Red Midnight Mistress Chemise
are 7 inches long and 7 inches wide, the width across the whole bust area is 18 inches wide unstretched. There are several lines that run all throughout this outfit and two of them run right up the middle of the cups.
The cups are sheer and you can see through it, if having your nipples show you could always get pasties to cover them up. Right under the under wire forms a
floral lace pattern
, that drops back down to a plain sheer front.
More Measurements
Under but to hem measures in at 16 inches long. All throughout the dress portion there are several lines that I believe were put there to help define certain areas of your bust and stomach. For me however, they did
no
justice and just brought attention to all my
problem areas
. The area from under the bust to the hem on the front is sheer and very see through, there is really no hiding anything in this piece especially with the lines that define different areas of your body. On the sides you will find a
floral lace
pattern.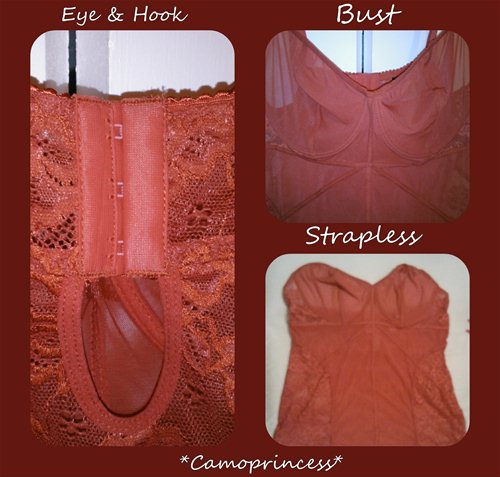 One thing I like about this
chemise
is that is has removable garters, that is a plus in my book since I don't always wear stockings with my lingerie. When I go shopping for lingerie I usually never buy a piece that doesn't have garters that I can remove. The garters are very adjustable so they should work for many different people who like wearing stockings with their lingerie. There are
four
garters two for the front and two for the back. Each garter has a hook on each end where it connects to the chemise, they are all adjustable as well. On the bottom where you connect the garter to your stockings it has a ribbon sewed onto the rubber part that hooks to your stockings, this gives the cute look of a ribbon instead of seeing the metal and rubber of the garter strap.
Experience
CONTINUED
Garter Measurements
Longest Length-9 inches long
Medium Length-7.5 inches long
Shortest Length-6 inches long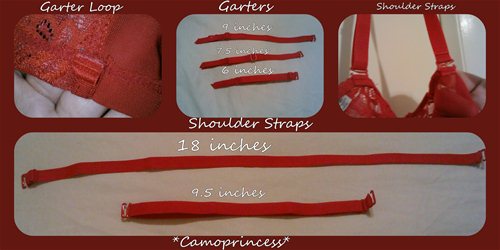 This chemise can also be worn strapless as well the shoulder straps are completely removable as well. You would simply unhook them the same way you would your garters. I found that removing the shoulder straps and putting them back on were kind of a hassle they don't come off or go back on very easily.
Should Strap Measurements
Longest Length-18 inches
Shortest Length-9.5 inches
Since the shoulder straps are adjustable, it will work for many different people when it comes to height and breast support.
Rearview
From the back this is super pretty as the whole back has the
floral lace
design. This to is see through but it is very pretty. In the back there is a closure similar to those on a bra. It is about an inch wide with
3 hook & eyelets
these work just the way a bra does, there are 3 rows you can choose to make it fit right. When I tried this on I didn't have to undo the eyelets nor did I have to adjust them, mine came in on the very last set of eyelets.
There is a standard red thong that comes with this, it does have a cotton panty liner for those who like to have liners in their undies. The thong is made of a sheer material that is soft just like the material on the front of the chemise.
Packaging
The
Red Midnight Mistress Chemise
arrived in the standard
Dreamgirl
packaging, on a white hanger inside a clear plastic bag.
Quality
Overall quality of the chemise was great, I found no loose threads which is a plus. I believe that this will hold up for a good while as long as it is properly cared for.
Care/Storage
On the tag inside the chemise it states to hand wash in cold water and line dry, I haven't washed this piece yet as I haven't worn it very long so I can't say how it will hold up through washing. When I do wash this piece it will get washed just the same as all my other lingerie, in the washing machine! My washing machine doesn't have an agitator so it isn't very rough on my lingerie, then it will be hung to dry. When I do wash this I will update how it faired in the washer. Nowhere on the take does it say what type of laundry soap to use, I use Gain laundry soap and Downy fabric softener. Don't bleach this item as it can damage the material as well as discolor the material.
My experience overall, was okay I guess, this isn't my favorite piece of lingerie and not my most hated piece either. I did put this one on for Valentine's Day, my partner was away so I took photos in it an sent them to him. His response was,
My Favorite Valentine's Lady
. I told him I was glad he liked them but was told the "like" was an understatement. I personally don't like all the lines in it that show off my problem areas more then they already show on their own.
This product was provided free of charge to the reviewer. This review is in compliance with the FTC guidelines.

Thank you for viewing
Red midnight mistress chemise
review page!