Alice in Edenland
This may not be a good buy for you if you aren't willing to get creative with it. If you're looking for a complete costume, look elsewhere. If you don't mind the extra work to dress it up then you can be happy enough with this. Although I will be enjoying my piece, the outfit overall is not worth the expense.
Published:
Pros:
- Good Quality Costume Piece
- Make it Creative!
Cons:
- Poor Coloring
- Horrible Feet Stitching in Stockings
- Flat Skirt
With Halloween coming up, I've been browsing for a costume months in advance. I usually dress a bit darkly/gothic so when I saw they had Alice in 1x/2x I HAD to have it for extra freaky fun for those not used to seeing me dressed cutely. Although the costume could have been better, it still delivers for me.
PACKAGING
Everything comes wrapped up nicely in a hard plastic bag with an illustrated cardboard insert that shows the outfit from the outside. This is exactly like a costume you would buy in a Halloween store. The item comes from Coquette though, instead of the everyday brands you can find in the store. This particular Alice costume I have not found in ANY Halloween store! I did, however, find one Alice that was cuter than this one. The rest of them weren't as nice. The packaging includes the dress, stockings, and headband. There is no additional tags or inserts inside.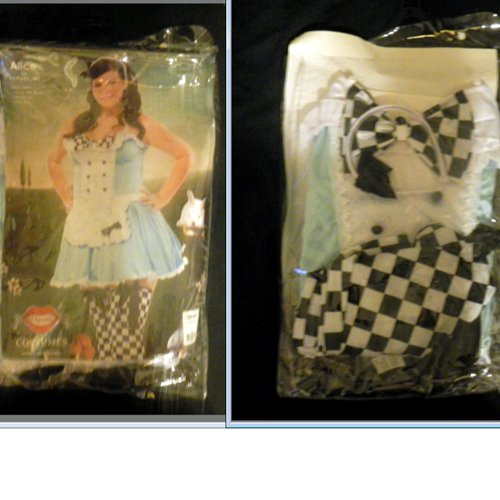 FIRST LOOK
Once I pulled the pieces out I inspected them as I normally have done. I've had pretty good luck with Coquette and although the pieces are not as high quality as other items, it was as I expected of a good costume. The materials are soft and nicely trimmed. There were a few loose strings here and there but in no places that would be a problem. It looks like some stitches just weren't cut properly. Everything that needs to be sewn in a functional way seemed correct. Any wrinkling was small and shook right out.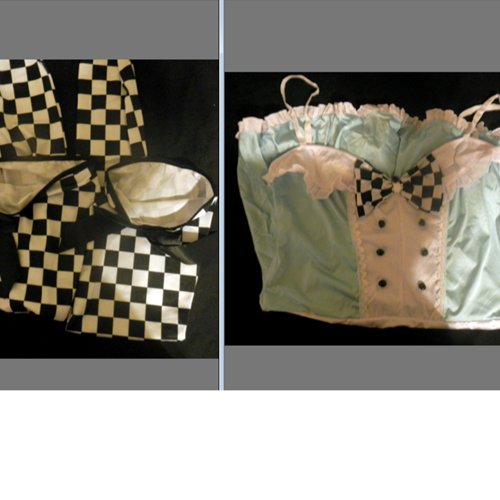 DRESS
SIZE: 1x/2x
MATERIALS: 80% Nylon, 20% Spandex, (Exclusive of Trim)
The material on this is very soft and decently stretchy. The most complained about fact is that it is NOT a baby blue like the picture suggests (and the color normally associated with Alice) and instead is a light blue with a minty green undertone. Although that does indeed suck, it doesn't ruin this piece for me too badly. The material is very slightly see through but not enough so you can't wear it out.
The dress is adorned with a ruffled bust with a big bow in the center and black buttons on the waist. The buttons are not functional. The apron around the high hip is also non-fuctional but the front piece is like a flap. There is another black bow on the apron that is sewed on and does not untie.
The straps are not the cheap ribbon style and stretchy. They include a plastic adjuster. They are of the same quality as a mid-level bra and hold just as well. Between the elasticity and soft material, I had no problem with this being comfortable. The back of the dress sits low but if you adjust the straps you can make it a bit higher.
Sizing
Coquette's Size Chart for 1x/2x:
200-230lbs
44-48" C/D Bust
36-40" Waist
46-50" Waist
18-20 Dress Size
My measurements:
42C Bust
40" Waist
50" Hips
UNSTRETCHED:
Underarm to Underarm: 20""
Waist: 16"
Hip: 22"
STRETCHED:
Underarm to Underarm: 24"
Waist: 24"
Hip: 30"
As you can see above, there is plenty of stretch in this. However, be careful not to max it out or you're looking at seams coming loose. The dress has plenty of room for me and I still see some seams that are looser after trying it on a few times.
Total Length of Skirt From White Band: 15"
Total Length From High Bust to Skirt: 30"
STOCKINGS
The stockings don't have there own tag so I assume they are made of the same material as the dress. These are unlike any other stockings I've ever seen. Although there is stretch to them, they don't hold as nicely as thin nylon stockings. They are also extremely long. The top of them are already very wide and will stretch more, so ladies with very thick thighs should be okay. However, since I'm short and my thighs are the only thick part of my legs, these fit awkwardly. Most importantly though is the feet. They are cut in a triangle shape that will NOT fit right unless you have pointed feet. You will most likely need garters for this, but because the bow is in the center top of each, you'll have to rearrange the garters differently.
Length: 26" Unstretched
Top Width: 8" (16") Unstretched
HEADBAND
It LOOKS like it was made for a little girl but it stretches enough to fit an adult head. It feels as if the same soft material from the rest of the pieces was sewn around plastic. Although there is no cushioning besides the material, it's not uncomfortable to wear. There is a black bow sewn on one side.
Height: 5 1/2"
Width: 4 1/2"
Width Stretched Bottom: Up to 7"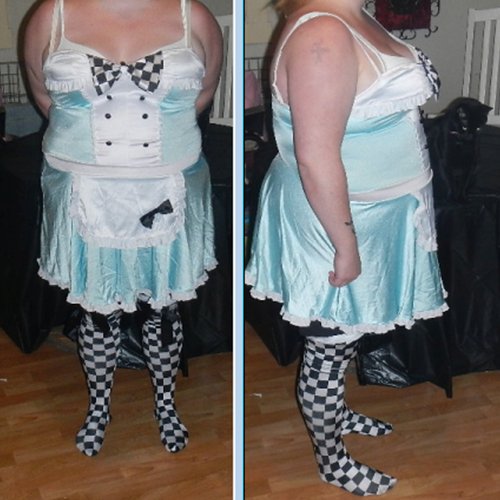 Experience
I know there were a lot of people unhappy with this piece, but I love mine because I made it work for me. I decided to forgo the stockings for some nice white knee highs instead so I didn't have to deal with pulling them up all night long. As for the dress itself, the skirt is very very flat. However, I purchased a fluffy petticoat to accent this piece anyways. To really obtain the look of a young girl in the 19th century, I also added white pettipants. As a plus sized girl I need as much cover as I can anyways. I also got a white shawl to keep me warm and hide the lower back. Add the little girl shoes, and wallah!
As you can see from the pics below, I turned this from something plain and too sexy to wear out into something more Alice-like and without as much sex appeal. I've also came up with some special scary effects for the outfit that I won't be sharing here as I have friends who will be reading this and I want to surprise them! So although I will be in something more cutesy than I've ever worn before, there will be a diabolical piece of me to come! MUAHAHAHAHA! Thanks for reading!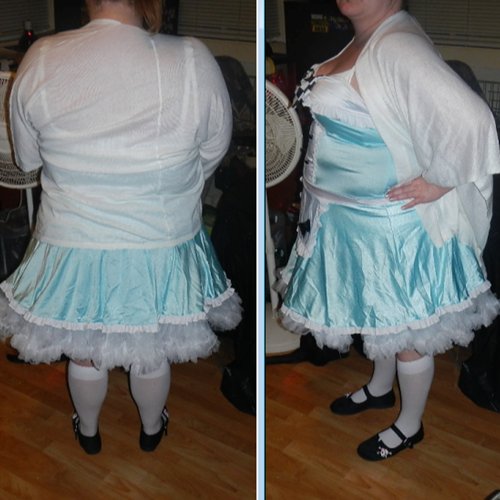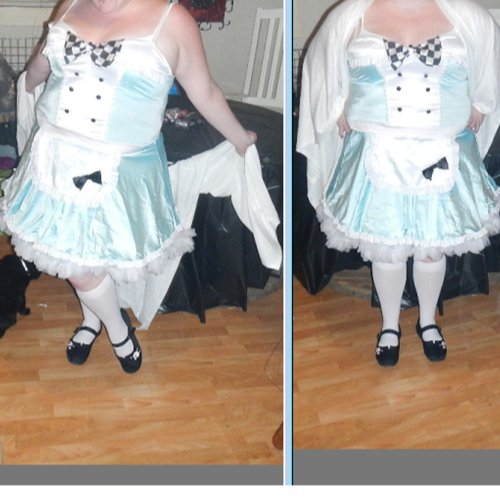 Follow-up commentary
2 months after original review
Although this was great at first, it disappointed later in the night. While wearing this on Halloween, a seam started ripping barely an hour into the evening. The seam got even bigger and had to have an emergency stitching to keep me inside the outfit for the whole party. The main seam that was ripping was on the waist where the apron attaches, but when I got home I found that one in the bust line started breaking as well. Overall, it's quality is as cheap as one you would buy in a Halloween store and will only last one night. If you get this in a size bigger than you are, you might be able to get more wear from it.
This content is the opinion of the submitting contributor and is not endorsed by EdenFantasys.com

Thank you for viewing
Alice
– costume review page!