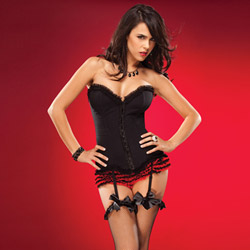 Lycra corset with ruffled trim
Corset by Coquette
Another Beautiful Corset My Second Favorite (Size L)
I decided to wear this out to a club the other night and I am so glad I did. I had compliments all night long about the color of the lace in the back and about how it fit around my waist. Even though it says it is metal boning the boning did feel a little like plastic. Of course that did not stop me from loving yet another wonderful piece.
Published:
Pros:
Beautiful, Easy to take care of, Easy to wear.
Cons:
Can use breast support, Boning feels more like plastic then metal.
The Lycra Corset with Ruffled Trim is made by Coquette. This is another beautiful corset that can be worn in and out of the bedroom. I wore it proud the other night and was glad that I did.
This corset comes in 6 different sizes. I am glad they made this available to a variety of people unlike some of the other corsets that are pretty but much too small for some. The sizes range from S-3x/4x. I chose a size Large. On the Coquette size chart the Large is supposed to fit body types of 12-14, Cup size C, Bust 38-40, Waist 30-32 and Hip 40-42. It does not give the Weight on the chart though. My sizes are as follows Size 9-10, Bust 38b, Waist 40-41, Hip 42, and Weight 146 lbs. I am off in the Waist area and the cup size but it fit me perfectly with no problem.
The corset also comes with removable garters and straps. There are four garters and two straps. I did not wear the straps out I felt no need for them. They each came in their own plastic bag that was safety pinned onto the outfit. The corset has hook and eye closure in the front. There are 17 hooks and 17 eyes to this piece. In the back there is red lace to tie it up. There are 13 holes that the lace goes through, but when you get it the lace is not laced up through each hole. The back part is also closed off and not open so the lace sits on top of a closed back. I don't know if I explained that right but when you see the pics you will understand what I mean. There is also no underwire so if you are looking for that you will not find it with this piece. It did not bother me too much that it did not hold my chest up that much but it fit me well so I was not too worried.
This corset is made of 82% Nylon and 18% Spandex. Exclusive to the trim. It says on the tag to hand wash only and to hang on the line to dry. Do not soak this corset and also don't wring it out.
The color is black and red the whole corset including the lace trim on the top and the bottom are black and in the back there is the red lace. There are no other colors to this corset. There are 9 metal boning that goes into a V like shape in some areas it is pretty cool how they have that design. As for the Metal it felt more like plastic it is not hard like metal is supposed to be. I may be new to corsets but I am sure metal should not feel like how it does on this. Even still I like how it shaped me up a little bit.
I was so excited when I received this it came on a pretty cute fancy lingerie hanger. I was wondering when I would get one of these beautiful hangers with one of my pieces. The hanger also has a little black ribbon on it that says Coquette on it. It came in a plastic bag but the only thing was that the corset was not on the hanger it either had fallen off or never been placed on there.
I gave this piece 4 out of 5 stars because it can use some underwire to make the chest pop up more and they could have done better with the boning in this. Otherwise I am very satisfied with it. I am also glad they have more sizes for the lovely women who are not so blessed when it comes to getting to try out certain things.
Here are pics of the things I have discussed in the review.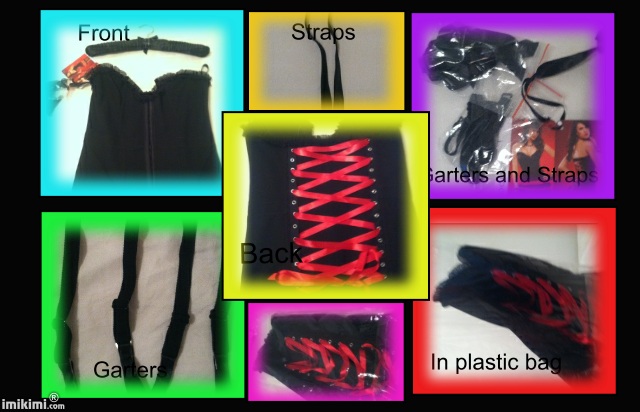 Experience
As I have said before I am glad I wore this out the other night at the club I went too there was a corset theme for the bar maids for that night and they had some cute ones on. Made me feel proud I chose to wear mines out. I got so many compliments about this corset. I even had a couple ask me if the strings were red or pink because of the lighting in the club. The female thought it was pink and the husband is arguing with her that it is red and finally he came and asked me what color it was. Then asked me to come tell his wife what color it was. I thought it was too funny and cute.
I don't know what happened to my color when I went to upload this pic from the site I used but you guys can tell the color from the pics up top. I was trying to be creative and not have so many pics all over the place. Will work on that more but wanted to show the outfit off from different views.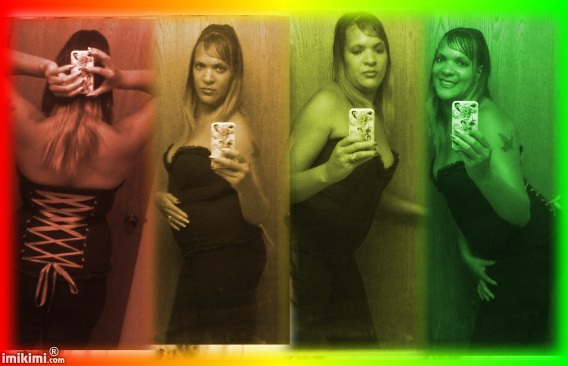 For one pic I had too add this in because I wanted you too see my hair from the back so you can see what I did to spruce this up more.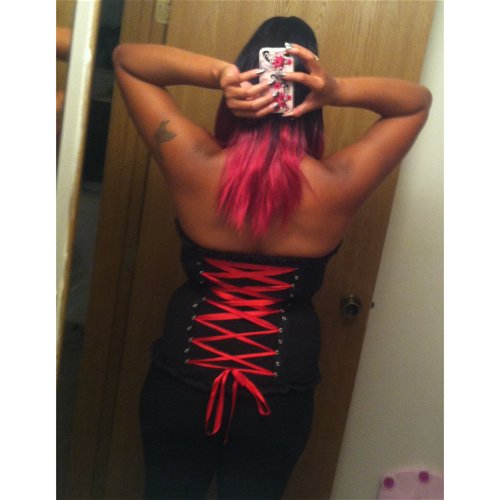 Follow-up commentary
2 months after original review
I still love this corset. I plan to get a lot of use out of this. My members also love it. I forgot I had took more pics in this corset out at the club. I found them and am using them for my avator pics. I did not feel like adding them in the review because I already have enough in there.
This product was provided at a discounted price in exchange for an unbiased review. This review is in compliance with the FTC guidelines.

Thank you for viewing
Lycra corset with ruffled trim
review page!