Another huge disappointment!
Yet another disappointing garment from Rene Rofe. This one size fits most should read one size fits size 2 and below. Poorly made and very restricting in areas of adjustments. It's very uncomfortable due to the combo of material and fit.
Published:
Pros:
cute and sexy to look at on a perfect model
Cons:
Everything about the outfit. One size only fits tiny and tinier.
Another complete failure by Rene Rofe. That pretty much sums up this outfit in a nutshell. I've already had a couple of disasters by Rene but this one was so cute and sexy, I just knew it would be different. Oh how wrong I was!
This cute teddy is black with a little red and a few flowers incorporated into the material to make an amazing look.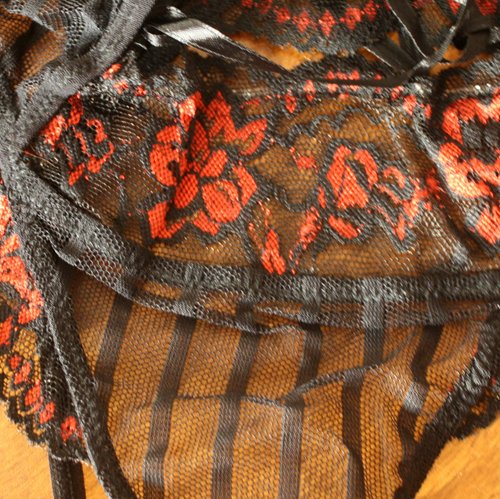 It has both vertical and horizontal lines in it. There are 8 rows across the bust area and 14 stripes down the front.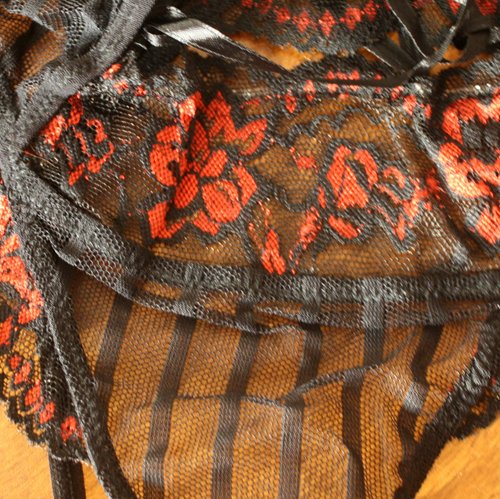 There is one row of roses across the bust area and another row of roses outlining the bottom.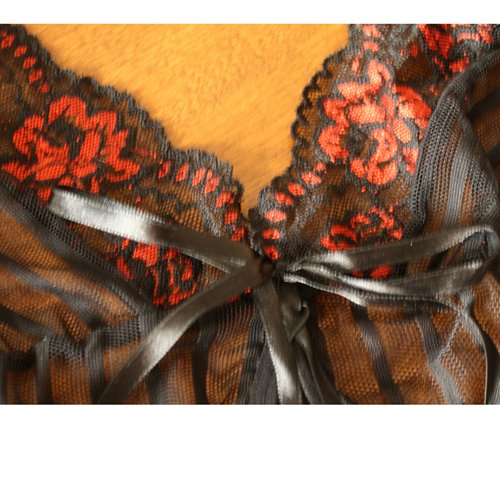 It is cut out just below the bust area and has 10 loops that have a black ribbon threaded through it, criss-crossing the ribbon as it is laced up.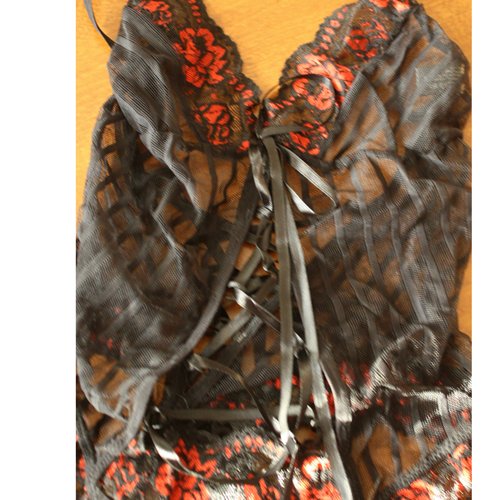 This could be adjusted for a perfect fit except the ribbon is sewn together and isn't adjustable. It's not possible to "unsew" the ribbon so it can be adjusted. I tried and the ribbon just pulled apart and frayed.
The bra area has scalloped edges with red lacy roses outlining the top area. There is a bow out of the same black ribbon at the center of the bust area. There is no underwire, no padding, and no support to the cups. At the top of the bust area are two typical bra like straps that are adjustable and adjusts from 4 1/2 inches to 8 inches.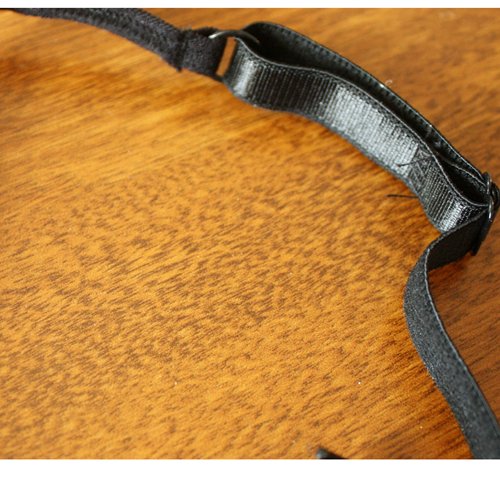 The bust area is held together but a clasp in the back. This is not a typical bra type clasp but rather a feed through clasp that snaps in place.
The rest of the back is similar to the front. There are three loops that lace up another ribbon, again criss-crossing the ribbon as it is laced. At the bottom of the loops and ribbon is the beginning of the panty area. The front of the panty is 2 inches wide and narrows as it goes towards the back. It is 3 inches long and ends in the typical g string type style. The strap that runs between your cheeks is adjustable and will adjust from 4 1/2 inches to 6 1/2 inches. This is actually one of the better features of the whole outfit.
The teddy is advertised as a one size fits most but the sizing chart is way off on this one. According to the chart, this should fit sizes 2-14, B-C cup, 24-32 inch bust, 34-40 inch hips, and weights of 90-160 pounds. I am a size 8-10, B cup, 34 inch bust, 36 inch hips, and I weigh well within the chart. While the material is stretchy, it doesn't stretch enough for me to be comfortable in it.
The teddy is made of 92% nylon and 8% spandex. The lacy part is 90% nylon and 10% spandex. Care instructions for this material is to hand wash it in cold water, avoid bleach, ironing, and dry cleaning. and hang to dry. The stitching is fragile and does rip under the stress of being pulled.
Experience
When i saw this, I knew I had a bad experience with Rene Rofe lingerie but thought this one might just be better. It wasn't. When it arrived, I took it out of the package and saw a pile of strings and mesh.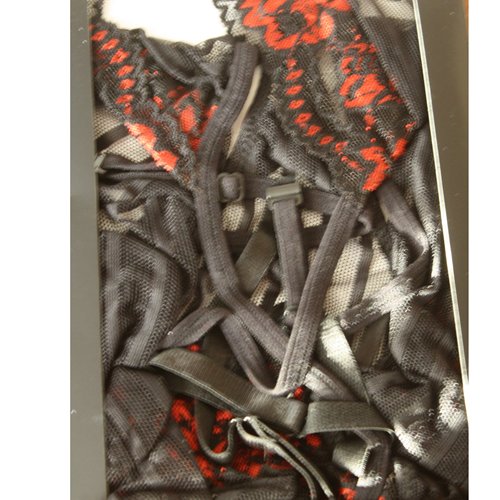 It took several minutes to figure out how to put it on. Then the task began. With the ribbons in the front not being adjustable, I had to wiggle and squeeze to get into it. Then came the task of trying to fasten the back closure. I finally gave in and called hubby to help me. I was so uncomfortable with this on that I had him unhook the closure and I peeled it off. Needless to say, I haven't put it back on. As I was squeezing into it and sucking in everything I could suck in, I felt and heard the material start to rip. This one is thrown in the back of the closet and probably won't come out again except to go into the trash can.
This content is the opinion of the submitting contributor and is not endorsed by EdenFantasys.com

Thank you for viewing
Shadow stripe and lace teddy
review page!