(One size fits most) I'm seeing lace in my future
I consider this teddy to be a comfortable, inexpensive piece to add to any lingerie collection. I think the red and black color combination is sexy and the lace detailing is feminine.
Published:
Pros:
I find red and black lingerie to be sexy
Cons:
One size fits most doesn't really fit most
What it is
This is mostly a black teddy with a little bit of detailing of red flowers at the bust and butt area. It has 14 vertical stripes at the torso down both sides, 8 diagonal stripes at the bust area, and 3 flowers down both sides. The center is cut out with a lace pattern that is criss-crossed through loops. The ribbon at the center torso cannot be retied, they are sewn onto the lingerie piece at the top of the bra in a bow with about 7" of excess ribbon. The ribbon has 10 loops that it criss crosses through, but this is more for a decorative fashion than anything else because it cannot be adjusted.
Sizes Eden Carries
Eden currently carries this in one size fits most.
Rene Rofe Size Chart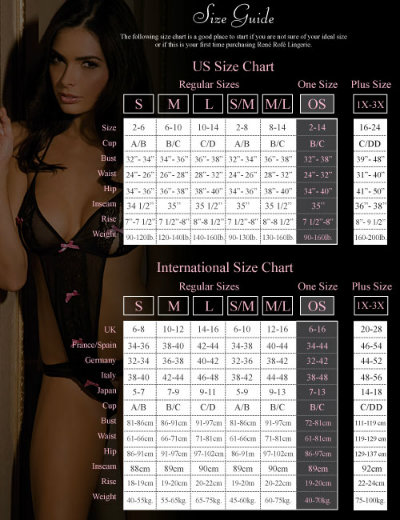 My current Sizes
Size 4-6
AA Cup
32" bust
27" waist
32" hips
121 pounds
Given the following information, one size fits most should be able to fit sizes 2-14 as well as a B-C cup, 32"-38" bust, 24"-32" waist, 34"-40" hips, and weigh 90-160 pounds. I do not see that happening at all. I'm on the smaller end of these measurements and I fit into this well. I would consider this to be best for those that are sizes small to large. The material is very stretchy and I do have plenty of room in the teddy, but it hugs to my body very comfortably. I'm not a very good judge when it comes to other peoples weight, but I would suggest not ordering it if you're over 145 pounds.
To slip this on, I first put my legs through the leg holes, and then pull it up to my body. I then slip my arms through the straps and then fasten the snap in the back. If you're not used to the type of fastener in the back, you can fasten it first, and then slip the piece back over your head and down to your back.
Measurements taken laid flat
If you need any more measurements, feel free to contact me.
It has two bra strap style straps that at its largest measure 8" and at its shortest length measure 4 1/2". It adjusts like a bra does by tightening and loosening the band to the size that comfortably fits you. To close the bra strap at the back is a little bit different than a normal bra. It is very similar to bras that fasten in teh front. You fasten one end into the other and then pull down. The bra area has decorative scalloped edges, and does not have any underwire, padding, or support of any kind. If you require some type of support, this piece is not for you.
Excluding the bra straps, the piece measure 21" long. That is measuring from the top of the bra area to the bottom of the panty. Laying flat, it measures 12" wide.
The back has three loops on each side for ribbon, that criss crosses through the loops for tightening at the back. The ribbon measures 38" long.
It has a small triangle panty liner that is not enclosed at the top so a small bullet or vibe could potentially fit in there. The panty area measures 2" wide at the top and is 3 1/2" long. The width gradually decreases the farther you go down the panty which is common for thong-style underwear. I'm not a fan of thongs, and prefer boyshorts.
The really interesting thing about this piece that I've never seen done before is the panty area also has an adjustable string similar to bra straps. At its longest it measures 6 1/2" and at its shortest it measures 3 1/2". To adjust, just move the strap like you would when you're adjusting a bra strap to find the perefect fit for you.
Front of the piece laid flat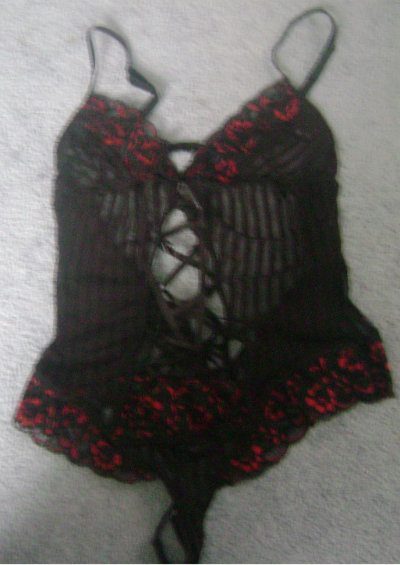 Back of the piece laid flat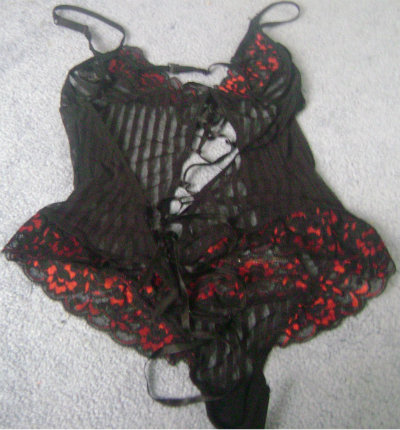 Material and Care
This teddy's body is made of 92% nylon and 8% spandex. The lace portion of the teddy is made of 90% nylon and 10% spandex.
According to Wikipedia, nylon is considered to be a strong silky material that is durable, highly resilient, and hypoallergenic. It also offers good resistance to oils, greases, and solvents and commonly used in stockings. Nylon has the ability to be very lustrous, semilustrous or dull which is nice in the clothing industry.
Spandex is a synthetic fiber known for its exceptional elasticity. The name "spandex" is an anagram of the word "expands". It is strong and very stretchy and is considered to be resistant to body oils, perspiration, lotions, and detergents. It is commonly used in clothing where stretchiness is important for comfort and fit.
Experience
continued....
To care for this teddy the tag suggests to hand wash in cold, do not bleach, line dry, do not iron, and do not dry clean.
Craftsmanship
If you pull on this too roughly it may tear. My biggest concern is at the bust area may tear if you pull too hard. I'm never rough with my lingerie pieces so I have not had any trouble out of it, but I can see where this could be a problem. The bra area is barely stitched to one another by some thread. There are no loose strings on the majority of the product. The scalloped edges are unfinished for decorative purposes. The stitching seems to be adequate throughout the piece.
Front of the piece while worn.
I'm wearing bra and panties with this for modesty reasons.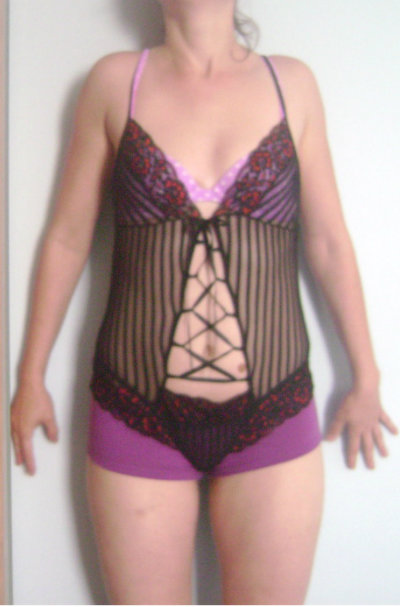 Back of the piece while worn.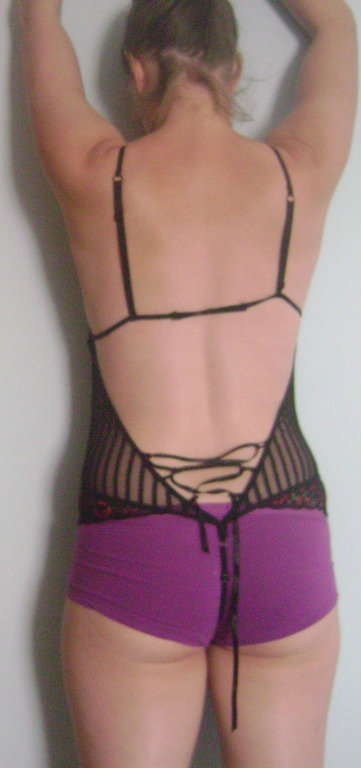 Experience
Red and black color combinations are quite fun to have in any lingerie collection. I'm addicted to lingerie, so I have several pieces in a variety of colors, but I always have a fondness for red and black. Overall, I find this piece to be a nice, inexpensive piece that has held up for the time that I have had it. Some might complain that you have to take this off to become intimate with their partner, but I do not find this to be a problem for me. I usually wear lingerie to get my partners attention and then automatically start taking whatever I'm wearing off. It's something that works for me. I really like the comfort of this piece and the lace detailing with flower patterns on it. I'm going to give this piece a 4 out of 5 because I really enjoy it and don't have any issues with it.
Follow-up commentary
43 months after original review
I've always enjoyed this piece in my lingerie collection. It has held up nicely in the time I've had it. The color floral lace design is a great added touch and the red and black color combination is very sexy.
This content is the opinion of the submitting contributor and is not endorsed by EdenFantasys.com

Thank you for viewing
Shadow stripe and lace teddy
review page!