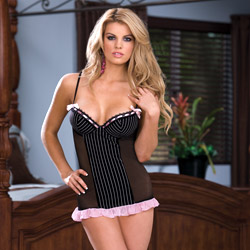 Pinstripe Babydoll
Babydoll and panty set
by DreamGirl
Awesome After Easy Alterations
For the price, you can't beat this. Switching things around so this outfit worked for me really only took 5 minutes and I LOVE IT. Overall, it feels and fits great. The details are really cute too.
Published:
Pros:
Great feel & texture and super sexy!
Cons:
Maybe not exactly ready to wear out of the box.
This is absolutely the best lingerie type item I have ever gotten outside of the mall. I was pleasantly surprised when it arrived and I put it on. I am a 34DD and under 5'3" but ordered a Large after checking out the size chart. The cups seemed a little big when I first put it on but after adjusting the shoulder straps, they fit pretty well. Even with the underwire it isn't too supportive, but I don't really expect that when I am planning on having a sexy romp in something. I found myself adjusting "myself" on and off throughout the night but it wasn't a problem.

My only other problems with the fit were 1) accommodating my chest meant the rest was a little too loose and 2) it is too long in the torso for me. One of my favorite features was the lace up back but because it is a little too big you get a little more tight lacing rather than that sexy criss-cross with some skin peeking through. I was able to find a happy middle ground though and wear it not laced so tight.

The thong is great! I have no complaints whatsoever. Usually these sorts of outfits come with thongs that are so long in the crotch but this one fits great. The detail on the back is so cute too!

As to the alterations I mentioned you definitely don't need to head to a seamstress but a few changes helped me out a lot! First of all, it comes laced from the top to the bottom. That's fine except then you have long strings dangling over your butt. Like I said before, mine was a little long in the torso, (which is fine since the back is a flyaway at the bottom and you still get to see your ass), but the strings tickle and block your partner's view. Easy Fix: Lace it bottom to top!

And another helpful tip: tie a bow in the very end of the laces before you pull it on because otherwise you will end up pulling out the laces and have to re-do all your hard work. Maybe that is common knowledge with this style, but it didn't dawn on me until I was stuck re-lacing!

Finally, the last change I made was to snip open the seams on the inside and pull out the boning. It was really easy! If you're on the taller side, I am sure it isn't a problem. It didn't poke me or pinch me and was actually very flexible and comfortable. But being short makes it a huge pain. Whenever you sit down the boning sort of kicks out straight in front of you, popping the bottom of the outfit straight out like you have a serving tray strapped to your hips. My partner and I had a good laugh about it before I got the scissors. First, I tried just snipping them off so they stopped just above my hips, but they ended up sliding up and down so out they came altogether!

This is 100% polyester but feels pretty good. The tag says to hand wash cold and line dry but I have a lingerie laundry bag and, after zipping this set into it to keep it from getting snagged or mangled, I just tossed it into a cold wash with all my other dark laundry on a regular cycle. I laid it flat to dry and it came out with no problems. After a night of sexy fun, who wants to hand wash something like this?
This product was provided free of charge to the reviewer. This review is in compliance with the FTC guidelines.
Thank you for viewing
Pinstripe Babydoll
– babydoll and panty set review page!