Sexy Stripes
If this only had a larger cup size, I think it would be my favorite piece of lingerie! If you do fit it, it offers nice support, beautiful fabrics and an adjustable fit.
Published:
Pros:
One of the prettiest sets I've seen, great support for medium-sized breasts, adjustable.
Cons:
Cup size much smaller than size chart suggests, boning pokes out at odd angles.
This has been one of my favorite items on EF for ages, but I put off ordering it because of the sizes available. I wear an XL in most items, but this only comes in S-M-L. Well, I recently found myself needing to add more items to my cart to have enough for free shipping, and since everything else I really wanted was out of stock I decided to take a chance with this.
According to DreamGirl's size chart, the Large fits size 10-14, C-D cup, 36-38" bust, 28-32" waist, 38-40" hips, 140-150 lbs. I'm 5'11", size 14, 38D, 35" waist, 41" hips, about 168 lbs. In other words, according to the size chart, I'm kind of screwed. My hope, however, was that since this laces up the back, I may be able to adjust it enough for it to fit. I REALLY wanted this to fit, because I am pretty much in love with how lovely it is!
When I pulled this out of the plastic bag it came in, I knew I was kind of out of luck. While the lovely pink lace-up back does offer a lot of room for different sizes, the tiny cups do not. Although the size chart claims the Large will fit a C-D, I think B-C would be much more accurate. They measure 5" up the center. The bra cups themselves do offer some nice support-- there is an underwire and a nice structured cup (no padding). My own boobs overflowed like crazy, but if you are a C or smaller, the bra on this is going to hold you up quite nicely.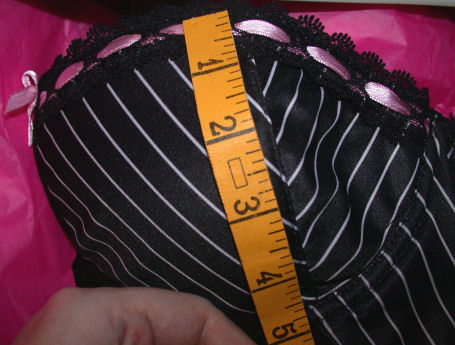 The straps are adjustable, from 10" at their tightest to 19" adjusted to full length, but they will stretch several more inches from there. Although I can't imagine how far your shoulders would have to be from your boobs to need that. They're a bit thinner than bra straps, but sturdy and stretchy. I did find them a little tough to adjust, but at least that means they won't slip out of the setting you choose easily! They will help to keep things in place, but they don't offer any bust support to speak of.
The pink ribbon that laces up the back of the babydoll is beautiful and fairly sturdy. It would probably wear out over time, but it would be easy to replace with any craft store ribbon in pink, black or white. The ribbon is about 60 inches long, which sounds like a lot, but since this top is small on me I was really wishing for a few more inches to make it easier to put on without totally unlacing it. The easiest way I found to get this on was to lace up the top 3 holes, tie the ends of the ribbon and slip the babydoll on over my head. Once it was on, I laced up the other 4 holes with the help of a mirror. It took quite awhile, so this probably isn't something you can get into quickly!
Once actually on, I was able to tighten this to the point that the lace-up parts came together. I found that the front of the babydoll clung in an unflattering way to my stomach if I laced this tight though, so I loosened it so that there was an inch or so of skin showing between the laces. There are 7 holes for the ribbon to lace through, which are set into super sturdy black satin-like fabric. You could tug on this quite a bit with no damage. The only problem I discovered here is that if you lace it up tight, the fabric around the holes buckles a bit-- it could stand to be a little stiffer.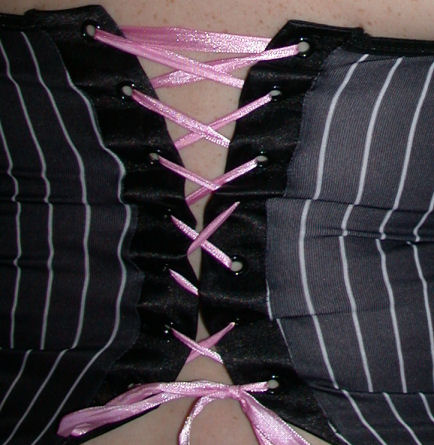 Experience
There is a white tag sewn in the back near where it laces up, listing the care instructions (hand wash cold, line dry) and materials (100% polyester), a separate black DreamGirl logo tag and another tiny tag that reads Made in China.
There are two different types of fabric that make up most of the babydoll-- a satiny solid pinstripe material and a transparent black mesh. Both are super soft and really pretty. The detailing around the top of the bra cups is really beautiful; pink ribbon and black lace with tiny pink bows. The stripes on the bra cups are even angled to accentuate the roundness of the breasts.
There are two pieces of plastic boning running down the front of the babydoll, but they are super flexible and really just give shape to the garment. They don't actually do anything to pull you in. They are 15" long, and run from just under the center of each bra cup down to the hem. I think that if I keep this (still undecided), I'll cut the boning out. It likes to flip up if I sit down, which basically just looks hilarious, but also seems to kind of bend it out of shape, meaning that it bows out from my body a bit and adds unwanted roundness to my stomach. I have enough of that on my own!
The set also includes a matching thong, which is black with pink ruffles decorating the back; miniature versions of the pink ruffle that follows the bottom hem of the babydoll. The thing is teeny-tiny! The model in the picture must be really small, because that top pink ruffle on the booty is only 2" across.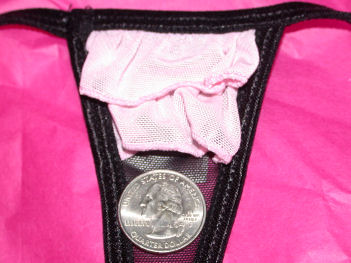 Visual aid!
The front of the thong is a more generous 4" across, and the waistband measures 15" across un-stretched. I found that the thong fit me pretty well, other than sitting a bit lower than I would like.
Overall, this set fit me much better than I expected, except for the cup size, which was about two sizes too small. I think this would comfortably fit up to a 36" waist, instead of the 32" on the size chart. The thong was quite snug on me, so if your hips are over 40-42", it is probably going to dig in uncomfortably. Hip measurement doesn't have much impact on the fit of the babydoll though, since it is loose at the bottom. If you carry your weight around your stomach, like I do, this isn't going to do much to mask it, thanks to the transparent mesh.
I'm giving this 4 stars because if you do fit it, it's almost perfect. The only things that keep it from getting 5 are the somewhat off sizing, boning issues and fact that cinching it up tighter or looser doesn't really have much effect.
Follow-up commentary
5 months after original review
I did end up carefully removing the boning from this, and I now like it much more! It's much less awkward without the plastic boning in front, but still looks pretty much the same on.

I removed the boning by carefully making small incisions inside the babydoll and then carefully wiggling the boning out. The fabric that covers the boning is pretty thick and awkward to cut, so work carefully if you do the same thing!
This content is the opinion of the submitting contributor and is not endorsed by EdenFantasys.com

Thank you for viewing
Pinstripe Babydoll
– babydoll and panty set review page!