Bah, humbug! (Size L)
I wanted to love this bustier, I really did; but Coquette made that really hard to do. It's a gorgeous bustier with some serious design flaws. If the underwire and boning were more effective and the craftsmanship were better, I would have given this 5 stars. However, I feel it's worth 2.5 stars. I've given it 3 stars just because I do think it's really gorgeous.
Published:
Pros:
Gorgeous color combination
Fits well and true to size
Cons:
Thin material
Underwire doesn't support chest
Boning is ineffective
Too short
Fraying material
The Holiday Bustier is a bustier from Coquette. It does not include any matching underwear or stockings. It does include removeable, black garters. It came packaged in a plastic garment bag on a plastic clothes hanger. The clothes hanger I received was broken in half so I discarded it right away to avoid any rips or snags. The garters are in a small plastic bag attached to the bustier.
Description
Front
The Holiday Bustier is a red bustier with black lace panels on the sides. Each lace panel is about 4 inches in width. There are two pieces of plastic boning that fall in the middle of the bustier, separating the red panel from the lace panels. They about 2-3 inches from the center of my chest on either side and each one is 8.75 inches long. They run from the hem, above the garters, to right below the underwire. Because they are only in the middle of my stomach, they do not provide much shaping. I feel they would have been much more effective at shaping if they were placed along the sides of the bustier. They're more decorative than anything. Along the bottom of the bustier is a black lace ruffle that is about 1-1.5 inches long. At the top, in between the cups is a black bow.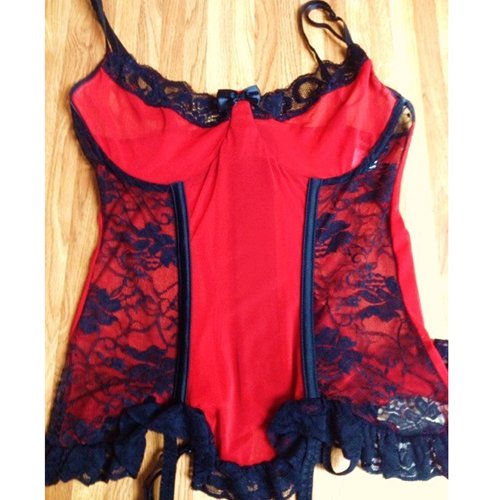 In the front, the bustier is only 14 inches long from the center of the chest to the hem. On the side, it is 13 inches long from armpit to hem. At the narrow waist point, the bustier is 12 inches wide, unstretched. At the hem, it is 15 inches wide.
Back
The back of the bustier is solid red with 16 hook and eye closures. There are two sets of eyes so you can adjust the tightness of this bustier, much like you would adjust a bra band. The back is 11.5 inches long from the top of the closure to the bottom.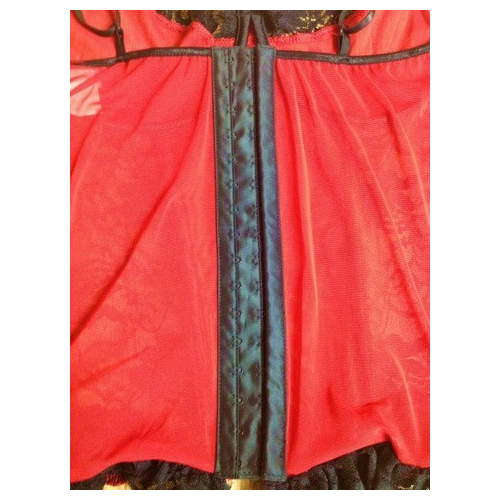 Cups and garters
The cups are completely unlined and unpadded. They are made of the same nylon/spandex mix that the stomach and back are made of, making them just as sheer as the rest of the corset. If you're worried about being able to see your nipples, I'd recommend using pasties or finding a different bustier. At the top of the cups there is lace trim. There is underwire in the cups and the straps are adjustable.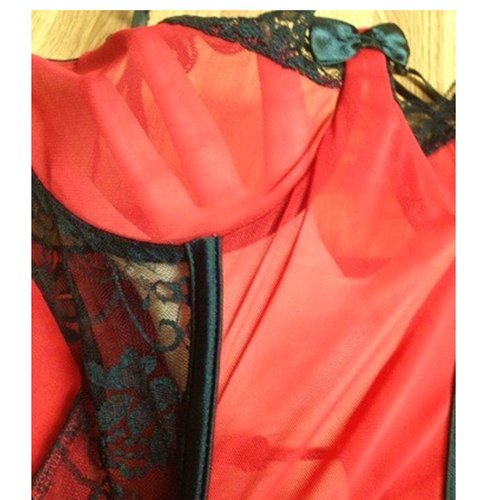 The garters are standard black plastic garters. They are adjustable, ranging from 4.5 inches-7.5 inches long. They do have some stretch to them but stretching them too far pulls the bustier down, resulting in even more problems.
Material and Craftsmanship
The bustier is 82% nylon and 18% spandex. It does have a fair amount of stretch to it but because it is so thin, I'm worried it will rip easily. The lace on the sides appears even thinner and more delicate than the red portions along the back and the stomach. When worn, the material is not uncomfortable. I didn't experience any irritation but it's not the most comfortable material for long term wear.
Before even wearing this bustier, I noticed a lot of loose strings. The bow in the center of the cups is also fraying and unraveling already. I've only worn this once and I'm already having to deal with fraying material. The seams between the black lace and the red panels also look really crappy to me. They're not unsturdy or anything, the look of the seams just bugs me.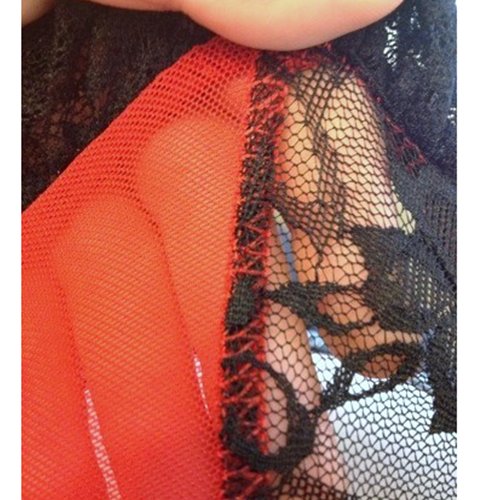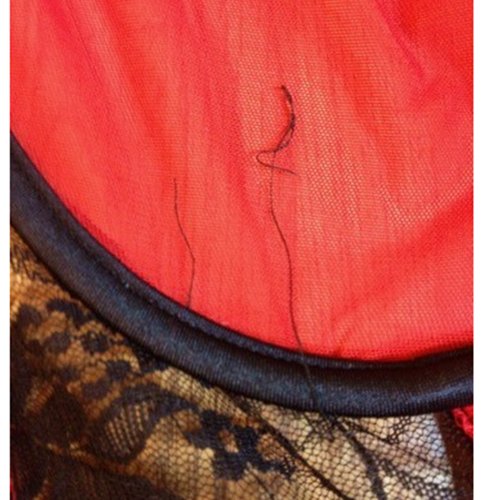 Care and storage
This bustier must be hand washed and hung to dry. The material is so thin and delicate that a washing machine can rip the material or warp the boning. You can use lingerie wash or a small amount of laundry detergent when hand washing it. Do not wring the bustier out; doing so can warp the boning.
To store this bustier, I have just hung it in my closet with my other bustiers. You can keep it in the garment bag if you wish to protect it from dust, animal hair, or whatever else may make its way into your closet. It can be fold and stored in a drawer as long as you do not fold the boning.
Experience
I ordered this bustier in a large since I was in between a medium and a large. I don't like tight, form fitting lingerie. I could have ordered down to a medium, though. This bustier does have a fair amount of stretch to it. If you're in between sizes, you can order the smaller size and it should fit well. However, I do like how this bustier fits me in a large. Well, I like it as much as I can...this bustier has some serious problems. It fit fine in the hips and the waist, especially when I had it on the tightest setting. However, it seemed like the underwire just could not make up its mind. It was always either sliding up my breasts or being pulled way down below my breasts. When I could finally get the underwire to sit under my breasts, it would never sit flat against my skin and would soon slide back up when I moved my arms. I also do not like unlined or unpadded cups. I recently lost 25 lbs and my breasts changed shape and size drastically. I prefer to have some help with shaping now. The cups on this were not very flattering but they fit just fine. The material itself did lay flat against my chest. The material should stretch to accommodate larger breasts but anything larger than a D or DD may not fit in the cups.
If I had the garters attached to a pair of stockings, the bustier was so short it would pull the entire bustier WAY down. Even without the garters being used, this bustier barely covered my belly button. If I lifted my arms, it would slide up over my belly button and the underwire would slide way up over my breasts. I'm only 5'4, I'm not that tall. I was surprised I had so many issues with the length. Anyone taller than 5'4 would have even more issues with the length of this bustier.
My measurements:
Bust: 36C
Waist: 29 inches
Hips: 39 inches
Dress size: 10
Height: 5'4
Coquette's Size Chart:
Cup Bust (in) Waist (in) Hip (in)
Small 4 - 6 B 34 - 36 26 - 28 36 - 38
Medium 8 - 10 B 36 - 38 26 - 30 38 - 40
Large 14 - 12 C 38 - 40 30 - 32 40 - 42
XL 14 - 16 D 42 - 44 34 - 36 44 - 46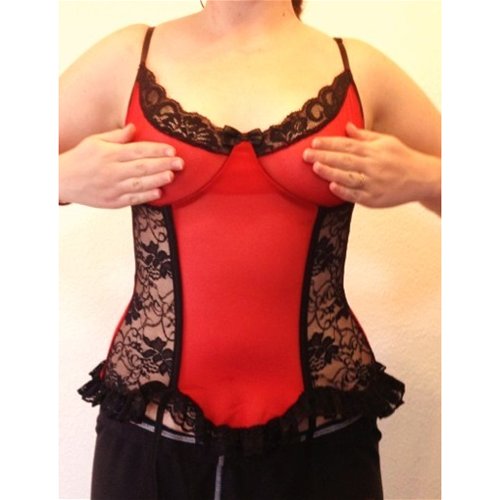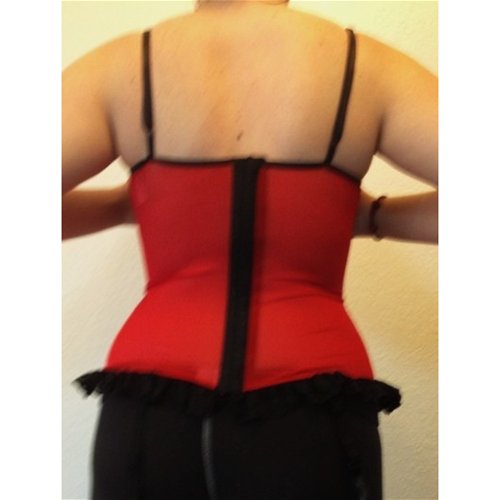 Overall, this bustier has a lot of flaws. It's really cute and fits well but the underwire and the length just ruined it for me. I don't like having to constantly adjust my lingerie when I wear it. With this bustier, I was always fixing the underwire and readjusting the hem since it was too short. I do love the colors and the look of this bustier though. It'd be a very sexy piece if you can get it to work with your body type and if you don't mind unlined, unpadded, see through cup.
This product was provided free of charge to the reviewer. This review is in compliance with the FTC guidelines.

Thank you for viewing
Red mesh and lace bustier
review page!