Be Pear or go Home.
This isn't terrible and would probably be quite good had it fit, but it still has numerous problems. The panties are large and frumpy, it's only moderately priced and isn't the most comfortable, assuming it fits. Still, the bra is pretty, it could be modified into a great costume and is made of a great material.
Published:
Pros:
Exotic appearance.
Easily modified into a costume.
Sturdy, stretchy material.
Cons:
Size chart is not accurate.
Will not fit large breasted women.
Panties are frumpy.
Size.
Bra
According to the size
chart
, this bra should be able to accommodate a D-DD, from 40-48 inches, in actuality it doesn't come close. It just barely fit my girlfriend who wears a 36 DD and fit doesn't mean comfortable it mean went on. For a better idea, consult this comic from Busty Girl Comics.
http://bustygirlcomics.com/post/22385914207/added-difficulty
Like the too small panel, only for both boobs.
As this is the largest size available, it cannot be recommended for the well-enboobered as it shall not fit. This may fit those on the lower side of the D and likely C, but that's not the most important part. The most important part is that the sizing for this isn't accurate, so those planning to purchase going only by the chart will be severely disappointed.
bottoms
For the bottoms the sizing chart was more accurate, although still fitting a little small. The bottoms are supposed to fit those from size 16-18, but my girlfriend is closer to 15 than 16 or 18 and they fit her perfectly.
overall thoughts
The discrepancies between the sizing in the bra and the bottoms create problems that make this difficult to wear. As the bra is sized far smaller than the bottoms, the woman who wears this will need to be small breasted, but somewhat large reared. This body shape, the pear, certainly exists, but lingerie shouldn't be confined to a single body type. A proportional or breast-centric body type will find this completely unaccommodating.
Finally, this is quite restrictive for plus sized women, as the size is limited to the 2-18 range.
1/5
Comfort.
BRA
This was the most uncomfortable aspect due to it being far too small, so that's not indicative of the product as a whole. According to my girlfriend, it pinched, clamped, itched, scratched, poochied and had she worn it long enough, would have likely chaffed. Most of that can be explained by the tightness of the bra, but the scratchiness and itching could be caused by the material.
The bra is connected by hook and eye, but thankfully, there are only two hooks, so it's far easier to wear than other types of lingerie.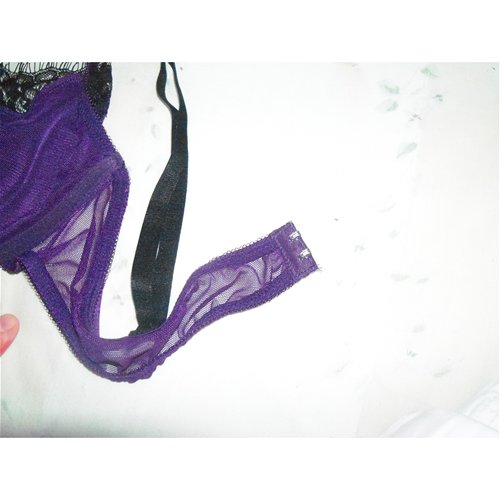 PANTIES
In terms of comfort, the bottoms were better than the tops, loose enough to wear, but not itchy or pinchy. Movement was unrestricted during wear, allowing for unrestricted sex. They were similar to regular panties.
OVERALL
The material is soft and silky, quite comfortable to wear of feel between the hands.
2/5
Appearance.
Bra.
The worst part about the bra was that it's actually quite cute, if only it fit. The black and purple go together perfectly and would even better with a little bit of gold accentuation. Here's the front to consider.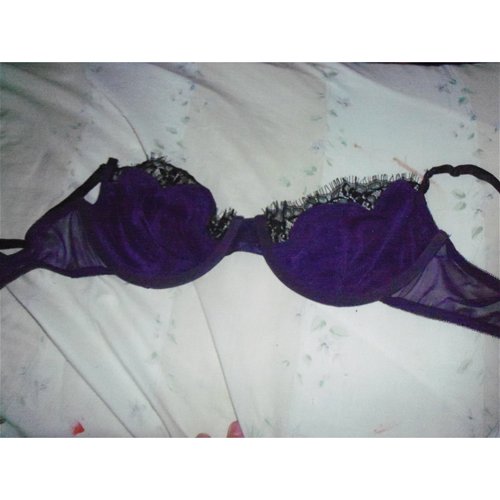 Whereas this is the back.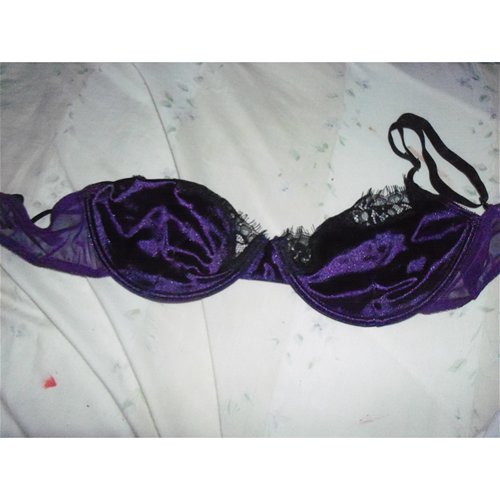 And profile.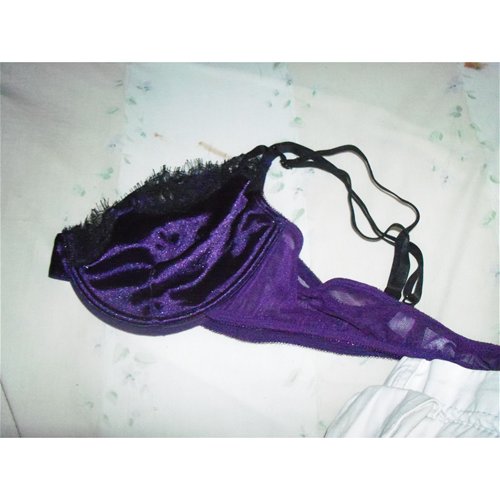 The black and purple, mixed with the light frill makes this versatile with role playing. Some gold and perhaps veils could turn this into a decent, if uninformed, Arabian Nights costume. Conversely, with some black jewelry, mascara and other accoutrements, this could be a goth girl costume.
When they were actually worn they looked terrible, but that was due to the size problems.
Bottoms
The bottoms are somewhat less impressive.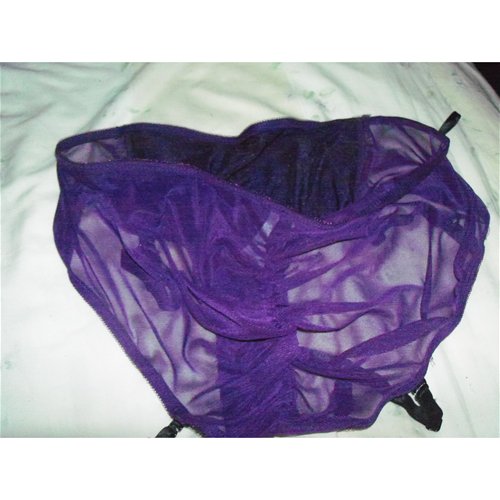 This might be more of a personal opinion, but these look more like granny panties than anything. They're bulky, frumpy and despite the frilliness and lace and lack sensuality. These cover the entire buttock region, along with the legs and pubic area without altering or enhancing anything. Further, it covers too much, replacing the natural sexuality of the human body with frumpy fabric.
One additional benefit is that they have hook shown below that allow for hooking to garters or pantyhose.
3/5
Price.
$30.99
The price for these, assuming they both work is decent. Good bras can go upwards of twenty dollars, whereas panties are closer to 10-15, so this is a decent price for the two, as long as the two function properly. That's the sticking point, if the bra doesn't fit, as was the case here, then it's a 30 dollar pair of purple panties.
4/5
Material
As a mixture of spandex and nylon this is quite the resilient material. It's resilient to oils and grease, can withstand wear and tear without abrasion and is stretchable. Washing instructions are more complicated, this can be washed in soapy water, but not in high temperatures, boiled, or bleached.
4/5
Overall rating 2.8 rounded to 3.
This content is the opinion of the submitting contributor and is not endorsed by EdenFantasys.com

Thank you for viewing
Silken bra and panty garter
– bra and panty set review page!