Plum crazy! (Small)
If you're looking for a see through granny panty that covers your entire butt, I'd go up in size. I was hoping for a sexy piece that I could wear frequently, but that is not going to be the case for me. The panty was tight and the bra irritated me around the armpits. I love the color, but that is about the only good thing I can say about it.
Published:
Pros:
Gartered panty
Plum purple color
Cons:
Tight granny panty
What it is
It is a three piece set from Dreamgirl Lingerie that includes bra, panty, and removable garters.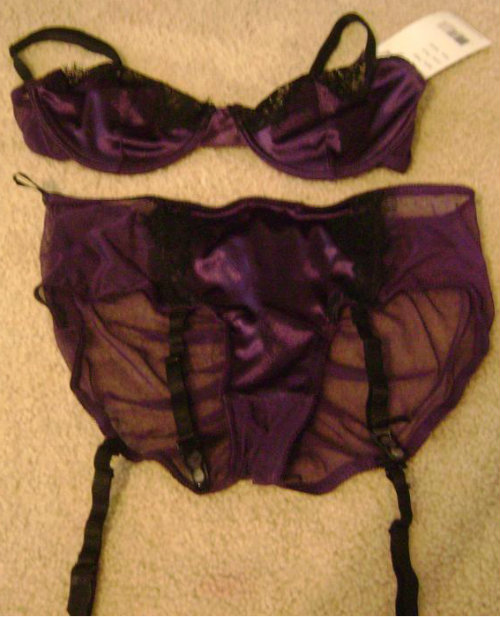 Sizes Eden Carries
Eden carries this in sizes small, medium, large, and extra large in a plum purple color. I have the small and the sizes in my review will be based on that information.
DreamGirl Size Chart
My current Sizes
Size 4-6
AA Cup
32" bust
27" waist
32" hips
125 pounds
Given the following information, a small should fit sizes 2-6, 32"-34" A-B cup, 25"-27" waist, and 34"-36" hips. The bra cups are made small because it fits my AA cups pretty much dead on. There wasn't a whole lot of excess in the bra cup area and the cup size should be a little bit big according to the chart. I'd suggest this is made for A cups and those with very small B's. If you're a larger B, you may have some spillage outside the cups. The panty felt tight around the upper inner thighs at the bottom of the panty. I'm not used to the feeling of something around the bottom of my thighs and I did not like it at all.
The bra
is an underwire bra with no padding. It is plum purple in color with black bra straps and black lace with unfinished edges outlining the cups. The cups are satiny/shiny looking and the sides are see through. The cups have a seam running right down the middle as they did in my
Stocks and bondage set
I reviewed. It has three rows of two silver metal hook and eye closures at the back. Measured flat, it can be adjusted to 13" long, 13 ¼" long, or 13 ½" long depending on which setting you use. Laying flat, the bra measures 26" long; the cups are 4" long and 6" wide with decorative edging over that. The bra strap is adjustable and measures 9" at the shortest and 17" at the longest. It is not the most comfortable bra that I own; it kept cutting into my skin at my armpits no matter how I adjusted it. You can see the nipple outline through clothing since there's no padding when you're wearing this so keep that in mind.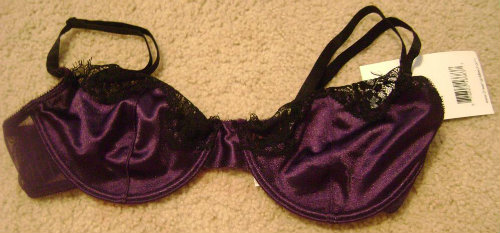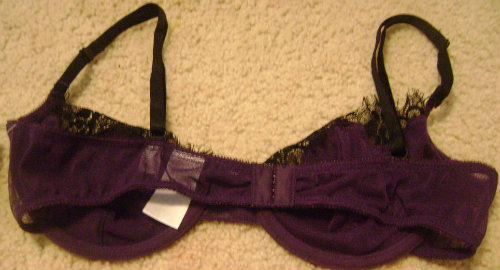 [Bold|The panty} is pretty much a lightly ruched see through granny panty which isn't sexy to me at all. I love the deep plum purple color, but the panty just doesn't do it for me as a whole. It has two pieces of black lace on both sides of the front of the panty and is plum everywhere else. It does have a panty liner that isn't sewn down at the top or the bottom so there's no way you could keep a bullet in there. The front center panel is a shiny purple whereas the rest is see through. It has four removable garters. This makes it wonderful for those who wear stockings that tend to fall down and you don't feel like wearing a garter belt to keep them up. Laying flat the panty measures 13" wide and 5" long. It cuts down diagonally another 8". It fully covers the butt. The silky panel is 7" long and 7" wide. The black lace is 4" long and 2" wide. The back measures 13" and the ruching goes vertically down the middle of the panty where the material is sewn together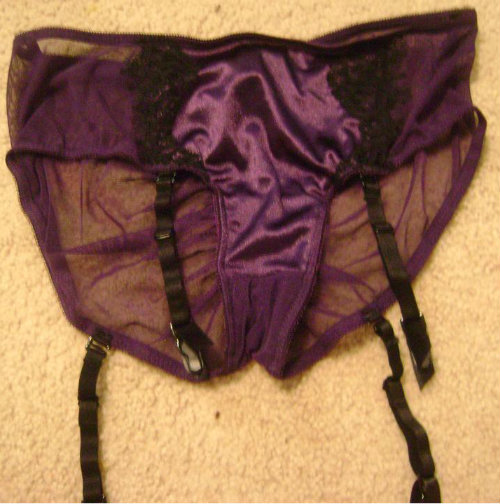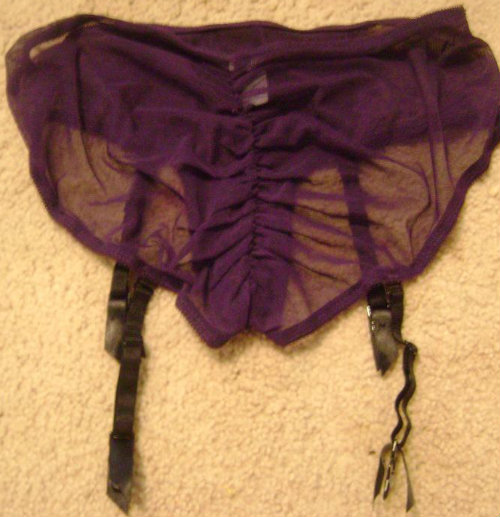 The garter
is just like the
Stocks and bondage set
I reviewed and measures 3 ½" long at its shortest and can be adjusted to 6" long at the longest. It has metal clasps which is nice. Since they're removable you can wear these as normal panties as well.
Material and Care
According to the tag, the bra is it is 92% polyester and 8% spandex. The panty is 90% polyester and 10% spandex. As with my
Stocks and bondage set
the only instructions included with this set is that it is best to hand wash this in cold water and line dry. I feel they should be safe in the washer on the gentle cycle if you put them in a lingerie bag or pillow case.
Craftsmanship
It did not have any loose strings and the stitching was excellent. The only issues I have with it is that it is sized small.
Packaging
It came packaged in a sealed plastic bag partially on a hanger with a Dreamgirl tag attached to the bra displaying a photo of a model wearing the outfit along with basic information about the product.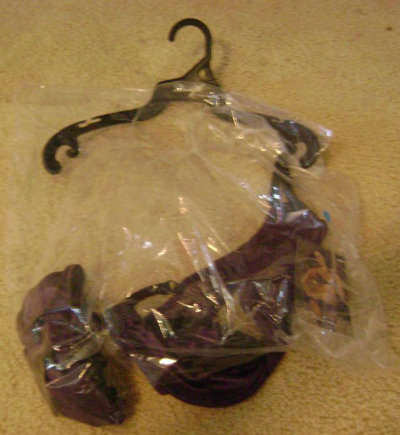 I don't hang up my bra and panties, but I did use the included plastic hanger for a lightweight t-shirt because I don't have enough hangers in the house.
Experience
Front of piece with and without garter straps attached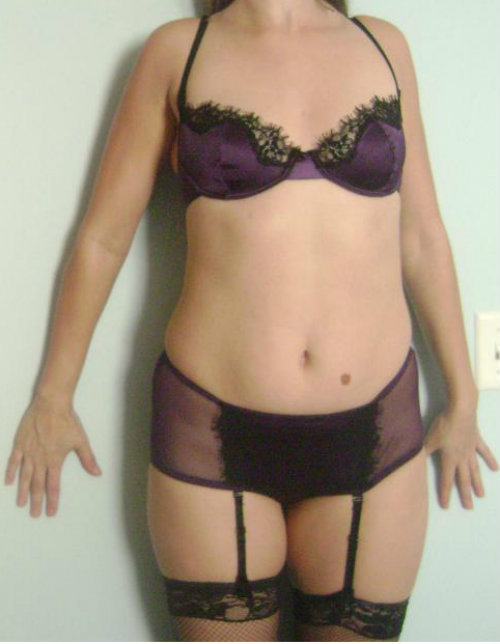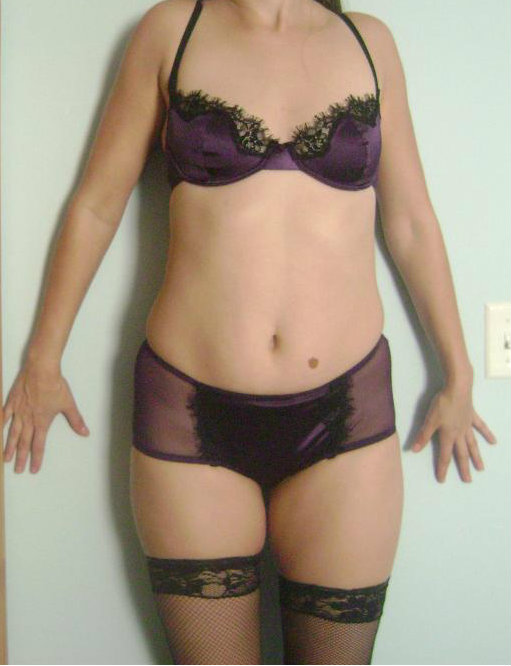 Back of piece with and without garter straps attached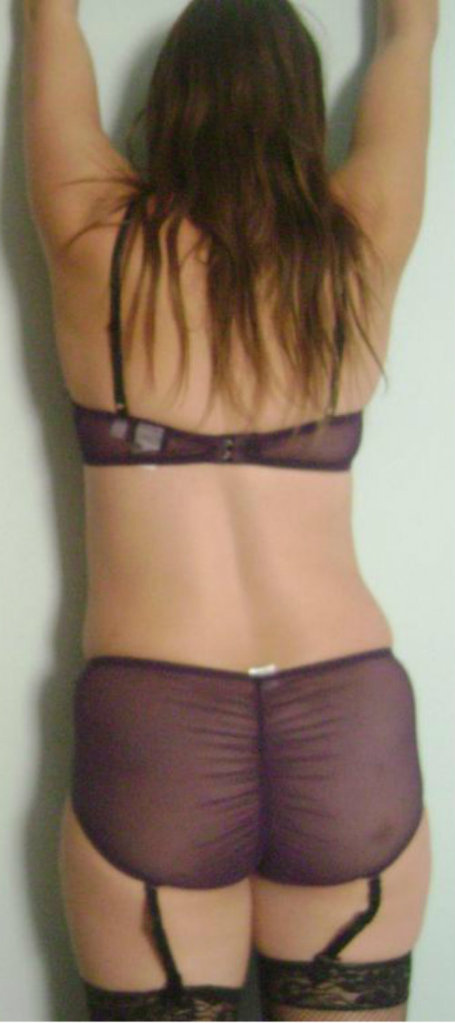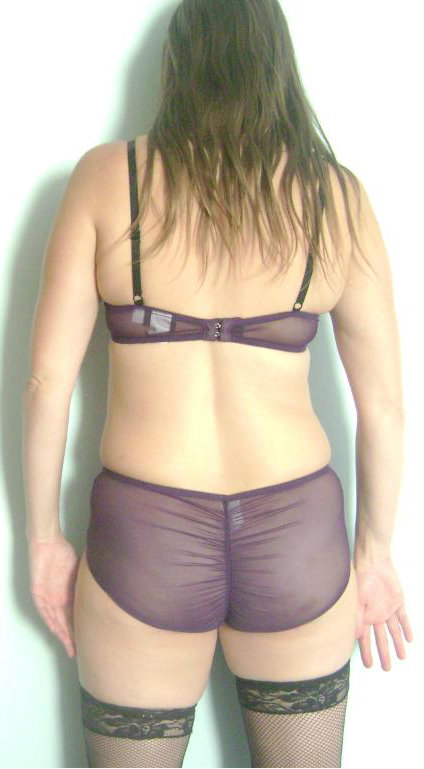 Overall, I don't find this to be comfortable or sexy. I'd wear the bra more than the panty, but I would only be able to wear the bra for short periods of time. Purple is one of my favorite colors along with blue and I had high hopes for this, but sadly it just failed in all aspects for me.
This content is the opinion of the submitting contributor and is not endorsed by EdenFantasys.com

Thank you for viewing
Silken bra and panty garter
– bra and panty set review page!