Beautiful Black
The Black Heart Pasties by Bristols 6 are fantastic. The kit includes two pairs of pasties (one lace set and one solid coloured set), 2 mini pasties to do a patch test, nipple pads, and an excellent direction manual. The price for these are excellent as well. I've tried a few different pasties and these are by far my favourite.
Published:
Pros:
inexpensive, sexy, includes nipple pads, minis for patch testing, strong adhesive, comfortable.
Cons:
does show a bit of a nipple outline if your nipples are erect beneath a thin shirt.
The Black Heart Pasties by Bristols 6 supposedly come in two "cup sizes", which are AB and BC. However, I've purchase different pairs of these pasties in both BC and AB "sizes" and they both measure in at the exact same size. The pasties are 2 inches in length down the centre and 2 ¾ inches across. Since I was aware of this before ordering these pasties, I went with the AB set. The difference between the two sets seems to be the colour of the one set of pasties. Both AB and BC have a lace set and a solid coloured set. In AB, the solid coloured set is black. From the photo on the product page of the BC option, the solid coloured set is more of a navy blue. I liked the solid black set so I went with AB.
The pasties arrived in a thin cardboard package. The package resembles a small envelope and is just as thin as one. The front of the package states the product name, company name, and has a photo of a model wearing pasties. The back of the packaging states the contents included, company website, and has a plastic window to see the pasties sitting inside. The packaging is excellent to use to store the pasties in.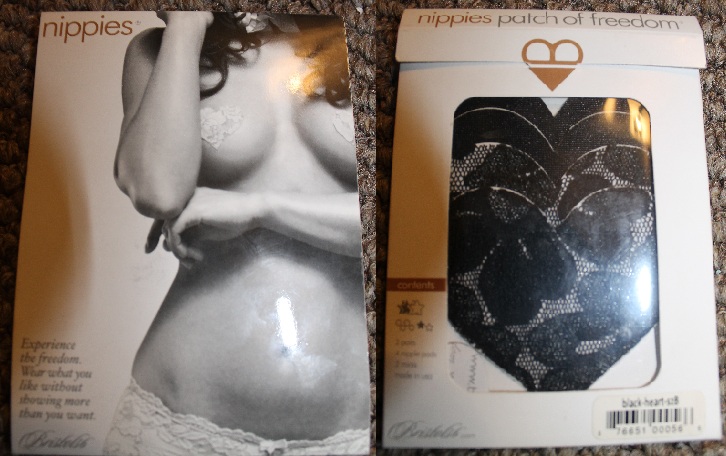 In the package, you receive 2 sets of pasties, 4 nipple pads, 2 mini pasties, and a direction pamphlet. The direction pamphlet has an abundance of information, which is great for those who have never used pasties before. The pamphlet information is printed in six different languages.
The company has included mini pasties (¾ inches x 1 1/8 inches) in the kit to use for patch testing. This is important to do if you've never used the company's products before. Doing a patch test is easy. Place one (or both) of the mini pasties on your torso or chest and keep it their for six hours. This will test to see if your skin has any negative reactions to the product's adhesive. Once you've done this and had no negative reactions, you're ready to use the regular sized pasties. The directions state that the pasties should not be used on sensitive skin, open cuts, skin disorders, sun burned skin, or if you have skin depigmentation.
Putting the pasties on is fairly simple. First, clean and dry the area where you plan on applying them. Second, take a nipple pad and hold it at the centre of your nipple. Third, peel of the backing to the pasty and apply to skin. The direction pamphlet makes it sound a bit more complex than it actually is, telling you where you should peel the back of the pasty from, etc.
My favourite thing about these pasties is that they are fabric. This means they are flexible, stretchy, and will sit properly against your chest as long as you apply them correctly. The best and easiest way to explain these is by saying that they are like big, fabric stickers. The bad thing about this though is that the fabric can stretch if you pull it too hard, leaving you with a distorted looking heart. When you're applying the pasty, just be sure to take your time and don't tug on the fabric.
Another thing I really like about this kit is that it comes with nipple pads. These covers are little, circular pads that protect your nipple. The diameter of the pads are 1 ¼ inches. The pads ensure that there is no tug on the most sensitive area of your chest while removing the pasties. When removing the pasties, peel them off slowly. When it was time for me to remove the pasties, I didn't experience any pain from removal. Also, there was no adhesive residue left on my skin when I removed them.
The company states that the pasties should be worn for 6-8 maximum. I've worn the pasties for a good six hours without them becoming loose or falling off. The adhesive is strong and works very well. Another excellent quality to the pasties is that they are waterproof. This means that you can sweat like crazy, swim, bathe, or shower with them without concern of them falling off. I've tested this theory and they do in fact stay on the skin.
Experience
...continued

The only con that I've found with the pasties is that if you're wearing a tight, thin shirt and your nipples are erect, you can see a bit of an outline. You can't see as much of an outline in comparison to not wearing pasties at all, but it's still there. This really isn't a problem for me because I wear pasties in the bedroom only as a lingerie accessory. I'll pair the pasties with a nice pair of panties and I'm ready to go! My partner loves when I wear pasties for him.

The pasties can be used again but you'll need to invest in pasty glue or a similar product. The company says that the pasty adhesive will "reactivate" if you press your hand against the pasty to your skin. The heat is supposed to make it sticky again. Sadly, I've found this to not work at all.

Overall, these pasties get a 5 out of 5 from me. These pasties are the best I've tried and I'll continue to purchase them. I'd absolutely recommend these pasties to those who are veteran pasty users as well as to those who have yet to try them.
Follow-up commentary
7 months after original review
I still love these pasties. It's a shame they've been discontinued. They were a great price, the adhesive was super strong, they looked great, and they were waterproof. It'd be nice if Eden brought these back. The only colours available now seem to be flesh-tone colours. I would have purchased more if I had known they were no longer going to be carried.
This content is the opinion of the submitting contributor and is not endorsed by EdenFantasys.com

Forum
| Discussion | Posts | Last Update |
| --- | --- | --- |
| pasties | 2 | |
Thank you for viewing
Black heart pasties
review page!