Wear What You Like, Without Showing More Than You Want
Bristols6, where have you been all my life? The pasties made by this company are amazing. They are comfortable, versatile, elegant, and incredibly sexy. Even when my partner doesn't yet know I am wearing them, they boost confidence in such a simply way. They stick well, but don't pull the skin painfully, and mold easily to any shape.
Published:
Pros:
Sexy, Flexible, Versatile, Long wear time, Mold around piercings, Fit many nipple sizes
Cons:
Not designed to be used more than once
Even though I received a miss-matched pack, either Eden's fault or Bristol6's, I don't care! These pasties are fucking hot! They can be used for a variety of uses, in various places, and for different occasions. The mixed materials and sizes allow for a customization of looks too. They can be used as a safe guard against revealing too much if you are wearing a skimpy, transparent, or potentially embarrassing malfunctioning wardrobe. Janet? Wear them alone as the smallest piece of lingerie you'll own or with other lingerie to cover up the nipple until they are ready to be played with or allow yourself to be teased through them. They don't even have to be worn on the nipples. Use them to add some originality to your daily look. If used on the nipples in the correct way as instructed, these large sized pasties can also provide a minimal amount of lift to the breasts. Any way you choose to use them, they are really sexy and comfortable. Being a one time use item, you might want to snatch up a few packs. Once you use them once, you'll want to find any excuse to use them again!
Contents:

-2 Large lace hearts
-2 Large solid satin hearts
-1 small lace heart
-1 small solid satin heart
-4 nipple covers
-Test patch
I'm not entirely sure I received a test patch, and mine contains two turquoise little hearts instead of black ones. I'm not complaining though. They all are awesome.
Size/Fit/Design:
The large lace heart are 2" tall at the dip in the heart, 2 1/2" from top to base of the point, and 2 3/4" wide. This is one perfectly proportioned heart! The lace has a large flower pattern which is not the same from one pastie to the next. The negative space is a more see through mesh. This means that some pasties might be more revealing than the next set. This semi see through pastie looks really sexy against bare skin. The material is really soft, flexible, and stretchy. It can work over any size nipple and even mold around piercings. The large satin hearts have solid material which is just as flexible and stretchy. Both the lace and satin hearts will fit over any nipples and most areolas. Some women might have areolas peeking out here and there.
The smaller hearts are 1 ¼" wide, 7/8" tall at the dip in the heart, and 1 1/8" from the very top to tip at the bottom. They can be used to cover only the nipple or to be placed anywhere else on the body. Place one on your shoulder, ankle, hip, chest, etc. You can also place them on top of the large hearts for a customized look. If you mix and match different sets, you can contrast the colors.
The four enclosed nipple pads are round circles with 1 ¼" diameter. They are made of thin, white material. The instructions say to place them over the nipple before putting the large pastie on, but it is not necessary.
Application/Removal:
The adhesive used for these pasties is the highest quality, hypo-allergenic, safe medical material. It sticks well to the skin, but doesn't pull to a painful extent when taken off. They say they can be worn for 6-8 hours and will stay on through a night of dancing, sweating, or whatever else.
Before you decide to wear the pasties, you can use the included test patch to see if you have any sensitivity to the product. I didn't use it, and I was just fine. If you need to, wear the patch for 6-8 hours on the torso/chest area and monitor for irritation.
To prep, clean the skin with an alcohol swab to remove any body oils that can make the pasties life shorter. Peel off the bottom half of the protective liner and place towards the lower half of the breast, over the nipple. Then pull up slightly for a little lift, and peel off the top. Press down and smooth out. Don't pull too much or the shape will get stretched out.
Removing them is easy. Just slowly peel them off. No cleaning needed.
Packaging:
The packaging is great because it is small and slim. The pasties come on a cardboard insert. This insert slides into a thin cardboard sleeve with a clear pane in the front. Detailed instructions are included. The small package can easily be slid into a purse.
Experience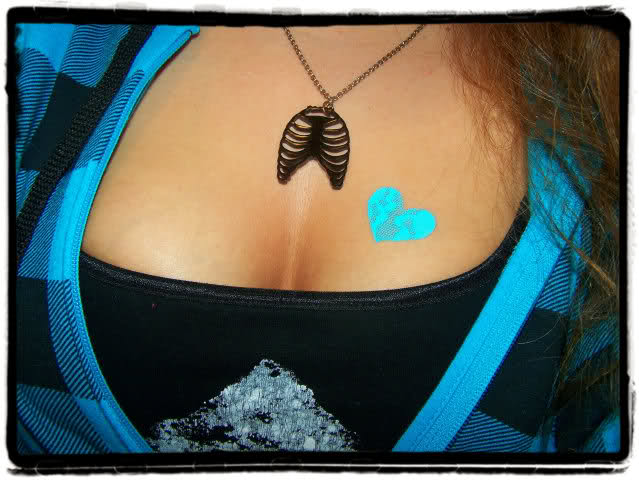 Place one on your chest as a precursor to the nipple pasties that lay underneath...

Place one on your hip to make a flash of skin unique.
At this time, I am not going to post a picture of my girls, but I will tell you that these pasties are incredibly sexy! My boyfriend was completely surprised when he saw them. They are virtually invisible under most fabrics and since they mold to you, it's hard to feel them even if your bare breast is squeezed over a tank or tee. I wore them out under a strapless dress for a dinner and then under a club top for dancing. The entire night took well over the 6-8 hours and the pasties were still secure at the end of the night. The only down side for me is that they don't come with additional adhesive or can be worn well more than once. But really, you are not paying $10 for one wear. You are paying a little more than $3 for one wear since there are three sets per pack. At this price, they are a good buy. I am already looking to buy different types from this company and have two more sets of these on the way. I think this is a product I'll be using for a long time.
Follow-up commentary
2 months after original review
As long as Brostols6 is still around, I'll be ordering more of these. I am absolutely in love with them and try to find any excuse to use them.

Funny thing is that the great people at Eden got me two replacements because this pack had the incorrect blue hearts in it. One of the two packages I got also had blue. Oh well! You might expect that too if you decide to order these.
This content is the opinion of the submitting contributor and is not endorsed by EdenFantasys.com

Forum
| Discussion | Posts | Last Update |
| --- | --- | --- |
| pasties | 2 | |
Thank you for viewing
Black heart pasties
review page!