Beautiful.. but Big.
While this piece didn't quite fit me, I am sure plenty of other women will love this set. Next time, I do hope Espiral learns to tailor the front of their boyshorts! Other than that, this set is well made and comfortable. In this sexy babydoll set, you can easily seduce and tempt one moment, then lounge and watch tv the next. I really wish this could have worked out better for me!
Published:
Pros:
beautiful color, comfortable, sexy boyshorts, stretchy
Cons:
runs large (along waist especially)
Presentation
When I saw the sex-appeal and color of this set, I knew I had to have it. I was slightly concerned with sizing, since the turquoise only comes in XL. I know most lingerie online tends to run a little small, so I figured that I'd probably fit into this set alright.
I was really (understatement) excited when this finally arrived. It came in a small box (a la cheap costumes or nylons), with pictures of the model wearing it and a small cutout where you can see the color of the fabric.
This piece is made by Espiral, a new company to the site (and me!).
Materials and Craftsmanship
This set is comprised of 96% Nylon and 4% Elastic. It also sports a soft pink ribbon, which I assume is made out of satin or the like.
As for craftsmanship, I think this is pretty well done for the price. My set didn't show any signs of fraying or tearing. While the more sheer, flow-y part of the babydoll is delicate, it didn't seem precariously thrown on or snagged during manufacturing/shipment.
Design
This set is made up of a "babydoll" style sheer top and "boyshort" style bottoms.
The top is tied at the top, behind your neck, halter style. There is no padding or wire for support; women who find halter ties to be bothersome and/or heavy for their necks should avoid this piece. There is a bow in the center of the bust, which I'm not the hugest fan of (the soft color clashes to me). As for support, you are left with some seams sewn into the cups of the babydoll and the elastic waistband portion of the top. Meaning: No support.
The lacy top actually conceals pretty well and isn't too sheer.
There is an elastic waistband, which I'd like to point out design-wise simply because it is larger than I realized when looking at the picture. Or, rather, I didn't think about how it would not flatter those of us who aren't so happy about our hip area. If you have a small waist and wide hips, the waist area might be too long to be flattering, resulting in the lacy area ending where your hips jut out... resulting in a more muffin-top look. (To me, at least.)
The boyshorts are really cute, but odd in design. Let's just say: You can't tell front from back. There is no extra fabric in the butt region; or more appropriately stated, there is just as MUCH fabric in your groin area as there is covering your butt.
There is a liner, though! An odd rectangular one in the center of the crotch...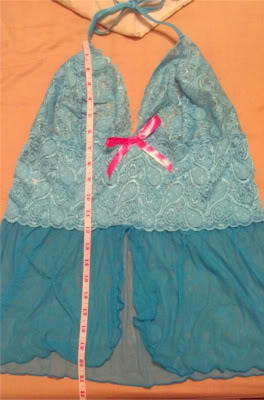 (Flash on my camera slightly distorted this pics color, realistic colors in the rest of the pics!)
Care and Maintenance
You can easily throw this back in its dinky little box, hang it up, or throw it into your lingerie drawer. The great thing about it is that it won't wrinkle much.
Wash by hand in the sink, let it hang to dry. Don't bleach, don't iron.
Experience
Sizing and Fit
This was a shot in the dark for me, having never ordered from Espiral before. I thought, hell, most lingerie companies run small so this should be fine!
Espiral's XL is supposed to fit:
Bust 40"
Waist 31"
Hips 40"
As for me..
Bust 38.5"
Waist 30"
Hips: 39"
I will also add that I wear a 36C cup bra, my under-bust measurement is 32".
Well, Espiral runs on the larger side of their chart specs. This piece was just too big on me!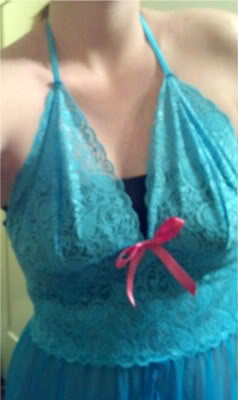 Ack, it pains me to post this picture!
The garment from the top of the cups to the bottom hem runs about 22" in length.
The cups are about 7" long; the waist area is 6" inches long. The sheer portion at the bottom makes up the remaining 8" or so.
The cups are geared toward the bustier and/or wider women out there. With my measurements, the cups were baggy and off to each side of my body.
The waist area is about 2" larger than what Espiral projects. Or maybe my waist got smaller... -cough-
The flowing sheer fabric part is beautiful, though, and lands in a good place along my hips/butt.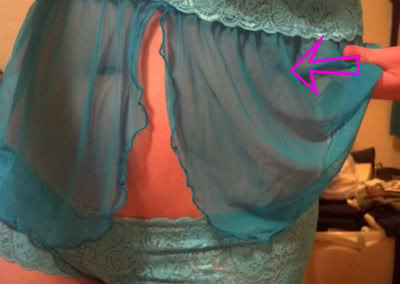 The boyshorts, and I guessed just by looking at them, are slightly too big in a certain aspect. Because they aren't... designed.. in the front, they have creases/baggy fabric. I tried this entire set on with clothes underneath, since I knew I needed to return it. Even with another pair of panties on, this had odd creases along the crotch. A simple bit of tailoring (in design) would have prevented this and made bomb-ass boyshorts.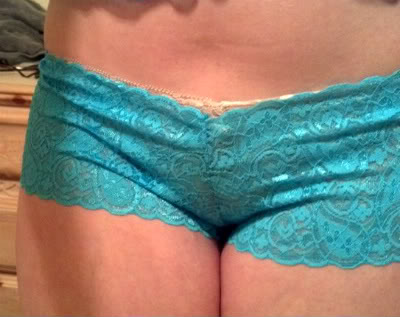 My butt, however, looked awesome in these. Perfect fit along the booty, didn't cut into my hips!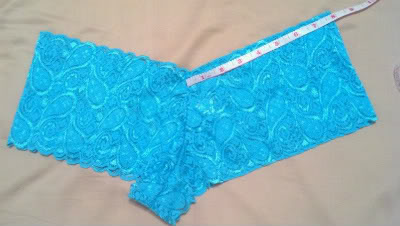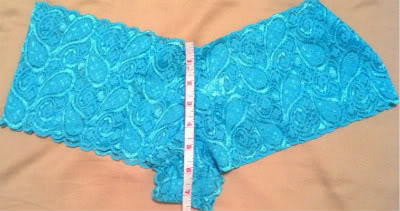 My projected sizing for this (considering the very stretchy fabric):
Cup size: 40C-44C; 38-42D
Waist: 33-37"
Hip: 40-44"
Overall
I am so sad that this piece is too big for me! Crushed, actually. If it had fit properly, I would be wearing it 24/7. (Okay, maybe just 8/7. That would look weird at work!) It is made pretty well, and the back of those booty shorts do something amazing to my amazing ass!
I do recommend this for other women out there who have a bigger chest, or carry more weight in their tummies. This can be really flattering for the right lady out there!
This product was provided at a discounted price in exchange for an unbiased review. This review is in compliance with the FTC guidelines.

Thank you for viewing
Turquoise babydoll and boyshort
– babydoll and panty set review page!