Turquoise Dreams
This is a beautiful set, but you can already see that from the pictures! What the pictures can't say is that it is also very comfortable (even to sleep in). Its stretchy material accommodates, even if you are a little bit bigger than the size chart. I am very pleased with this set and believe most women will love it. Your man will most certainly love seeing you in it!
Published:
Pros:
Stretchy material
Accommodates extra inches
Comfortable
Very sexy
Cons:
Worrisome waist seam
The Turquoise Baby Doll and Boy Short set by Espiral is aesthetically like a cool breeze on a hot summers day. So refreshing and inviting! Almost like jumping into the deep blue sea. I spotted the set and knew it was for me.
This is the style of clothes that I usually lounge around the house in; (except not so sheer and lacy)! I find it's cool, comfortable and sexy. With the cool turquoise color, it simply sealed the deal; this was a must have purchase.
Front/ Back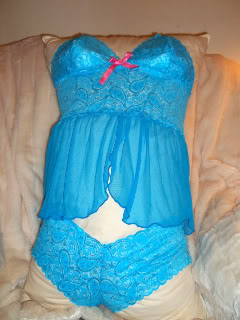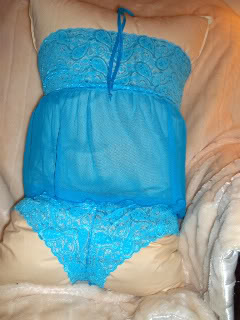 Made with 96% nylon, a strong and resilient synthetic material that offers a good resistance to oils, greases and solvents, it should be the perfect barrier for all manner of lubrication and bodily fluids. Not to mention everyday wear and tear.
The other 4% is elastic, making this set totally stretchy and comfortable enough to wear around the house just relaxing if kids or company aren't around.
The top of the bodice is a halter style, tie behind the neck affair that is embellished with a paisley styled patterned lace.
The ties at the neck are simply 1/4" strips of elastic tied off into knots at the ends. The triangle bra cups offer no breast support and are not meant to. I personally love that because my boobies love to be free!
At the plunge of the V neck line is a single hot pink bow. The lace goes down to hit the waist, where there is a thread of thin elastic sewn in to seam the lace material onto the sheer mesh material that flows down to the hips. The material ruffles a bit where the 2 materials meet. In the very front, the mesh is slit open up to the lace bodice. This conveniently shows off the pretty matching boy shorts. The shorts have a rectangular 3" by 1 1/2" cotton feeling panty liner sewn in.
While I'm in love with the looks of this set, and pleased with the overall construction, that thin thread seam holding the 2 materials together worries me. The rest of the seams are sturdy and finely sewn. Why is that important seam so neglected? I wonder. I am not a seamstress, but I think it may be hard to work with the mesh material? Just guessing. Maybe those more knowledgeable about fabrics could answer this question.
Worrisome Seam shown inside out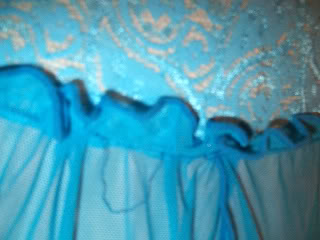 Before I go on to measurements and fit; I was extremely curious about the new lingerie company on Eden known as Espiral, and thought you might be also.
I found their web site here [http://espirallingerie.com/about-espiral-laungerie/]
I found that they do not sell to the general public, only wholesale. They have some fabulous looking clothing! They make everything from club wear to baby dolls and all of the designs look innovative, edgy and very, very sexy.
Here you will find their 2011 catalog shoot video [http://vimeo.com/22537045]
Espiral is a Brazilian company who has found a home here in the USA, although the actual product is made in Columbia. As recent as July 2011, Espiral announced that they had to move to a new and larger location to accommodate sales growth! How exciting! I am happy Eden is carrying Espirel Lingerie, but I shouldn't be surprised, as Eden is always on the cutting edge!
"The new space is more than twice the size of the old one," Espiral's Angela Escobar told BODY magazine. "The larger office space has already become crowded since we started to grow our customer service department."
Espiral Lingerie's new 10,000-square-foot location is at 11330 Interchange Circle North in Miramar, Fla. Espiral can now be contacted at (954) 430-3624 or toll-free at (888) 402-0012.
[http://www.bodymagazine.us/news.php?idArticles=2473]
Experience
This [http://espirallingerie.com/about-espiral-laungerie/] has a size chart for this line of lingerie.
For the XL, which I ordered, it lists measurements of 40" bust, 31" waist, 40" hips.
My measurements are 42C, 36" waist and 43" hip and since there is quite a bit of stretch to this piece, it worked out fine. The breasts fit perfectly. It is only a tad snug in the waist, not uncomfortable at all even while sleeping. The hip measurements really do not matter with the top as the material flows around them. Although, with me the top did not quite reach my hips, but the top of my hips. It was possibly because of the extra inches in my waist that the bodice had to accommodate. In any case, the entire length of the top is 22", but will stretch up to 27". From under the bust line it measures 15" down to the hem. The ties that go behind your neck give you a generous 18" to work with.
As for the bottoms, they were a bit loose in the hip area, but fit my booty fine. The Brazilian cut in back really enhanced my already smokin' ass and I believe they will yours as well.
Espiral recommends hand washing with a mild soap. Hang to dry. No ironing or dryers.
The packaging is simple, yet effective. A plastic hanging bag with a cardboard insert covering the lingerie, featuring a picture of this babydoll. On the back, several other pieces are featured as well.
Simple but effective packaging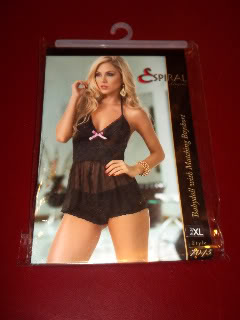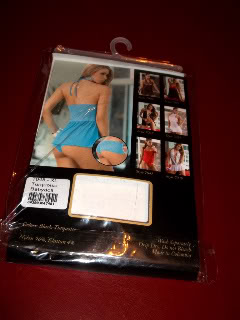 I really love this babydoll, even if I'm a little concerned about that waist seam. I plan on investing in a sewing machine soon I can join in on the fun at Eden Arts and Crafts, so this will not be a problem for me.
Follow-up commentary
4 months after original review
While I did get a lot of wear out of this babydoll, it is not one of the more durable sets I own. That worrisome seam finally came lose after about 15 washes even with me hand washing carefully. I suppose I could stitch it back together if I had the ambition to do so. I still love the styling, color, and comfort of the babydoll.

The boy short stretched almost immediately to where I couldn't wear them anymore--too large. It somehow stretched and falls right off my hips to the ground!

Overall, for the price, I would still recommend it, but it's not going to last you forever and you'll have to replace the shorts with panties or other shorts before the babydoll wears out.

I'm really torn as to how I should rate this piece...I still like it, but can't wear it anymore. This has been the case with other lingerie I own. It may be that I'm just too rough on my clothing.
This content is the opinion of the submitting contributor and is not endorsed by EdenFantasys.com

Thank you for viewing
Turquoise babydoll and boyshort
– babydoll and panty set review page!