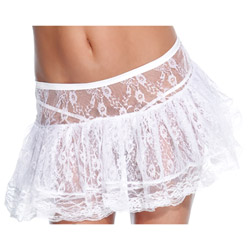 White lace petticoat
Petticoat
by Coquette
Bedroom Petti
You will enjoy having this piece for bedroom play, over other outfits, or for making skirts a bit fuller. However, it won't give you the optimal fluffiness that one would expect in a great petticoat. If you buy this for it's sheer beauty and fun look, you won't be disappointed!
Published:
Pros:
-Great Quality
-Very Stretchy
-Makes You Feel Pretty!
Cons:
-Not Very Fluffy
So far Coquette has been pretty decent to me and one of the only brands that makes good pieces in plus sizes. When I saw this petticoat I knew I had to try it! I had recently purchased a costume for Halloween and needed one anyways, so I went ahead and picked it up in the White XL. Right now there are two sizes to choose from: One Size Fits Most and XL. Assuming the OSFM was for thin people, I figured the XL would fit much larger than a normal XL. I wasn't disappointed! This is super stretchy and many people would be able to fit it to their forms.
FIRST LOOK
This piece arrived in a clear plastic bag and hanger. The tag for the garment is attached to the piece by a safety pin so their is no fear of tearing. There is another regular clothing tag on the back waistband that I haven't removed because there will definitely be tearing there. The tag is white, and since the petticoat is white, it doesn't seem too noticeable.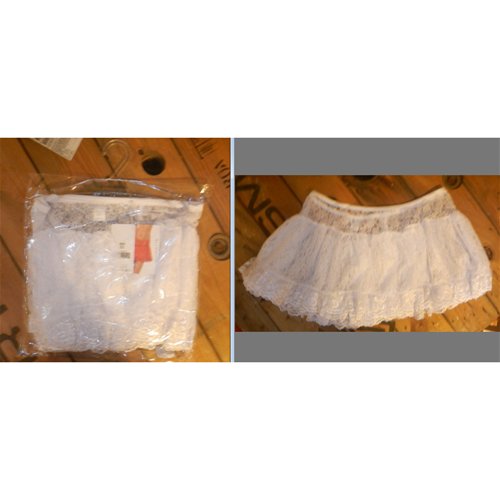 Once you have the petticoat in your hands, you should instantly realize that this is a well made piece. I didn't notice any loose threads or other flaws. The lace is see-through with what appears to be a floral pattern. It's slightly stiff and scratchy, but I expected this. It might irritate sensitive skin with friction, but I have sensitive skin and it didn't bother me at all.
The waistband is a smoother satin-like band that has a lot of stretch to it. There are three buttons at the back that I really have no idea why it came to be. There is no need for buttons when you have a stretchy band. I suppose you could put it only on the last button to give you maybe two extra inches. This could do well for those with baby bumps.
The first three inches down is a single panel and then extends to two layers of lace. This helps make it fluffy! The bottom two and a half inches is a separate seem on both panels that gives it a bit more bounce. The overall effect isn't as great as a petticoat should be, but it's still lovely and great for bedroom play.
XL Measurements:
Waistband Unstretched: 19"
Maxed Stretched: 27"
Hips: Same as above
Overall Length: 13"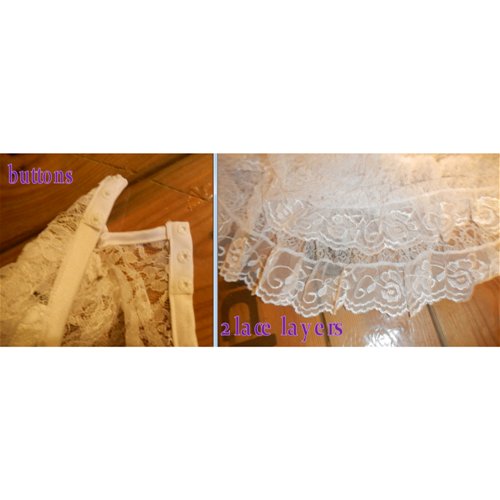 Wearing
This is easy to get into, unlike so much that is out there. Just pull it up! I love clothing like this! Because this isn't hi-low, I had to situate it to be even against my big butt and wide hips. I have to say that I instantly felt pretty having this on! I even pranced around the house like an idiot cause I love how it bounces with you. Because it's so stretchy, there was tons of room left in there and didn't feel like it was digging into me. Even with all the room, there was no fear of it falling down.
My measurements:
Waist: 40"
Hips: 50"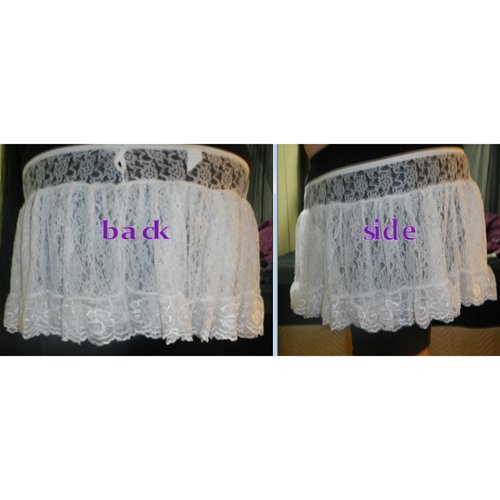 When it came to trying this with my costume (https://www.edenfantasys.com/sexy-lingerie/sexy-costumes/alice) it didn't have the effect I hoped for. The most it did was not let my dress bottom cling to my legs. Although this may be a good enough effect for some, I needed a fluffier petticoat to get the right look for a girl in the time period Alice is from. You can see the not-so-big difference below. It did fill out the skirt, but not enough to make this an out of the bedroom piece for me.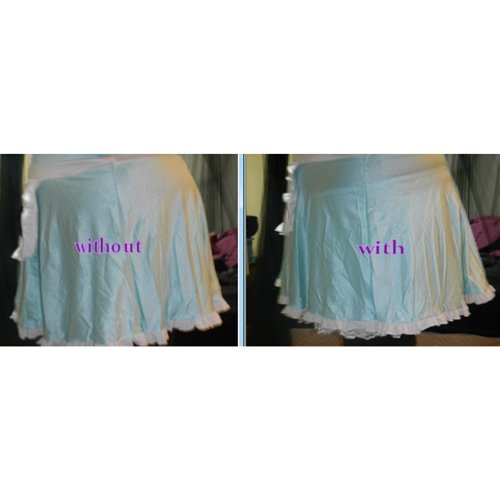 Experience
Although this petticoat won't be the best for making skirts fluffy, it IS still a great piece for wearing in the bedroom or for other fashion statements. If you're daring enough, you may want to wear this over Eden's Wet Look Pant/Capri with one of their Wet Look tops. I've been picturing this in my head and if I can pull it off, I'm on it! I may not get much wear out of this, but I'm excited to have it in my lingerie collection! Even though this didn't work for what I wanted it for, I can't help but give it five stars for being a great piece otherwise!
Follow-up commentary
2 months after original review
This has held up very well so far! I haven't had any problems with threads becoming lose or tears for normal wear. I've worn it under a few of my skirts, but I think it looks sexiest paired up with a white bustier and white stockings in the bedroom!
This product was provided free of charge to the reviewer. This review is in compliance with the FTC guidelines.

Thank you for viewing
White lace petticoat
review page!