Beware: Anyone with Curves.
Overall, the design is alright, but doesn't flatter anyone with boobs, hips, thighs... curves in general. The sizing is correct, but it doesn't "fall" right on me. The quality of the fabric is so-so. The color is amazing though. Unfortunately, I didn't feel comfortable in it. I mainly felt awkward and plump.
Published:
Pros:
Chain
Color
Made for thin/slender
Cons:
Bra Issue
Thin Fabric
Not made for curvy
Packaging:
The New Amsterdam Mini Dress by Forplay comes packaged in a clear plastic bag which extends past the length of the dress. The thin bag protects it while shipping, and is a nice storage bag for hanging it in the closet. There is also a cheap plastic hanger that is included. It comes hanging inside the bag.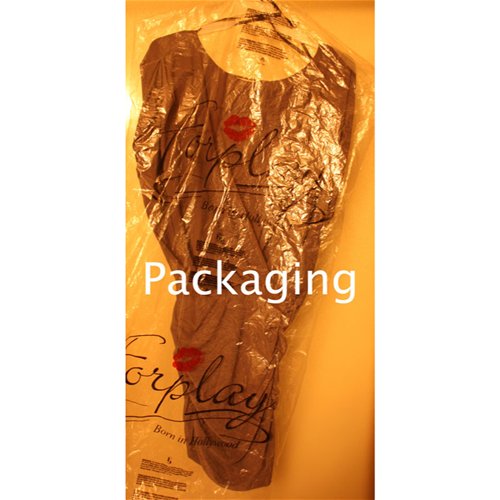 Care/ Maintenance
This dress is delicate and should be treated with care. It is best to hand wash only, drip dry, and don't iron! You should use a mild detergent.
To keep this dress in tip-top shape, hang on the provided hanger in the provided plastic bag. This will keep it free of (most) wrinkles and safe from dirt and dust.
Design/Shape/Size
While I believe that Forplay had a nice idea in mind with the design of this dress, there were a lot of flaws in my opinion. First, the top is kind of like a balloon. Or at least I felt like one. It is just a lot of thin fabric hanging down on your upper half with no real purpose. The thin, flimsy fabric with no functionality is not a good idea for women with any breasts! Especially since there is no way to wear a supportive bra. Since you are destined to wear a strapless, backless or sticky bra cups, you will have less support and will ultimately be saggier and bigger looking in the end. However, if you are smaller chested, the fabric overload just might hide the fact that you don't have a lot going on in that region.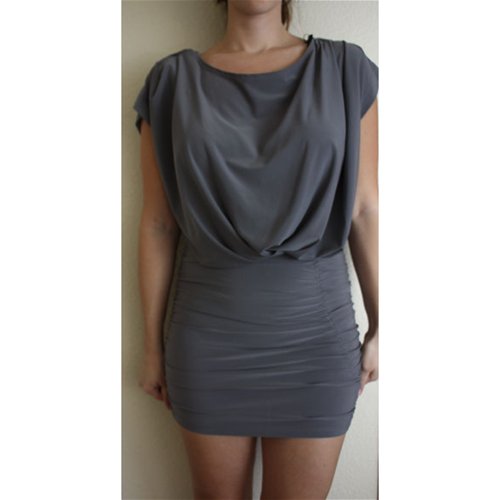 I am not very fond of the front top, but I do like the open sleeves. I love that they flow, I just wish they were attached to less fabric and could be a little closer to your body.
The back of the dress, I have a love/hate relationship with. The strands on the back are beautiful! The chain is "snake-like". They are connected with a metal rectangular connector at the shoulders and truly feel well made. The four strands look really nice together. My only gripe, is that I wish they were a little shorter. They seem to spread the entire length of my back and my shoulders. I was constantly adjusting the back/shoulders because they felt so loose.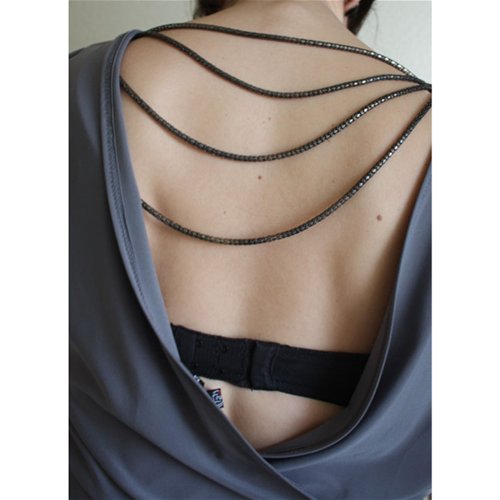 The skirt is a mini skirt for sure! You can pull it down to be longer or scrunch it up to be shorter, thanks to the gathered creases in the skirt. It is skin tight, stretchy and shows all panty lines! The seams are a little oddly placed, one is smack-dab on the butt crease and there is one that splits the front into a triangle-like thing. When I spread my legs in the skirt - I can see right through it.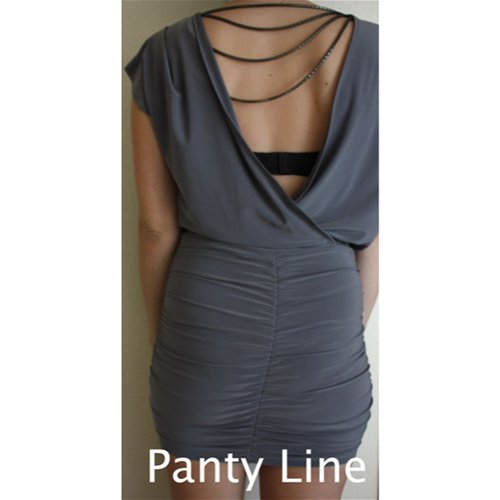 The dress comes in a variety of sizes: XS, S, M, L, and XL. I am typically a size small. I wear size 4-6 in dresses and jeans. I have a 34D bust. That being said I ordered the MEDIUM based on the chart. The size seemed to work well, I am glad I didn't go with a small because of how tight the mini skirt is!
The dress being as loose and it is, is easy to slip on.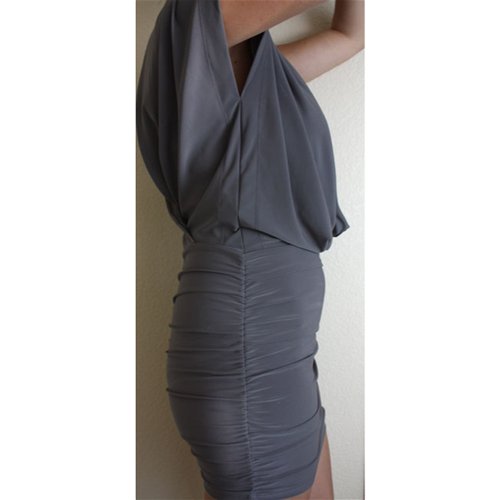 Material/Texture
Material:Polyester / Spandex
The first thing I noticed when I inspected the dress was a fabric issue! I wasn't sure if it was a burn or a stretch or what... This fabric flaw pictured below was very disappointing.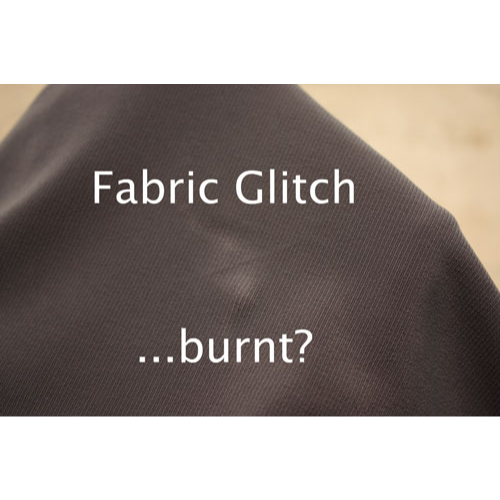 The fabric was very comfortable and soft to touch, but flimsy and thin. The defect shown above makes me believe that the fabric can be damaged easily and is of poor quality.
The fabric is thin when stretched - to where it can be see-through. I like the ruching in the hip-hugging skirt, it is more flattering than just a flat fabric mini skirt. That being said, it is tight as tight can be, which is not flattering! Bummer. You must have a flat tummy, or it will show. I don't have much of a butt, but I think a round, plump butt would look good in this, and maybe distract from the tummy issue!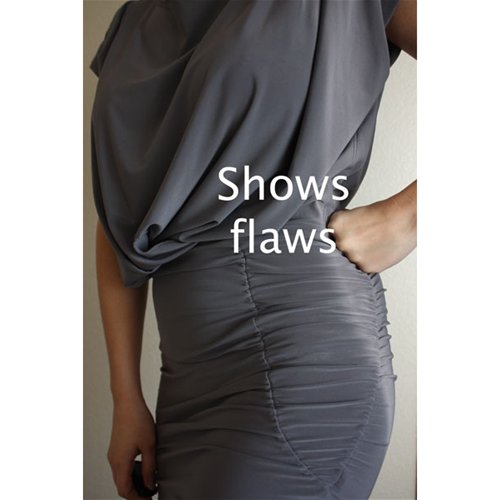 Experience
Personal Experience
I think this dress would be best if I had less tummy and less boob. Because it is tight and shows off the curves, I think it has more potential on smaller, thinner, less curvy gals.

If I play with this dress some more, maybe add a long necklace like the model, to distract from the balloon top and the tight skirt, maybe I will like the dress more. I kind of doubt it though, I just feel BIG, when I know I am really not. I am undecided if I will be wearing this out of the house ever. I will keep you updated on that one.
Follow-up commentary
5 months after original review
Although I still think this dress fits weird (super loose top, tight short skirt) - I have worn it a few times with some support pieces (like Spanx). Now that I think about it, why doesn't EF sell these tummy tucking items?! That would be amazing to pair with most of the tight dresses on here!

Anyway, so after sucking the excess in with help - I felt a little less insecure. I didn't have a protruding tummy anymore. So the bottom portion looked smaller. The top on the other hand, still bugs me. It doesn't do me many favors being so baggy and loose. I guess it is just a style that is in fashion that I have to get used to. And of course the back is still stunning!
This content is the opinion of the submitting contributor and is not endorsed by EdenFantasys.com

Thank you for viewing
New Amsterdam mini dress
review page!