Big Boobs, Big Boobs, Evangeline Loves Big Boobs!!
Evangeline is one of the few shaped cup bustiers that was made for larger breast sizes. The quality of workmanship and material makes this a very desirable garment and the flattering design works well to hide any stomach flaws--even my pooch!! Feminine, beautiful and elegant--perfect for evenings out or private wear. And guess what?? It works for big boobs!!! (In case you did not get that already from my title.)
Published:
Pros:
Fits larger beast sizes.
Flattering design.
High quality material and sewing.
Cons:
Might not work for small bust sizes.
Halter tie can hurt.
Plastic boning.
-----------------------------------------------------------
Manufacturer: Dream Girl
Size: 38
Set Includes:
--Bustier
--Thong
--Removable Garter and Shoulder straps
------------------------------------------------------------

Packaging:
Evangeline arrives in a plastic garment bag and is hanging on a black, plastic hanger with the Dream Girl logo on one side. The hanger works good as a storage option for when you are not wearing the outfit. I used this for my chemises and hung the bustier up as described below in the care & storage section. You may use the bag if you live in a home that has smokers, dust or other contaminants.

Details:
The lace looks like nylon and has shiny pink threads running through the pattern. The bust is padded and shaped but conforms nicely to larger breast sizes. There are rows of pink lace and netting accenting the upper area of the cups and a net finish as an edging.There is a pink bow in the center of the cups and two more on the bottom above each hip bone. There are two rows of pink lace running vertically down the bustier between the two pieces of plastic boning in the front. These are centered under each cup.

The front has a gentle, rounded section that swoops down and is very flattering and also hides any stomach flaws. It is a very unique and wonderful addition to the bustier design! I wish more corsets and bustiers would have the front swoop since this really tends to hide flaws and flatter your shape.

There is lacing in the back for adjusting and a zipper on one side for easy fastening. I suggest zipping the bustier on then adjusting the fit with the laces. The shoulders have wide satin ribbons that tie behind your neck. This can pull on your neck and cause a headache after awhile, so make sure not to fasten it too tight. I have tied them to the black hanger loops to prevent this from happening, and found that it looks great and works as good as behind the neck.

Material:
100% Polyester is what the tag reads, but it has a satin look and feel to the material. The material is thick and glossy with no stretch. It lays nicely against your skin and is durable enough to help shape your waist without wrinkling.

The inner material is super soft against your skin and is very comfortable. It does not breathe very well, though, so if you are going to be wearing this out or for an extended period of time, you may want to add a tube top or other thin and unobtrusive piece of clothing that wicks moisture. The lack of breathing did not bother me until I started dancing.

Care & Storage:
The instructions tell you to dry clean only. You may purchase a dry clean kit in the laundry aisle or take it to a cleaner. I have had good results by hand washing in warm water with a mild detergent. I use Dona Lingerie Wash but you can use Woolite or other gentle cleanser. Do not wring out the bustier! Let the outfit air dry--do not use the dryer! I hang this over a hanger with the side boning on the bar of the hanger. This allows it to dry without ruining the shape. You may iron this with the iron on low. Have a cloth between the iron and material and iron the inside of the corset carefully.

I store my corsets and bustiers in the same manner. Hanging them in my closet like this is the neatest and easiest storage for these garments. This allows for less space used, no messy straps falling off the hangers or getting tangled and keeps them in great shape for the next wearing.

Fit:
The bust fit me perfectly. This makes me think that ordering a size smaller or going with a waist measurement is the best way to size this bustier. The cups are very generous and are built to hold larger breast sizes than other bustiers I have tried.

The waist nipped in nicely and accented my figure and the front shape really sucked in my tummy pooch making it almost appear flat. I am very happy with the overall fit and appearance of this bustier! It has quickly become a favorite of mine due to its flattering style.
Experience
Size Chart:
My Measurements: 43D Breast - 30" Waist - 42" Hips - 28" Inseam - 22" Thighs - 5"2" Tall & 150 Lbs.
DreamGirl Sizing: (Copied and pasted from the sizing charts.)
Cup Bust (in) Waist (in) Hip (in) Inseam (in) Rise (in) Weight (lb)
Small 2 - 6 A - B 32 - 34 24 - 26 34 - 36 34½ 7 - 7½ 90 - 120
Medium 6 - 10 B - C 34 - 36 26 - 28 36 - 38 35 7½ - 8 120 - 140
Large 10 - 14 C - D 36 - 38 28 - 32 38 - 40 35½ 8 - 8½ 140 - 150
Sm/Med 2 - 8 A - B 32 - 34 24 - 26 34 - 36 35 7½ - 8 90 - 130
Med/Lg 8 - 14 B - C 36 - 38 28 - 32 38 - 40 35½ 8 - 8½ 130 - 160
1X/2X 16 - 18 D - DD 40 - 48 36 - 40 42 - 48 36½ 9 - 9½ 165 - 225
3X/4X 18 - 20 DD 48 - 54 40 - 44 50 - 56 37 9½ - 10 225 - 275
One Size 2 - 14 B - C 32 - 38 24 - 32 34 - 40 35 7½ - 8 60 - 160
Queen One Size 16 - 20 D - DD 40 - 54 36 - 44 42 - 56 36½ 9 - 9½ 165 - 275
Pictures: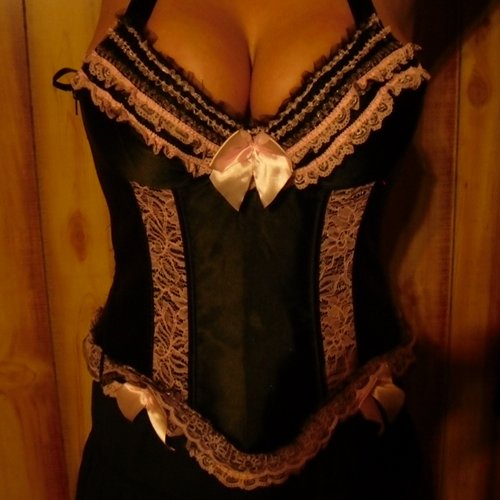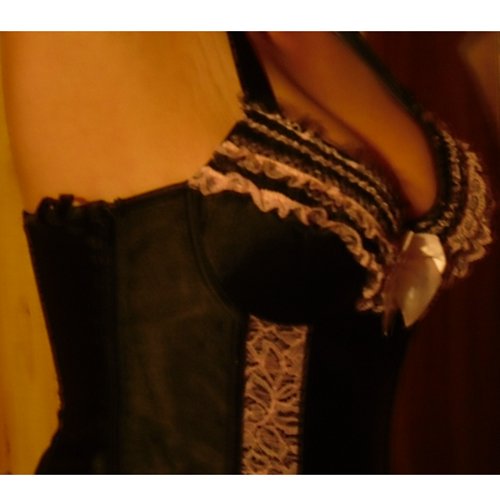 Follow-up commentary
2 months after original review
Beautiful, sexy and well made, this is a definite favorite for wearing in public and private!! Highly recommended for those who don't mind a bit of lace!!!
This product was provided at a discounted price in exchange for an unbiased review. This review is in compliance with the FTC guidelines.

Thank you for viewing
Evangeline bustier and thong
review page!