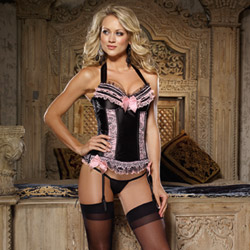 Evangeline bustier and thong
Bustier
by DreamGirl
Show Off Those Curves!
Get a slimmer sexier shape with high and proud breasts by donning the Evangeline Bustier! You'll get more than a 'thumbs up' approval from the man in your life and feel like the super hot vixen you are. This is some seriously beautiful and functional lingerie at an extremely reasonable price but beware the neck straps if you don't want to feel the weight of the girls being supported there instead of on your shoulders.
Published:
Pros:
Quality construction, easily adjustable, lifts the breasts beautifully, removable stocking straps.
Cons:
Irritating neck tie. Shoulder straps would be better design.
The Evangeline Bustier and Thong is a wonderful addition to our sexy clothing drawer and I'm quite happy with the fit and quality of this piece. I'm a tall woman myself (some may say Amazonian) with a height just under 6 feet and a curvy build weighing in at 151 pounds. Because I'm lucky enough to have a 38 inch bust with a D cup size I chose the largest size available from DreamGirl and the length is excellent. I also had no trouble zipping into this piece with the plastic boning in the torso contouring my body in all the right places. I've had a couple kids and those in the same boat know that it's next to impossible to shed the little pouch of lower abdominal fat that comes from having your body stretched ridiculously during pregnancy. I'm a little self-conscious of those war wounds but the Evangeline Bustier definitely helps to hide that blemish and sucks in the extra bit of beautiful me very nicely.

Constructed from polyester material the bustier has a silky smooth and soft feel and is extremely comfortable to the skin meaning I seriously could lounge around in it all day! The underwire in the cups is also not intrusive but provides lift and support for the girls making them tall and proud and dazzlingly eye-popping for my husband. He certainly took notice of all the cleavage and had lots of compliments for me. The side zipper also meant he could easily unwrap his 'present' without fumbling with a plethora of hooks and snaps like those often found on this type of product.

Pink lace overlay in two front panels and a middle bow accentuate the bustier making it even more pretty and softening the black base color. Along the bottom more pink lace ruffles and two bows complete the sexy look. Two straps for attaching stockings (which aren't included) on either side of this sexy outfit are fairly easily adjustable in length. As a bonus they are removable which I think is a great idea if you don't feel like donning hosiery and having them flopping around. I've never seen this option in any lingerie I've ever owned so I give that feature a thumbs up!

Although the Evangeline Bustier is marketed as such I'd argue that it functions more as a corset. At the back of the clothing are a total of 22 eyelets (11 down either side) where a polyester lace weaves back at forth for tying the lingerie tightly around your torso. For the first wearing I left this tied as it arrived and used the zipper to bundle up comfortably and easily inside. It was just a tad loose on my body and I employed my husband to undo the securing bow and tighten the laces to cinch me in more tightly. Even with his fumbling fingers he had no trouble with this and likened it to putting on a pair of shoes. A quick retie of the laces into a bow and I was all set. If I don't have any big fluctuations in body weight or a 'fat day' these laces should never need adjusting again and I can now focus on using only the side zipper for easy access and egress from the bustier without requiring any help.

The only real dislike that I have for this bustier is the top straps which are attached to the top of the breast cups and are to be tied around the back of the neck. I understand that this helps to give my girls more lift and make the piece function as a cleavage enhancing bustier but I really have a personal hatred of having to support my breasts with my neck. I avoid bathing suits designed this way for the same reason and prefer shoulder straps do the work instead as it's just plain more comfortable. There may be some redesign put into fixing this issue on my behalf and some stitching of the straps onto the back may increase my enjoyment of this otherwise beautiful lingerie. The hard part will be getting the strap lengths just right for the proper support or I will find a way to make them adjustable. Cutting them off completely is another option.

The overall quality of the Evangeline Bustier is very good (it's made in China) and I haven't found any missed stitching or fraying of the edges. Hand washing in cold water is a must along with air drying. 100% polyester fabric doesn't hold up to machine washing or harsh dryer temperatures and will be wrecked if you try to take those lazy ways out for cleaning. Packaging of this product was non-existent with only a tag attached with the product and company name on it.
Experience
I've already mentioned the relative ease of slipping into this bustier and how much I like the way it gives my sexy curves even more appeal. Lingerie is not only supposed to get your lover revved but for any woman to wear it more than once it has to make them feel gorgeous. Mission accomplished on both fronts! I'm a diva in this and what more could any girl wish for. Normally lingerie spreads more time on our bedroom floor than it does on my body but hubby takes only the included thong off me before our lovemaking and his compliments and obvious enjoyment of me in this bustier couldn't be better. The neck tie spends most of the time undone for him to have easier access to my breasts and I find that I still have decent support with the underwire cups. The satin like finish of the polyester fabric has yet to have any pulls in it from his rough hands pawing at me either.
This product was provided free of charge to the reviewer. This review is in compliance with the FTC guidelines.

Thank you for viewing
Evangeline bustier and thong
review page!