Black satin bra and garterbelt set (size Large)
I actually like this set more now that I've seen it in person! In the product page I will admit it does look like it could be cheezy with hard, cheap material and poor craftmanship, but I am here to say that it is exactly the opposite! There is not one stitch out of place, overall it's soft and actually comfortable to wear! If you are a black worshipper like myself and appreciate unique styles like this corset style garter, then I highly recommend this bra and garter set!
Published:
Pros:
well made, pretty, unique and detailed design
Cons:
itchy cups, non detachable and adjustable garters, price
I requested this set as my monthly assignment as I kept finding myself going back to the product page and admiring the garterbelt. Thinking that only one piece of this set being the garterbelt would fit me I did'nt want to spend $34 for it, so thankfully Eden accepted my request and assigned it to me! Here is my description and thoughts on this set:
The set comes with two pieces as stated, the bra and garter. They were delivered in a clear, thin plastic wrap for protection during shipping. Each piece is made from 98% polyester and 2% spandex for the woven sections and the knit parts are 91% nylon and 9% spandex. The care tag states to hand wash in cold water and to line dry. It also states that you may use only non-chlorine bleach when needed.
I'll start describing the bra as it is my least favorite out of the two. It is a solid black demi cup underwire bra with lightly padded cups for maximium support. The straps are thin, black, and adjustable. They turn into an upside down V in the front of the bra. On the outside of each cup there is four sections of zig zag stitching on the bottom and solid black panels on the top. A small satin, black bow lays between them. The bra is outlined, besides for the straps, in a french pique trim. In the back there is three rows of two hooks for better adjustment to fit your body. The inside of the cups you can see two zig zagged lines that make the design on the outside of the bra. This stitching unfortunately does cause alittle itchness on your breasts, but the rest of the bra including the trim is extremely soft.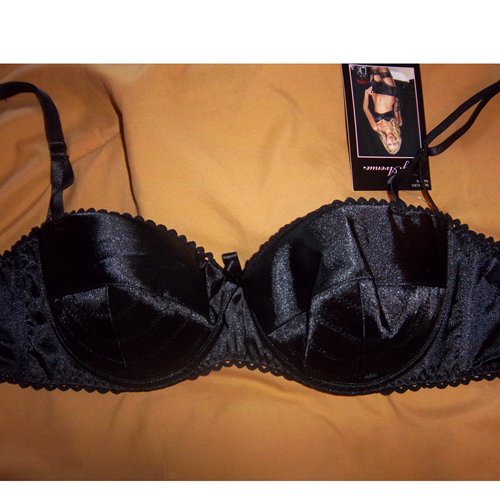 As you can see the zigzag pattern on the cups and the well detailed trim.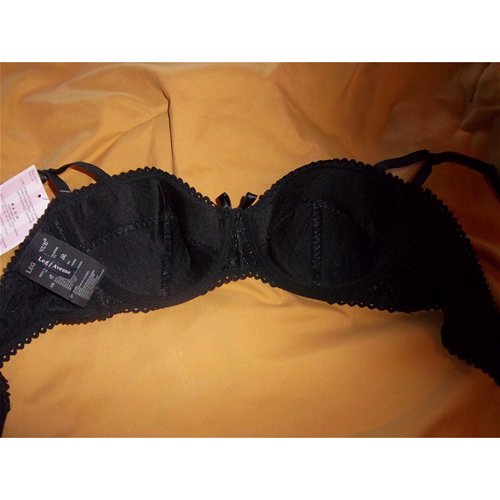 Unfortunately, with a pretty design on the outside leaves you suffering with an itchy stitching on the inside as you can see here in this picture.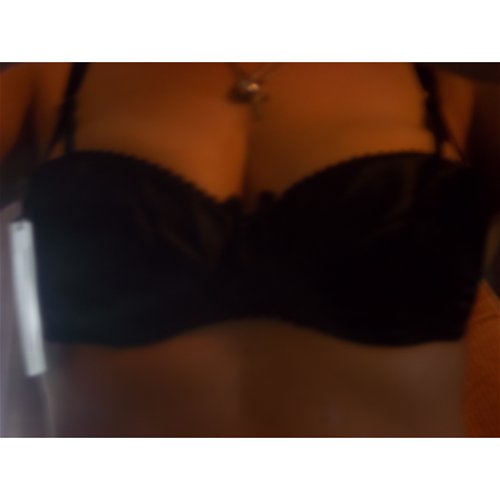 I will get into describing the sizing alittle later on but I will state that this bra is meant to fit a C cup, and I am a large D to DD so with alittle spilling over it still offers a great deal of support as you can kind of see in my blurry picture ( sorry for that!).
Now on to why I wanted this set..the garter belt! Being made from the same material as the bra it is super soft, and having spandex in it leaves it very stretchy. The same french pique trim that's on the bra also wraps fully around this garter belt. Another design that the bra has that this belt does too is in the front of each side of the lace up is the same four rows of zigzag stitching. The corset style middle is what made me want this, on each side there is five metal hoops that the ribbon crosses through to give the lace up design. I should add that this is only for design purposes it does'nt actually help tighten the garter up like a corset would. Another thing that I love about this that I did'nt pay attention to in the product picture is there is six garters on it instead of the typical four, three on each side! Unfortunately they are non detachable and non adjustable though. Each garter is thick, black, and slightly elastic with metal clasps at the end of each one. I still have'nt found my measuring tape or replaced it yet so I apologize for not being able to give the exact length of these. In the back of the belt you will find three sets of three in a row hooks to adjust it to fit your body.
Experience
continued...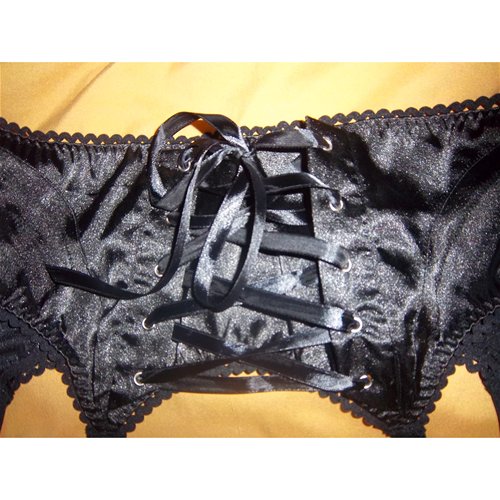 The detailing of the pique trim and the corset style lacing.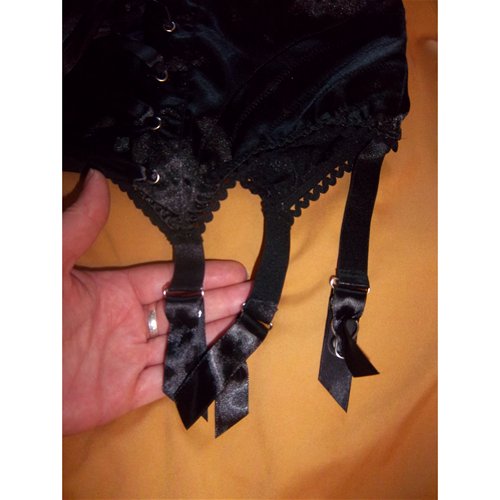 The garter straps showing they are non adjustable. Also this is one side of the belt and there is three garters. One is to be in the front, the middle is just that in the middle of your leg,
and the other is in the back!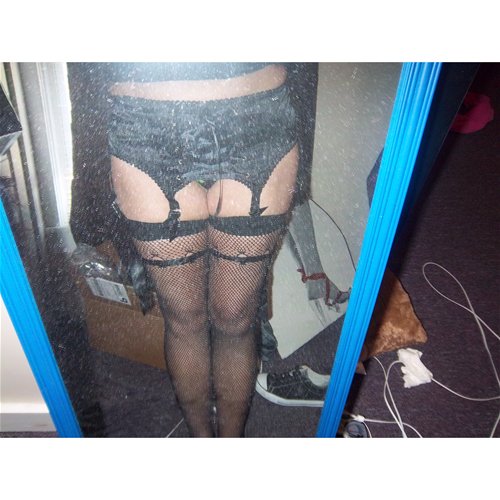 Excuse the glare.. and the extreme mess in the back but I had to show how this looks on!
Now that I explained each piece let me get on to the sizing. This set is available in three sizes being small, medium, and large. I had ordered the large and suprisingly enough I probably could of went with a medium on the belt as I have to wear it on the tightest hooks and I still have room. The bra on the other hand, well I'm suprised I could fit my big breasts into the large with out having it look like just a nipple covering! So I'm thinking this set runs alittle larger in size than it states in their size chart.
Leg Avenue
Cup Bust (in) Waist (in) Hip (in)
Small 5 - 7 A - B 32 - 34 23 - 25 34 - 36
Medium 8 - 11 B - C 34 - 36 25 - 27 36 - 38
Large 12 - 14 C 36 - 38 27 - 29 38 - 40
Follow-up commentary
1 month after original review
I really like this set now! I have worn the garter belt a few times with a few different bustiers I have and it looks great! Thats my favorite piece to this set as I had mentioned. I have washed it and it has taken a slight beating and doesn't have even a catch in the fabric! Even though I spill out of the bra some, I have still worn it with acouple chemises that don't have underwire. I found that because it is small on me it gives me major cleavage, which I like! This set is worth the price..and there is nothing bad to say about it here!
This product was provided free of charge to the reviewer. This review is in compliance with the FTC guidelines.

Thank you for viewing
Satin bra and garterbelt set
– bra and panty set review page!