Black Swan was never this adorable!
If ballerinas, tutus, corsets, or an overdose of cute and sexy are things that float your boat, you need to invest in this amazing ensemble! For the price, you get four pieces that are of amazing quality. The sizes are spot on, and it seems that every detail went into making them as such. These are all pieces that can be mixed and matched with other items you own for tons of sexy combinations! I'm in total love with this!
Published:
Pros
High-quality, lovely design, four piece set, mix and match, can be worn in public
Cons
Nothing I can think of!
Summary

This little four piece set is a total dream come true for me. I was excited to see that some of DreamGirl's new stuff was actually offered in a 32. I was even more excited to see this one because I love corsets, tutus, and stockings, and this one was all of those things rolled into one!

This set isn't the most risque set out there, but it is incredibly cute and very well-made. You get way more than you actually pay for here. With the price, I was expecting it to be of a lower quality than it actually was. And most sets out there don't unclude the stockings, but this one did. This is something you can actually wear outside the bedroom. You can mix and match the pieces and incorporate them into your normal wardrobe. The corset can be paired with jeans or worn over a t-shirt or tank top. The tutu can be worn with different corsets. You can wear the stockings with just about anything. This set with fishnets is incredibly cute, as well.

Design/Material

The whole ensemble here is made of polyester. Polyester is a pretty resiliant fabric that works well for pieces like this. It's strechy and very smooth to the touch. The stockings (as per usual) are made of nylon.

Corset: This corset has a zipper back, and removable and adjustable garter and shoulder straps. The shape is supported by flexible plastic boning. It's not the stiffest, but it still offers support and staying power. The front of the corset is a pretty ruched/gathered tulle material. It doesn't feel cheap or thin and I think the ruching is absolutely perfect. It's not too ruffly, but it doesn't look bunched up at all. The front is split into 5 individual sections of ruching with a larger middle panel and two smaller ones on the sides. The back of the corset is flat with a tulle overlay and each side of the zipper has two individual panels. The garters and straps connect in the usual manner and are easily removed but stay put when you're wearing them.

Tutu: The tutu is a little bit different than it looks in the photo. There is a plain 2" waistband around it, but it goes well with the overall design. There were some comments on the product page that it looked a little flimsy, but I can assure you that it isn't at all. The tutu is incredibly full and made of five layers of highly gathered, thick tulle. It lays down pretty smoothly, as the layers all mesh together very well, but it is quite fluffy. (In fact, I wore this under my thick wool peacoat and it actually made it poof out on the sides!) The inside is lined with a plain piece of polester for modesty purposes.

Stockings: These are made of nylon. They're your very typical black thigh-highs, but they're actually the nicest pair I own. They're incredibly smooth and have a very even color. The material is thicker and silker than the pair that I have by Leg Avenue. They're very comfortable to wear and work with the garters nicely. They seem to be much more resistant to runs than a lot of the other pairs of stockings I have.

Thong: There's not much to say about this one. It's a classic black thong made of polyester. The sides of the thong are thin pieces of elastic. It does have an open lining in the bottom of it which you can slip a micro bullet into if you wish. It's very similar to the thongs that come with other sets on Eden.

Quality

I was incredibly impressed with the super quality of this set. Because you get everything at such a good price, I was expecting it to have a few shortcomings here and there, but it's very well made, and is made from quality material. The tulle isn't the cheap thin stuff you find novelty tutus made of. The stitiching in the corset is amazing and there wasn't a loose thread on the thing. The stockings, as stated above, are of better quality than a lot of the others I own. The thong isn't something you'd find in Victoria's Secret, but it's still really nice and doesn't look or feel too cheap.
Experience
Sizing
I have a hard time finding lingerie that fits me because I'm so thin. I'm 5'4, 105lbs, and I measure 32B-24-32. Most lingerie out there starts at 34 and leaves me with a lot of extra room. Let me tell you, baggy isn't too sexy. Also, because I have an issue with a long torso and short legs, garters are often too long no matter how short I adjust them. This set, however, fit like a dream.
The corset, which is a 32, was very true to size. It fit me wonderfully without being too loose or too tight. It was very comfortable to wear for extended periods of time. At first, when I saw it was a zipper closure, I was a little nervous. When I tried it on, though, it fit me like a glove. Another awesome thing about it is that it doesn't smash down small boobies, but it doesn't have a huge gap that they drown in, either. The straps allow for the top to be adjusted to it fits well. The tutu could stand to be slighly tighter, but I blame that on my lack of womanly hips. The garters were actually short enough for me and had a lot of room for adjustment. The stockings fit my 18" thighs really well and didn't seem like they'd me much of a problem for someone whose legs are a bit larger.
There really isn't a specific sizing chart for DreamGirl's numeric sizes, but this is what I've gathered from wearing this cute stuff.
DreamGirl Size 32
Bust: 32 B/C-34 A/B
Waist: 24-25"
Hips: 33-35"
Height: 5'2-5'6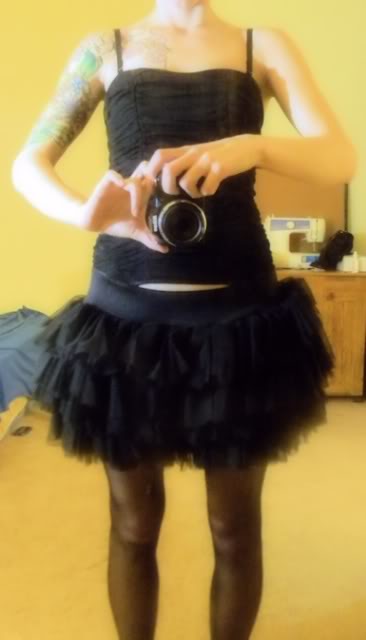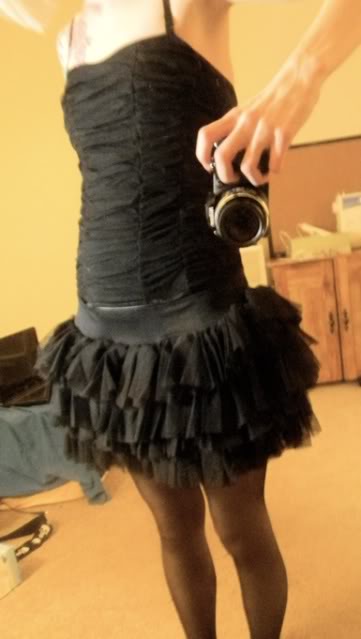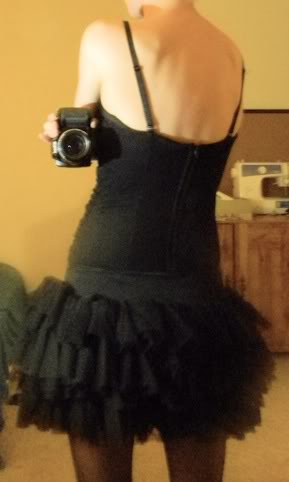 Care
The corset says that it is dry clean only. If you get anything on it, dab it off as soon as possible. I'm sure that you could spot clean it with a damp cloth and hang it to dry without any issues. The tutu, thong, and stockings should be hand washed in cold water and line dried.
Follow-up commentary
4 months after original review
I really love how versatile the skirt is in this little set because I can wear it with other corsets I own and it looks just as adorable. It's still one of my favorite pieces of lingerie I have because of this. The corset isn't too daring to wear out in public, either. It's softer and cuter than others, and doesn't place so much emphasis on "hey, check out my rack".
This content is the opinion of the submitting contributor and is not endorsed by EdenFantasys.com
Thank you for viewing
Tutu skirt corset and stockings
review page!