Bon Voyeur may have a deeper meaning when it comes to this set
If your idea of sexy lingerie is wearing something covered in nude, hairy people having intercourse, then this is up your alley. If you love pink and a touch of lace, this will intrigue you. If you are like me and can't get past a manufacturer blatantly lying about their product--and nude people on your lingerie--best you skip this.
Published:
Pros:
Comfortable, full-back panty.
Cons:
Product photos show different design.
Nude people design.

Bra has a few cons itself.
I want to clear something up about the Bon Voyeur set before I go into my review: This lovely looking set is probably only for one type of girl -- the girls who find nude people having intercourse printed onto her lingerie sexy. If you don't think you'd feel like a classy sex kitten while wearing nude people having intercourse on your lingerie, then don't buy this.
Since that's out of the way, in case there is someone out there who finds this set so lovely that they might just cross their fingers, hope the sex having people aren't that noticeable, and buy anyways, I regrettably have to burst your bubble. I had hopes. Even after feeling like a fool for prancing around in this set and actually being nothing but a walking porno, I began searching the bra and panties hoping at least they weren't littered with trash. Every garment included is covered in it. And to think I was planning to buy all the Bon Voyeur pieces! Even the matching chemise that EF doesn't carry. I wanted all of these, but now I won't purchase any of the others.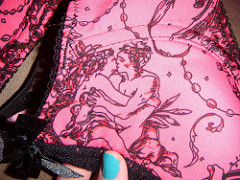 Bon Voyeur set comes with three pieces: a bra, a garter belt and full-back panties. This hot pink set with black eyelash lace detail and black printed design looks lovely, modern and feminine -- besides the nude people, but I don't have to say it again. We have established that part. I am composed to feel that this set is more geared, and probably going to appeal more to the younger females, such as myself (22). However, I firmly believe that a girl's never too old for anything, whether it's sparkles on her skin or a certain clothing. This is not a set that would appeal to, say, my mother or grandmother. Not that a girl either of those ages couldn't totally rock this!
MY MEASUREMENTS:
Bust: Right: between a B and C cup. Left: 34B
Jean/shorts/size: Zero
Weight: 93lbs
Height: 5 2"
Waist: 26" Lower waist. Where I'm a bit wider, the love handle area: 29"
GARTER BELT:
26 1/2" around.
The garter belt is like most, just a thin strip of material that wraps around the waist and latches in back.
This particular garter belt is 2".
On the front of the garter belt, smack dab in the middle, there's a lovely black satiny bow.
The straps on this, while adjustable like any garter belt, have little triangles of lace attached to the garter belt itself right where the straps begin. Ya'll know I'm not great at describing little details, so my photos may be of more use.
7 Til' Midnight always has the same garter clasps -- plastic with a clear squishy guy and a satiny piece of ribbon that covers them. These pieces are an appreciated detail for me, but they do make getting the garters clasped more of a hassle than those without the ribbon. In the Bon Voyeur's case, this ribbon is black.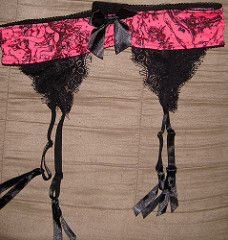 The garter straps are the typical, sturdy enough bra-like straps. They measure 3" long at the shortest adjustment and 6" at longest. So even if you're short and like to wear your stockings all the way up to your crotch like me, these should accomodate.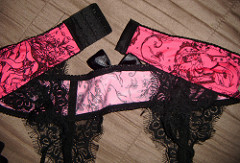 The garter clasps in the back with 3 rows of hook and eye closures. The space between each closure is less than half an inch. I hook on the tightest setting for a comfortable, non-digging into love handle fit. The largest setting slips off me, but will accomodate up to a medium sized waist. Any larger and this will dig in. However, do see my panty details as they're a different story -- a tad tighter.
PANTIES: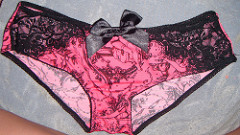 The panties are nice. It's been years since I've seen a pair of panties that were full-back and did not still ride up into the crack. These are the real deal. Full coverage without looking like granny panties, but still flattering. It seems even the full-back panties these days are made to feel and almost look like thongs! I guess it's the whole "cheeky" trend. I for one just want my cheeks to not to make a meal out of my undies. These are comfortable and light enough to be worn as daily panties, and might be better for that since most of us don't feel they'll be useful as sexy lingerie, with the nude people on them and all.
And the good news: they do have a cotton crotch liner.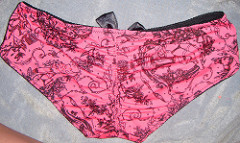 These comfortable panties feature subtle ruching up the middle of the butt, allowing the panties to show the shape of your behiney. This is appreciated by me, someone who's rear likes to hide in most comfortable panties.
Experience
CONTINUED...
These also have lace and bow detail. The lace is two sections on either of the front and the bow's in the front middle. Each piece has black loopy trim around edges. Photos are better at explaining this. It's not uncomfortable on my thighs, waist or chest.
Measured lying flat, these are 6" long & 12" at waist. Featuring a zig-zag stitched, very narrow elastic band, it isn't uncomfortable, but even at a loose-ish fit, I can feel they'd dig in uncomfortably if I were any larger. This may be where larger waisted girls want to size one size up. Unless you're sure you'd need bigger, I don't think it'd be necessary to go up two sizes - unless the measurements I listed aren't fitting for you.
As with the rest of this set, you can expect to see nude people on front & back of panties. The bottom half of a woman is right under the bow, smack dab on my crotch.
BRA:
On the product page, this bra is labelled as "padded." It's not padded. It has the lightest touch of something along the lines of, but thinner than the liner in swimsuit tops. NOT padding, but lining. My nipples show when very hard.
The bra's cute, but came warped and nothing could fix that. It only looked normal when it was on my breasts. They bulged the warped fabric, but even after washing, it won't fix. I suppose the bra was folded and crumpled before arriving. If you don't fill the cups, the warping will show. See my photo. It shows the bra all folded/warped up. You can see this a little in my photos.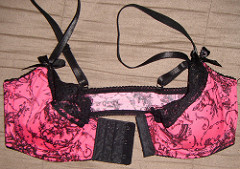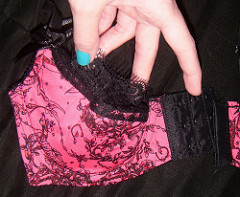 The bra has the same 3 rowed hook & eye closures that the garter belt comes with, but unlike many bras, this one clasps in the front. It's decent. Cheap, but comfortable enough since there's no padding and the underwire isn't jabby.
Since the thick hook & eye closure rests between my breasts, it pushes them farther apart than they naturally are and looks funny. This definitely cannot be worn under clothing unless you're wearing a bulky top. The cups look funny under a blouse or shirt and the cups & lace give a rough, non-smooth appearance.
Like the panties and garter belt, the bra also has eyelash lace trim on the cups as well as two small black bows at the straps. The adjustable, thin black straps are identical to those on the garter belt, and are your typical bra strap with plastic slider adjuster. You're able to fully adjust the entire length of the straps, unlike some bras that only allow you to slide the adjuster half way down the straps. Am I making sense?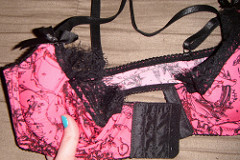 BRA MEASUREMENTS LYING FLAT:
24 1/2 wide total.
Rough estimate of cups since they're so warped that it was near impossible to get a measurement: 5" wide each.
MATERIAL:
92% Polyester. 8% Spandex.
How to care for this porn-ish lingerie: Hand wash cold. Line Dry.
Bon Voyeur set is made in China.
Review continued in "follow-up" section.
Follow-up commentary
1 day after original review
If you look really close at the design on this on the product page, you may notice that it looks like the entire set has been edited to blur the real design. Unless my eyesight is far worse than I thought, the buyer is not shown the naked people having sex design. Nowhere does this information exist in the informational text. To say the least, I'm furious. What girl wants nude people having sex on her lingerie? It's disgusting, trashy and tacky. The product photo is not only misleading, but I feel it's totally false and a lie. The photos give the buyer the impression that the set has a floral looking, swirly design on the pink material. Take a look at my photos and then look at the photos on the product page. It's not a minor mistake. This was blatantly not shown. So this says to me that 7 Til' Midnight had a good idea of that women would NOT want to purchase this set had they shown the true nude/sexual design. Sure lingerie is all about sex, but that doesn't mean I want to wear something that's got people screwing on it. It totally took the pretty/sexy look away and just looked like crude. Not hot. Not beautiful. Had it been what the photo shows, it would've been pretty and looked a bit more classy. Besides it being clearly cheap, I didn't need the design to cheapen it even more. It's hardly even worth wearing. Why they chose to put the nude woman in panties on some parts of the lingerie is beyond me, especially when they've already put her on there fully naked. And to make matters worse, they put the nude male parts with hair! ON MY LINGERIE!
Below is a photo of close-up nudity on the panties:
[http://farm9.staticflickr.com/8161/7548170792_934148ee65_m.jpg]
Maybe the name of this should've tipped me off -- Bon Voyeur? I'm pretty sure Bon means good and well, we all know what voyeur means! That's kind of a creepy name for lingerie if you think about it.
Not only does the product page flat out lie about the design, but the bra is supposedly padded. Was that a joke? Because this bra is by all means not padded. What went wrong? Did the manufacturer get high before even attempting this lingerie? In my opinion, I don't think any females were involved in the making of this. It just doesn't occur to me as something a female would find sexy, pretty or even attractive. And the males who I am assuming constructed this trash, they must own a fourth grade brain and have no clue what women would want. Maybe I'm just strange and this is what women want. Correct me if I'm wrong.
In the Con's section of my review, there wasn't enough room to really list all the con's about this set. For one, it feels cheap and is cheaply made. The bra had some loose threading, but that never bothers me enough to knock off points, so I won't be unfair and do that to this one. My low rating is all due to the other cons, but it's important to note the loose threads since some people do mind. The bra, like I said, pushed my breasts further apart and looked funny, but it did fit my size and didn't necessarily look bad by any means.
This content is the opinion of the submitting contributor and is not endorsed by EdenFantasys.com

Thank you for viewing
Bon voyeur bra and garter set
– bra and panty set review page!