Bright and Bold
I have no idea how I keep ending up with so much leopard print lingerie, but I do. This set from Seven Til Midnight doesn't rank among my favorite pieces, but it's not bad. For around $20, it's a decent set to sleep or lounge around in.
Published:
Pros:
Inexpensive, soft material, mostly opaque.
Cons:
Minimal bust support, elastic bands can be uncomfortable.
Yes, I confess, it's true: This is my SECOND leopard print chemise with pink trim from EdenFantasys, and I regret nothing! I like leopard print and I like pink, and although I don't really like them together, this is the second time that comfyness has won out and I've ended up liking a chemise in a kind of odd color combination.
This set is only available in "one size fits most" and plus size. I ordered plus size, because the last plus sized chemise I ordered from Seven Til Midnight was actually pretty snug on me, even though I'm well below the size chart's measurements. STM's size chart for plus size suggests sizes 16-22, C-DD cup, 40-50" bust, 36-44" waist and 42-56" hips. I'm size 10/12, 38D, 33" waist and 39" hips. I found that this chemise fit the size chart's measurements MUCH more true to size than the
"Till Dawn"
chemise did, though, so it's quite big on me. This is further proof that STM seems to be really inconsistent in their sizing! I don't love this set enough to go back and order another in the One Size, but I am curious if that would be a better fit.
The construction on this set is a little sloppy. There are several untrimmed threads hanging, and several spots where the pink elastic is attached look sloppily-sewn. It does feel sturdy, though- this would be tough to rip or tear off of the body, even if you were trying. It is made (in China) of 90% nylon, 10% spandex. The care tag says to hand wash cold and line dry, but I have a feeling it would survive the gentle wash cycle just fine, as long as it's only washed that way occasionally.
The chemise's design provides a bit more coverage than some lingerie, but it offers plenty of sexy hints at what lies beneath. The fabric is opaque (YAY! I order so many things thinking they're solid that end up being see-through.) but the lace panels below the bust offer a peek at the skin, and they're well-placed since that's usually one of the most slender areas on a woman. The back of the chemise looks a bit like a string bikini on top, with the pink elastic arm straps coming down to meet a strap that crosses the back about where a bra would. Beneath that, the back is open until just above the butt. This is the main area where it's baggy on me. It somehow still manages to cling to my curves quite a bit in the front, but in the back it just drapes. Luckily, that should be easy to fix with a few minutes on the sewing machine! As it is, though, the extra fabric here just emphasizes my total LACK of an ass, which is sad. Those of you that are curvy back there should have no problem with fit, though!
The best part about this chemise is that the fabric is very soft and stretchy, and even the lace is pretty soft. The overall comfort is kind of decreased by the elastic straps that serve as arm straps and strap across the back, though. The arm straps are sewn on with more thought put towards making the garment easy/cheap for the manufacturer to sew than on actually working with anatomy. I've experimented with different tightness/looseness settings on the arm straps, but I just can't get comfortable. I think if they had handled the design of the back in any way *other* than a big elastic band, it would have been much more comfortable.
When standing up, I can get a little support if I pull my boobs up above the lace that's under the bust, but if I lay down everything just flops back to wherever it pleases.
I'm not really a fan of the g-string that comes with this set, but then I almost never like the panties that come with lingerie sets, so that's not really shocking. The g-string is made of the same leopard fabric and pink elastic as the chemise. It's a bit too large on me, coming up about 1" higher than my normal underwear in both the front and back. It doesn't fall off my hips, but it's too loose on them (mine are 39") to really be worn comfortably. The g-string's waistband measures 18" across when laid flat, and will stretch up to 26". The fabric triangle part of the g-string is 7" wide across at the top and 9" long from the top down to the apex of the triangle. There's a 3" long cotton crotch liner sewn in. There is no care tag sewn into the g-string, so if you're someone that usually cuts them out, you get to save a step!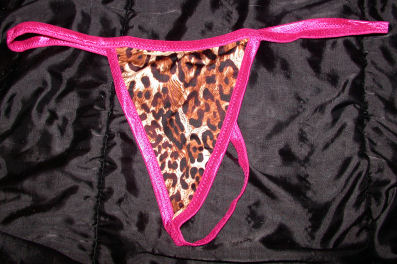 Experience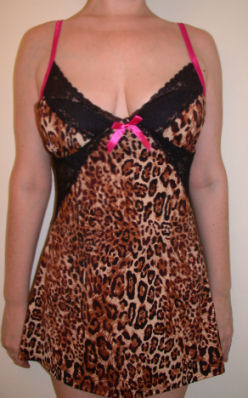 The front. Please note that this is with a strapless bra, because my boobs were just a hot mess without.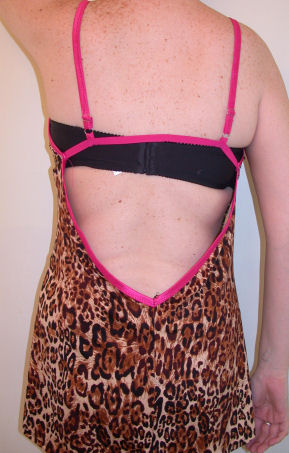 The back. Even with the bra straps almost as long as they'll go, the band across the back still pulls up high.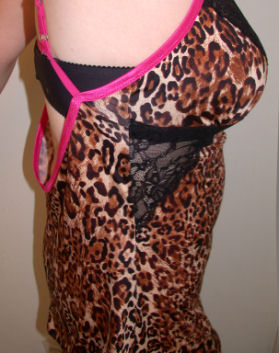 Somewhat awkward side photo. I think you can see here how it clings to my stomach, but just hangs in the back.
I have a similar chemise (
this one
) made by Cottelli, and I have to admit that I like that one a lot more. It's more comfortable, a little lighter, a little more appealing visually and made with a little more care. Of course, it's also $55 vs the $23 price of this set. If I could only have one, I'd stick with the Cottelli version, especially if you can get it on sale or as a buyout assignment (which would knock it down to less than $40). However, if price is the most important factor for you, this chemise is totally worth the $23, and does its job pretty well.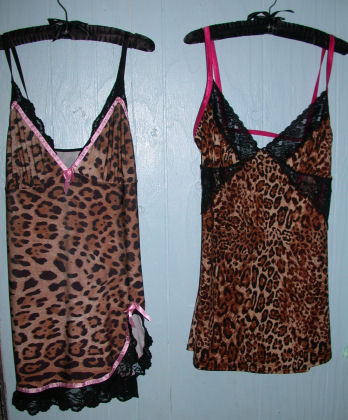 Cottelli vs STM
This product was provided at a discounted price in exchange for an unbiased review. This review is in compliance with the FTC guidelines.

Thank you for viewing
Tame my heart chemise and G-string
review page!