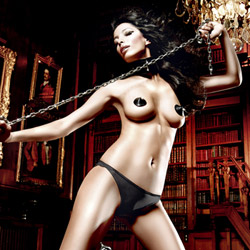 Microfiber and lace bikini
Sexy panty
by Baci
Business in the front, party in the back (M/L)
Baci's microfiber and lace bikini is a lovely little addition to anyone's underwear drawer. Well, almost anyone. Well, anyone who is a size small. If you fall into this range, then I absolutely recommend looking into these cute, yet functional panties. If you're not a Baci small, then you'd probably be better off finding a more accurately sized product.
Published:
Pros:
Pretty, nice crotch liner, comfortable
Cons:
Runs very small
As soon as I saw Baci's Microfiber and Lace Bikini, I knew I had to have it. The juxtaposition of the plain black front and intricate lace back was impossible for me to ignore, even if the panties weren't offered in my size. Fortunately for me, and unfortunately for those hoping for a M/L panty, I found the bikini lovely, yet itsy bitsy and teenie weenie.
Packaging
If you've ever received a pair of Baci's panties, then you know the drill here. The panties came in a thin cardboard package featuring the exact pictures on EF's product page. The panties themselves are in a plastic slip that is supported with a cardboard insert. The back of the insert reads "Congratulations, you have purchased a truly authentic Baci Lingerie Product" in a multitude of languages.
Materials, Design, & Craftsmanship
These panties are composed of 90% polyester and 10% spandex. The front portion is made of a thin, soft, mesh-like material. While it didn't irritate me, I could definitely feel my 1/8" pubic stubble through the fabric. On a more girly note, the back side is made of a swirly floral lace. It's not the silky, soft kind of lace you'll find on some panties, but it's still very comfortable and not at all scratchy when worn. Neither the mesh nor the lace creates panty lines when worn with jeans.
The waistband and leg holes are bordered with a thin elastic strip. The lace's edges appear to be finished, but not in a way that would make me toss these into the washing machine with my other clothes. Apart from that, the stitching appears to be sound, including the seam going down the center of the lace. Many of you will be pleased to note that there is a sizable 2" wide and 4" long panty liner along the crotch.
Sizing & Fit
Alright, this section is going to be a bit of a doozy. To make it easier to understand, I've put together a table that compares Baci's S/M and M/L measurements to my own.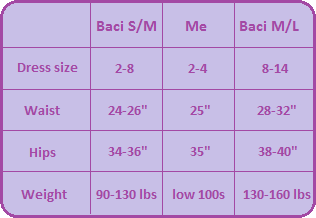 -For those who prefer 2-dimensional measurements, the panties measure 12.5" across when laid flat.-
Now is the time when I tell you that these panties fell right off me, right? Well, no. Absolutely wrong, in fact. These panties fit me like a dream even though I fall into Baci's S/M size. The top of the panties sit just below my hipbones on an area that is 33" around. They do not cut into my sides, but probably would if I were any larger here. However, they do stretch out to the point where they would fit someone about 37" around. The lace is stretchy and forgiving enough that it will probably not cut into the cheeks if the waistband fits comfortably. I find that the seam down the lace does get slightly pulled in between my derriere, but not enough to make me feel violated or uncomfortable.
All that said, these obviously will not fit someone who falls into Baci's M/L measurements. I'd even go as far as to say that these will only properly fit someone who is safely within the size small recommendations. This is incredibly unfortunate because not only do these not fit their advertised size, but they really won't fit most people in general.
Care
Despite having an intricate lace backside, these panties can be machine washed in warm water and then tumble dried on low heat. Interestingly enough, the packaging advises buyers against dry cleaning these. While the care instructions are quite liberal, I would say to either use a lingerie bag in the washing machine or to just wash these by hand. Since they're not the cheapest pair of panties, why risk shortening their lifespan?
All in all...
On a personal level, I absolutely adore these panties. They are well-constructed and visually appealing to me. I feel that they complement my figure and would do the same to anyone who fit into them. That said, I simply cannot give them five stars based on my opinion alone. The fact of the matter is that they simply will not fit someone who is a M/L. I've flip-flopped quite a bit on the final rating, but have decided on four stars. These panties are lovely...
if
you are a size small. Other sizes will want to wait for additional sizes or move on to a more accurately labeled product.
Experience
Pictures
Here is a shot of the panties next to a size small in some
other Baci underwear
.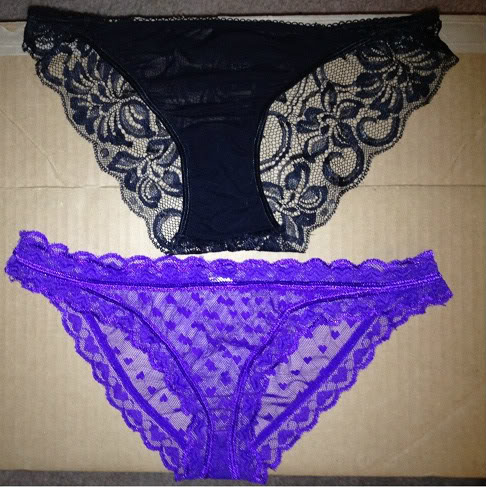 I've attempted to take a few pictures of me in the panties. Excuse the mustachio - it's just covering up a tattoo in a gentlemanly way.
front
&
back
This product was provided at a discounted price in exchange for an unbiased review. This review is in compliance with the FTC guidelines.

Thank you for viewing
Microfiber and lace bikini
– sexy panty review page!