Oh panty, how I loathe you
Okay, maybe loathe isn't the right word. I am so... Upset about how these panties fit, look, are made... For the price I could buy three of the cheaper thongs by the same manufacturer, and those I love to wear! I'm sure that someone (VERY thin) will like these panties, but I just can't imagine who that would be.
Published:
Pros:
Black, no loose threads
Cons:
Doesn't fit well, uncomfortable, no stretch, mesh front, unflattering, constant wedgie, expensive
When I saw that Eden was stocking some of the more expensive Baci panties, I figured that I should try a pair. Even though they were One Size, I had been able to fit fine into the other Baci One Size lingerie that I'd tried so it wasn't a big deal. I chose these because they were black and the back looked like a sexy design.

Packaging

These panties came in a box similar to the other Baci panties that I own. It's a cardboard sleeve that has the pictures on the product page on the box, and it is very graphically oriented. It's something that would be good if you were planning to display it in the shop. There is really very little information on the box other than some simple care information in the form of graphics and the panty size.

Inside the cardboard sleeve is a plastic bag with the panties inside. The bag has no markings on it, but inside of it is a cardboard insert that is black and just has the name of the brand on it. I would really suggest taking these panties out of the packaging and wrapping them in tissue paper if you plan to give them as a gift. The nice thing about the packaging is that there are no tags on the panties that could potentially damage the material.

Fit

How do these panties fit? Not well, fellow Edenites, not well. I normally wear either a small or medium in panties that I get at the mall, and usually wear a size 6 in pants. My hips are 40 inches, and I'm 5' 1". I have gotten several other S/M panties from Baci as well as some one size products and they all fit wonderfully.

Since these only have one size listed, I assumed that these were one size fits most. When I got the package I looked at the box and to my surprise they were M/L. M/L?! And they're too tight on my size 6 butt?! I'd hate to see what sizes that the small fits!

I think that if you are any larger than a size 6 these are a terrible choice. It's not just that the waist band has no stretch, but rather that the fabric itself has almost no give to it. I will list below what Baci claims the size charts are, though.

Med/Lg
Dress size: 8 - 14
Cup size: B - C
Bust: 36 - 38
Waist: 28 - 32
Hip: 38 - 40
Weight: 130 - 160

As you can see, what I got that was labeled as M/L doesn't even stretch to fit the lowest range of their chart. I really, really don't like how small these are and I hope that the other more expensive Baci panties don't follow the same trend.

These panties also tend to ride up my butt, but being that I am rather curvy back there I don't have many panties that don't. These do tend to be a bit uncomfortable when the do ride up, and I think that it's because the waist band being small pulls them up more than my more stretchy panties.

There is a fairly substantial panty liner in these, which is one of the only nice things that I can say about these. It covers my entire vulva and serves it's purpose, two things that I've come to appreciate in underwear.

Material And Care

These panties are made of polyester and spandex. I've washed these in a delicates bag before and these have held up just fine. If you really want to keep these nice you should hand or lay them flat to dry because the heat in a dryer can degrade the plastic fibers in the material.

Something that really bugs me is that the front of these panties is mesh-like, which really irritates my newly-shaven skin down there. I was expecting it to be a soft material because, to quote Wikipedia, "Fabrics made with microfibers are exceptionally soft and hold their shape well." The front of these panties is in no way soft.

The back is made of transparent lace that is fairly scratchy to the touch. While it's not painful or anything to sit in these, it's not as nice as some panties I have made of softer laces. It's a pretty floral pattern, and it looks nice when you pull it down and into place or right after you put them on.
Experience
Overall
Overall? These panties suck, and they suck even more for retailing at $12. Unless you're very slim in the hip area and don't mind these riding up during daily wear, the tiny bit of good that comes from these panties will be very much weighed out by the bad.
Here's s picture of the front: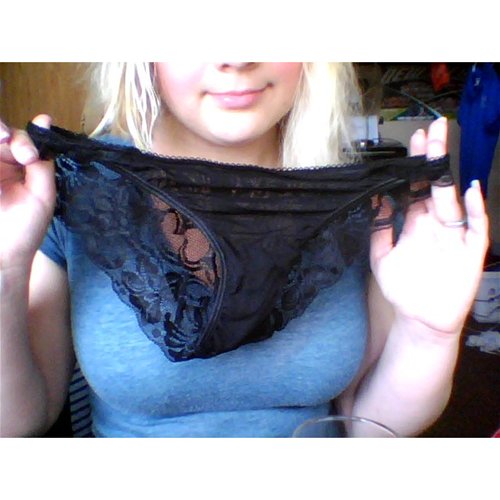 And a picture of how little they stretch: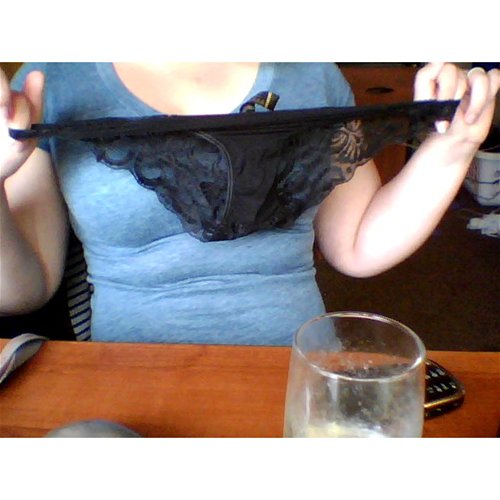 And a picture of how transparent the front is: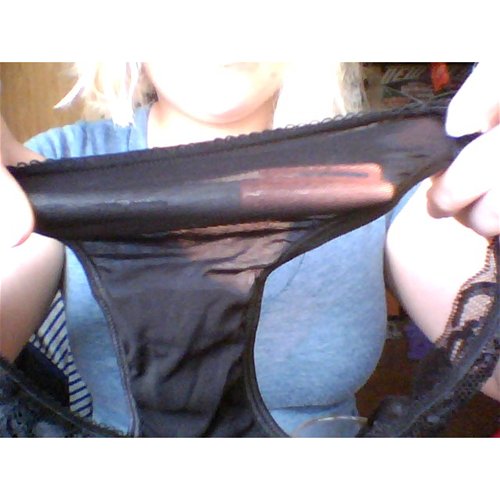 Here's a picture of the lacy back: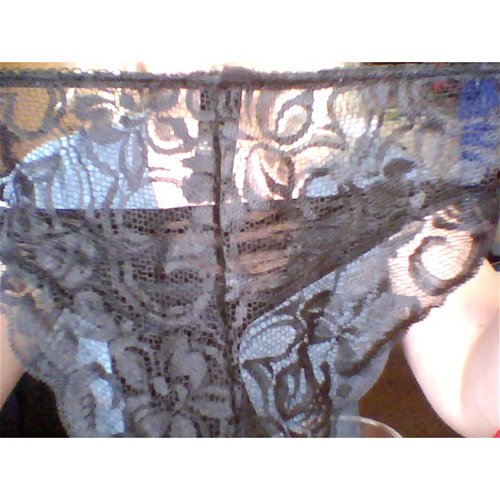 Here's a picture of the liner: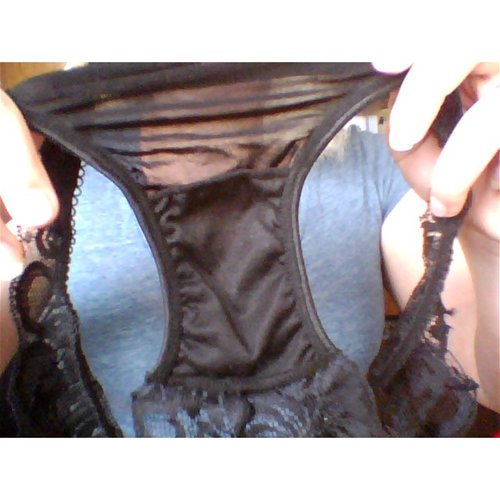 And here's a picture of the box: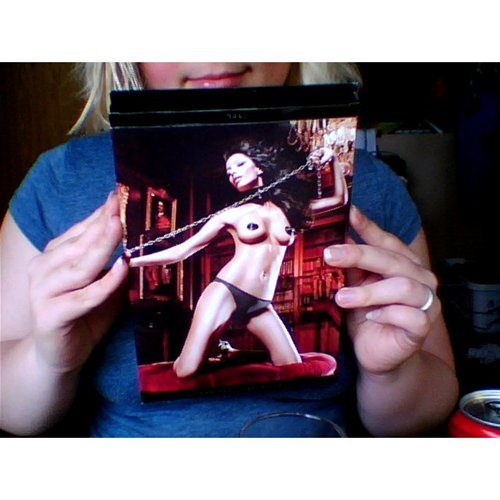 This content is the opinion of the submitting contributor and is not endorsed by EdenFantasys.com

Thank you for viewing
Microfiber and lace bikini
– sexy panties review page!