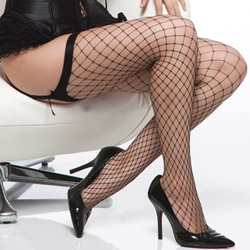 Black diamond net thigh high stockings
Thigh highs
by Coquette
Can I have more of these, please?
The Black Diamond Net Thigh Highs by Coquette are a great one size fits most item. I have thick thighs, and one size rarely works for me -- but it does this time! The stockings are sexy, comfortable, and of decent quality. I would gladly purchase more of these.
Published:
Pros:
Reinforced toes, One size actually fits me!, Soft, Comfortable, Decent quality
Cons:
Package offered minimal information, could be higher quality, Probably won't last for too long
I'm always on the look out for new, sexy pairs of net (be it fishnet or fencenet) stockings. There is little that I find sexier, and they seem to give me an instant confidence boost. There's just no way that I could ever have enough!

When I saw this pair of stockings, I was skeptical. They're one size fits most, and most of Coquette's stockings don't seem to be receiving rave reviews. Still, I figured the price made them worth a try -- and so I eagerly snatched up a pair of the black diamond net thigh highs.

Basics:
The black diamond net thigh highs are made by Coquette. They are available only in black. They have earned the name "diamond net", as the little holes made by the netting looks like diamonds.

A great thing about these stockings is the fact that toes are reinforced! This means that you won't need to worry much about your toes slipping through the holes.

Where To Wear:
When I first started wearing net stockings, I had trouble figuring out where to wear them. Now that I own more than twenty pairs, I have found that there are several ways, and places, to wear stockings.

Net stockings can be worn with casual dresses, in order to add a hint of sex appeal to an otherwise basic outfit. You can also pair them with fancier dresses, of course. Then, of course, you can pair them with lingerie! I love wearing them with lingerie the most, as there's truly nothing sexier than a great garter belt, sexy bra, and a sexy pair of net stockings -- that's a look that truly drives both me and my man wild.

If you choose to wear them as lingerie, I bet you're wondering if you can wear them during intercourse. The answer? Of course you can! These are only thigh highs, so there's nothing covering your crotch -- it's completely open for whatever you want to do with it.

Garter belt, or no?:
That is the question, is it not? With most stockings, I find that I absolutely require a garter belt to keep them up. With this pair, however, whether I require a garter belt or not depends on how I wear them.

If I wear the stockings all the way pulled up to my ass, I don't require a garter belt. If I wear them so that they lay lower on my thigh, I require a garter belt.

Material & Care:
I truly wish that I could tell you what these are made out of, but sadly the package doesn't say. The product page says that they're made out of nylon, though.

The stockings feel very soft, and they don't itch at all. They're also quite stretchy, so I believe that they'll fit a wide variety of sizes. They're not made of the highest of quality material, though, so I don't expect that they'll last long. For the price, though, they're worth it if they just hold up to a few wears -- and so far they have done that just fine.

The band on the stockings is solid and thick. It's also stretchy and soft, and it does seem to hold the stockings up well enough.

To care for these stockings, you should hand wash them, and then allow them to line dry.

Storage:
I store all of my stockings in individual ziplock baggies. This keeps the stockings from getting torn on anything in the drawer, and it allows me to find matching pairs easily.

Sizing:
These are currently only available in one size fits most. I was very nervous when I purchased these, as my thighs are thick, and most OSFM don't work for me. This pair, however, fits me well.

The packaging offers no information as to what the size chart should fit, so instead, I'll give you my own measurements... My thick thighs measure around 26" around, at the widest point. These stockings fit my thighs without causing muffin top. That said, I believe that these stockings can fit someone with much smaller thighs as well, due to how much the band stretches.

I'm 5'6", with about a 33" inseam. These stockings are able to fit all the way to my ass if I stretch them all the way. They might even be able to stretch further, but...who knows -- my ass gets in the way! I am also able to wear them around mid-thigh, if I wear a garter belt. It all depends on how much I decide to stretch the thigh highs.
Experience
Packaging:
These came packaged in a cardboard envelope sort of thing. One stocking had a little piece of cardboard inserted inside of it, which you need to remove very carefully -- or else you'll rip the stocking! The packaging offered minimal information; it didn't even state what the stockings are made out of!

Quality:
I'm actually impressed with the quality.
This product was provided at a discounted price in exchange for an unbiased review. This review is in compliance with the FTC guidelines.

Thank you for viewing
Black diamond net thigh high stockings
– thigh highs review page!