Chapel of Love Chemise (Large) Review
The see-through mesh on this piece leaves little to the imagination, which is a good thing in my guys opinion. I only wish the piece were longer, and that the sewing quality was higher. Tall girls, this is going to fit you like a tank top. Shorter girls, this piece may work better for you. As for me? This item was a bust.
Published:
Pros:
Mesh feels durable, Not itchy, Colors are pretty
Cons:
Poor quality, Too short, Not exactly as shown
After spending many weeks lusting over this piece, I finally broke down and ordered it. I had visions of myself looking like an angel in this. I daydreamed about surprising my guy with a cute, innocent look, and I saw him being unable to resist me. When this piece arrived, that dream was shattered. It just did not live up to my expectations at all.
What's Included:
This set comes with the white and blue chemise, and a matching g-string. A plastic hanger is also included with this set.
Material and Care:
The main body of the chemise (the mesh) is made out of 91% Nylon and 9% Elastane. The lace portion of the chemise is 88% Nylon and 12% Elastane. The chemise is entirely see through through. Looking at the stock photo, I expected it to be transparent, but somehow I still was not prepared for just how transparent this particular piece is.
The g-string is 91% Nylon and 9% Elastane, but it also has a cotton pantyliner. The material on the thong is almost completely see through. The only area that is not see through is where the cotton pantyliner is located.
The material on both items feel comfortable to the touch. Neither pieces are itchy, though the mesh is not the softest that I have felt. Despite the fact that it could be softer, this piece is still one that would be comfortable for an extended period of time. The mesh feels durable, though those of you wish piercings will want to be careful as even the strongest of mesh is still going to be fragile. The material on both items is also extremely stretchy.
To care for both pieces, you're going to want to hand wash them in cold water. You will then want to line dry them. For these particular pieces, I would just store them folded in a drawer. The material does not seem as though it will wrinkle easily, and there is no need to worry about it getting misshapen during storage.
Sizing:
Escante has made this piece available in three sizes; small, medium, and large. I decided to order the large.
The large should fit someone with the following measurements:
Cup: C-D
Bust: 36-38"
Waist: 32-34"
Hips: 34-36"
I fit into all of these measurements except the hip measurement. My hip measurements are more around 40", but I figured that that wouldn't matter so much with this piece as it looks really flow-y.
This piece does technically fit me comfortably, but it's very clingy. Honestly though, I could deal with the fact that this piece was so clingy if it were just a little longer. The stock photo makes it look like this piece will cover at least some of my bottom -- this was not the case in reality. I'm 5'6", and this piece fit me like a very tight-fitting, short tank-top would.
The included g-string is extremely stretchy and could easily accommodate someone with wider hips than the measurements suggest.
I think that this piece would look best on someone who is more petite than I am.
Design:
The design on this piece is pretty basic. It's a white mesh chemise, with a slit on one side. The slit is laced up with blue ribbon. The blue ribbon looks fantastic with the white, and makes it so that the piece will fit a wide variety of sizes (technically, at least), as the ribbon is adjustable.
The top of the chemise is decorated with a floral patterned lace, which is then accented with more blue ribbon. This gives the piece a very young, sweet feeling. In the stock picture, it looks like the blue ribbon that accents the front lace panel is rounded in the center. In reality, it looks more like this: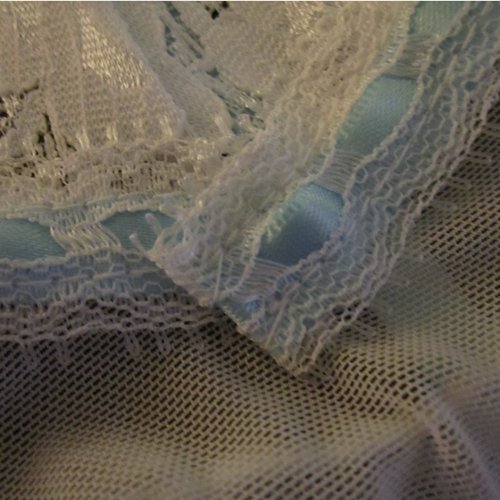 The above photo is the very front of the piece, right in the center of the bust area. This is where the ribbon comes to together. In my opinion, it looks cheap.
The straps of the top are adjustable, but they are not very stretchy. Part of the reasons that the straps are not adjustable is because the front half of the straps are backed with lace ribbon. The lace ribbon is not at all stretchy.
The back of the piece is essentially your basic pull on, except there is a lace ribbon used to tie the piece at the top. Tying the ribbon creates a sort of peek-a-boo hole on your upper back.
The g-string itself your basic g-string: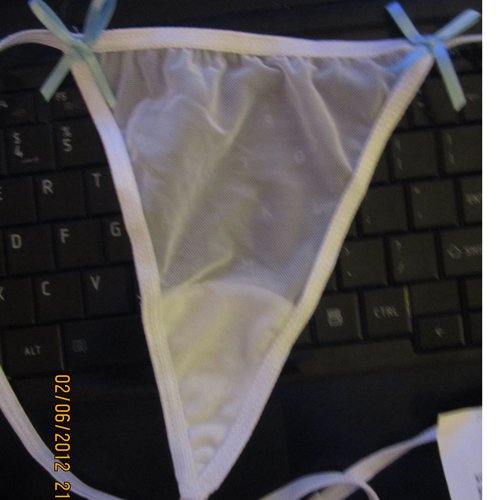 Yes, that's the g-string on top of my keyboard. Sorry about the poor picture.
The g-string does have a pantyliner. The pantyliner is sewn on only one side, so there is room to insert a bullet if you want to.
Experience
Packaging:
This item arrived on a plastic hanger, wrapped in plastic. All in all, the packaging was decent, yet minimal. The plastic wrap kept the piece protected during the shipping process.
Quality:
This piece had some flaws. I found many areas that looked like the sewing was just going to fall apart, and many other areas where the sewing was strong, yet very odd looking.
Here is an example of one flaw that I found: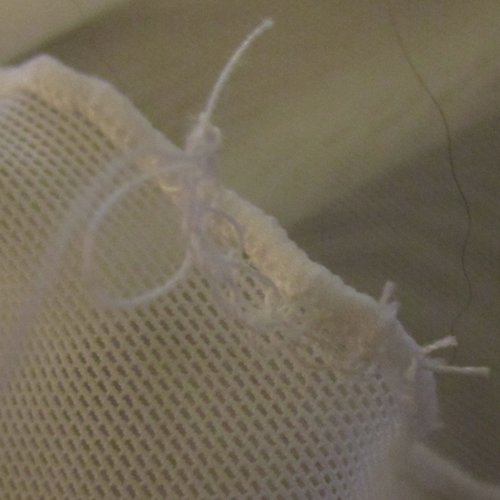 If you can sew, this piece would be fairly easy to fix -- but really, who wants to pay $28.99 for something that they need to fix right away?
Personal Comments:
When I purchase lingerie, I buy it to make me feel sexy. This piece made me feel hideous, so it's difficult for me to find much nice to say about it. Overall, this honestly isn't a terrible piece of lingerie -- if it fits you right.
Follow-up commentary
7 days after original review
I regret to say that I've decided to send this piece back to EF. It's decent quality, but it just did not look like the picture.
This content is the opinion of the submitting contributor and is not endorsed by EdenFantasys.com

Thank you for viewing
Chapel of love chemise
review page!