Sugar and Spice, and Everything Nice
This is definitely the girliest piece of lingerie I own. I've always found something very appealing about the simplicity of white lingerie, and the pale blue trim on the Chapel of Love Chemise just adds to its air of innocence, so I decided to give it a try. I'm glad I did; while I can see that the sheerness of the fabric and the sizing might irritate other wearers, I'm very pleased with it.
Published:
Pros:
Pretty, lightweight, comfortable
Cons:
A little short, sheer (if that bothers you), some women might not like the lack of breast support
When I ordered this piece, I had no idea what the back looked like—don't you just hate it when product photos are only taken from one angle?—but as it turns out, it's just as pretty from behind as it is from the front. As you can see in the pictures at the end of the review, the Chapel of Love Chemise has two blue ribbons in the back that, when tied, create a sort of cutout—a style I personally love, and was surprised but pleased to see incorporated into this garment.
Aside from that, the chemise is pretty much as it appears on the product page; the majority of the garment is plain white, embellished with white lace and blue ribbon along the bust and straps, and then, of course, there's the blue lacing running down the left-hand side that truly adds a touch of uniqueness to the piece. Plus, there are a few little details I adore, like the fact that the blue ribbons on the straps cross over the bodice to meet the blue trim on the bust, or that there's a seam running down the right-hand side parallel to the lacing—both give the chemise interest, and a sort of streamlined look.
Lace and ribbon detailing on (from top to bottom) straps/bodice, bodice, and side slit
One important thing to note about the design: There's no underwire or, in fact, any sort of support or padding at all—don't expect any lift from the really thin material this garment is made of. In any case, if you're larger-busted and like support—or, alternatively, smaller-chested and appreciate a boost—you'll probably be dissatisfied with this chemise.
The Chapel of Love Chemise is 91% nylon and 9% elastane (a kind of spandex). The tag says to hand-wash and air-dry it, and while I haven't washed it yet, I probably will heed the advice; there are so many ribbons and ties, and the material is just so delicate, so the whole thing looks a little, well, flimsy. Still, it's a well-made garment; mine had no loose threads or obvious asymmetries; I'll just have to wait and see how it holds up.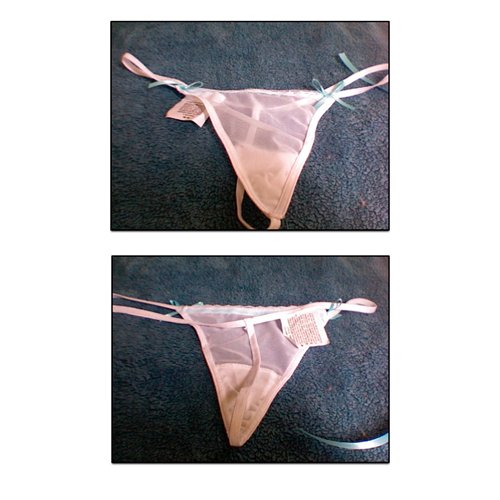 G-string from front and back
As far as sizing goes, I don't find Escante's size charts terribly helpful. So far (and for this chemise), I have gone with a Medium when ordering from Escante, even though only one of my measurements (weight) really sits comfortably within the given parameters.
My measurements:
Dress size: 4 or 6 (usually)
Cup size: 34A
Bust: 34
Waist: 27
Hips: 37
Weight: 130-ish
Height: 5'9"
Escante's Medium:
Dress Size: 6-10
Cup Size: B-C
Bust: 34-36"
Waist: 28-30"
Hip: 32-34"
Weight: 120-140 lbs.
In any case, I would strongly recommend thinking about ordering a size up from your usual size. Most of my measurements, according to the chart, ought to have been on the smaller end of a Medium, but the chemise is pretty form-fitting—even through the bust, which is theoretically meant to fit women up to two cup sizes (and one band size) larger than myself. I suppose the ribbon-tie in the back gives you a little bit of wiggle room, but not much, since you still want the ribbons to be long enough to make a pretty bow. And while the chemise itself is stretchy, the material is so delicate that I don't really trust it to stretch much without tearing. I'm happy with the size I ordered, but if you're waffling between two sizes, go with the larger one—especially if you are curvy in the bust and/or hips.
Experience
On the whole, I really like the way the Chapel of Love Chemise fits and looks. The only (minor) drawbacks with the design? Well, to begin with, the actual chemise is much sheerer than it appears on the product page—although, to be honest, I've more or less come to expect this. I don't find this hugely troublesome, especially because the ribbons and lace on the bodice are placed in such a way that they hide my nipples, although I imagine that the chemise would hang differently on women with larger busts (i.e. just about anyone). On the other hand, it does have adjustable straps, so you could potentially strategically adjust where the bodice sits on your chest for maximum coverage.

The see-through fabric does, however, have me wondering what to pair the chemise with; I'm not a huge fan of g-strings to begin with, but since the one included in this set is every bit as sheer as the chemise itself (well, except for the absolutely miniscule lining), it's a little more revealing than I'm comfortable with. The chemise itself is so gauzy, though, that I wonder whether more opaque/modest panties wouldn't look a little bizarre? I don't know. I'm open to any suggestions.

The chemise also seems just a little short—on me at least. I'm inclined to be forgiving, though, because I honestly expected worse; the only review I'd seen of the Chapel of Love Chemise made me fear the hem would barely reach my hipbones. So, yes, it's maybe a bit more like a long cami than a true chemise, but it covers about half of my butt and nearly all of my crotch, so it's not unflatteringly short. I'd estimate the optimal height for this chemise (assuming you want full coverage) would be about 5'5". You can let out the straps if you're taller, but you may find that the proportions are then a bit off; the chemise is really just made for a shorter torso, so taller women who loosen the straps will probably find that the bodice then sits too low.

Lastly, the Chapel of Love Chemise has been surprisingly comfortable—at least so far. With all the ribbons and lace, I was bracing myself for an itchy garment, but I haven't had any problems, and the lightweight, airy material has been a godsend in this hot, humid weather. Then again, I haven't done much while wearing the chemise besides take pictures, so only time and repeated usage will tell if it's truly as comfortable as it seems.
This product was provided free of charge to the reviewer. This review is in compliance with the FTC guidelines.

Thank you for viewing
Chapel of love chemise
review page!