Cheap, Broken, Horrible FAIL
The only reason I gave this 2 stars is because of the reaction I got from my boyfriend while trying to alter and fix it (now I know what kind of lingerie to buy for him). This set was literally falling apart and I wouldn't recommend it to anyone out there. It would be a waste of your money. So unless you like your lingerie falling apart and too small, keep away from this set.
Published:
Pros:
the lace was pretty and soft...
Cons:
poor/small fit, terrible quality, falling apart, materials don't even match, bunched up garter belt
Presentation
When I saw this set, I immediately put in to get it for review. I thought it looked sexy and had just a little hint of sparkle for the holidays. The lace paneling looked like total win.
I was happy (and surprised) to get this for review.
The set arrived wrapped in plastic, hanging on a plush Coquette Lingerie hanger. There was a tag, with the model, and a size stamped on it.
The set comes with the bra, a garter belt, and a small-crotched g-string.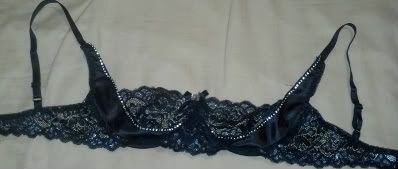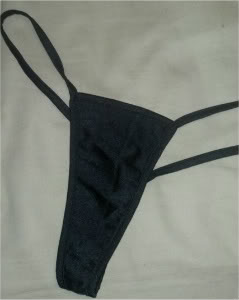 Craftsmanship
What craftsmanship?
I am beyond disappointed with this. If I had actually paid for this item, I would be returning it in two seconds demanding my money back.
It's so poor quality. It seems like they didn't even attempt to properly sew or make this garment. Any of it.
Where to begin?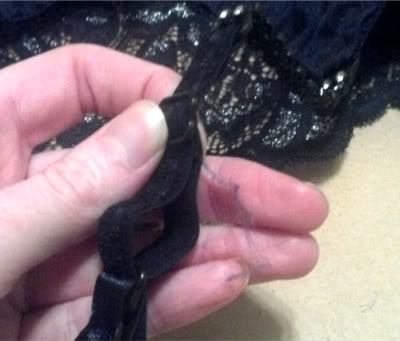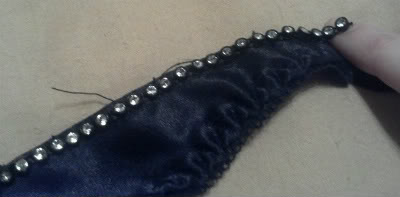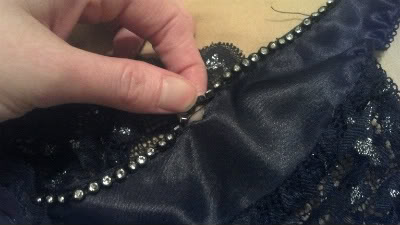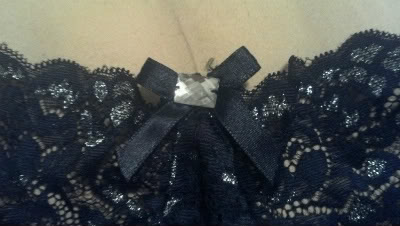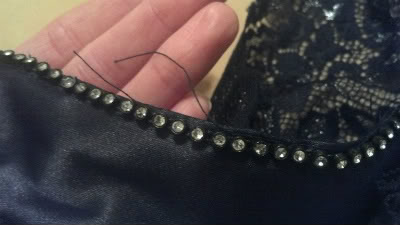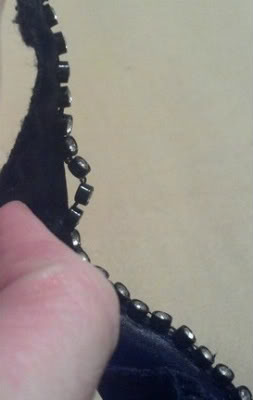 The line of small (cheap) rhinestones that lines the cups of the bra are barely even sewn onto the garment. The cheap strand is falling off.
The lace and satiny parts are all frayed with different pieces of fabric not properly sewn on.
The garter belt is no better, with loose hooks and eyes that wiggle as soon as you unhook them for the first time to put the garment on. What does that say about the life of the garment? Not promising. On top of those concerns, part of the garters are made from the same cheap plastic rhinestone strand found loosely hanging from the bra. Yikes!
The underwires are rounded for breasts, for sure, but the satin lining on top of it ends up restricting the sizing and gives a square look.
And detailing? What you cannot see clearly in the models photograph on the product page is a large square rhinestone smack dab in between breasts. I know some people like rhinestones, but this literally looks like something I used in second grade to decorate my cheap plastic jewelry box.
Materials
Only information is found on the bra,
80% Nylon
20% Spandex.
Sounds comfy, right? Wrong. That's exclusive of the trim. The trim that makes up all of the support and fit of the bra, which is that fake, stiff, hard satin (perhaps polyester blend of some sort).
You would think the garter belt trim (the black part, not lace), would match the trim on the bra. But it doesn't. It is soft and stretchy and thin. This left me utterly confused.
There is also a soft velvet lining at the top of the garter belt (which I felt I could do without, since it limited the stretch of the top of the garter belt and enhanced the muffin-maker).
If I didn't know better, I'd say they made the garter belt, then ran out of ideas or fabric for the bra and resorted to using an older bra design by adding lace underlay to it.... Like maybe
this
, taking off the ruffles and just adding rhinestones and a thicker cup in the center.
Either way, it seemed mismatched for the set.
Care
Simply: hand wash, hang to dry. No bleach, no ironing. Thanks Coquette, for adding a train-crossing signage as well to the tag.
Experience
Sizing
Coquette believes a large will fit:
Sizes 12-14 ; Cup size C; Bust 38-40" ; Hip 40-42"
I am:
Sizes 8-12; Cup size full C; Under bust 32"; Bust 39"; Hip- Top: 39", Butt 44".
G-string
The string is 30" around, and a tight 46" at maximum stretch. The ideal fit for this is probably 36-38" hips. However, this is a classic Coquette G-String that left me with 2" of fabric above my labia and barely enough fabric to cover the width of them (4" at widest). No liner.
Garter Belt
The garter belt is put on with 7 hooks (just one row of hooks/eyes), which wiggle like a child's loose tooth. It has 4 adjustable garters total, held to the garment with plastic rhinestone strands. The garter part seems to be rubber and plastic. The garters themselves are incredibly stretchy; I found myself actually shortening them up (length 5" to 7").
As for fit, it is 30" and it gives you a tail no matter what. Yep. A tail. I thought the bunched up part was due to the garterbelt being a muffin-maker and clearly sized too small. I pulled it up higher on my waist, but this is simply a bunched up belt.
When I try on lingerie, my first glance is always to the part I want to look sexiest. For me, the back makes a piece. This just didn't do it.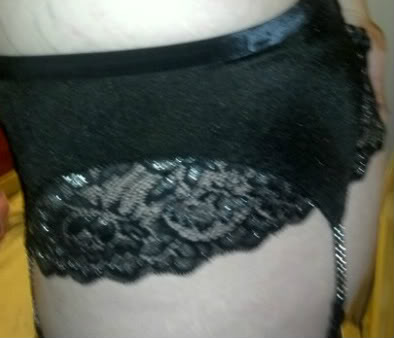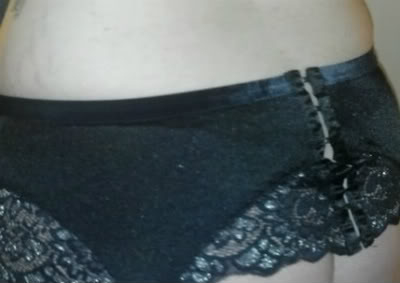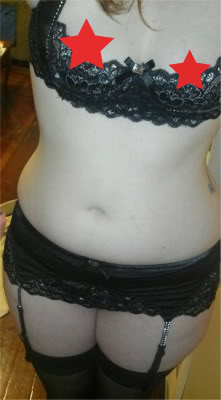 Yeah, this is what the model doesn't show you with her hands on her hips and airbrushing. Muffin-y!
Bra
What a fail, you square-boobie bra! 29" across the band. While I could stretch this to 40", that was the maximum. And didn't look too good for the bra (like it would bust at any second). The cup measures 5" at center.
For me, the band fit okay but the cups didn't cut it. The lace underlay, barely reached up to cover my areola. The satin-y lining around the underwire, frankly, sucks. It felt tight and uncomfortable around the bottoms of my boobs, prevented proper lift, and gave a square shape when my boobs are actually pretty perky and round.
My thought is if you have a wide band, C cup, this will be uncomfortable and restricting. If you are a D-cup, you're just gonna find this bra not covering you at all. I felt like I was spilling out of the bra, rather than nicely fitting.
Performance
I thought, well, this lace bra is utter fail, so maybe I'll just... And magically, the lace is so thin and soft and small, that it tucks perfectly beneath the satin-y part. This is a cup-less or shelf bra really.
I thought I looked ridiculous, since it felt square-shaped and uncomfortable, but when I showed my boyfriend the utter fail, paired with tail-garter belt and thigh highs, he ended up literally jumping me. That was a first. Of course, I had tried it on without the g-string that was too small. As a panty-less, cheap set, it got the job done for quickie sex.
As a set of lingerie for $35, this set is utterly sub-par and poor quality. Literally falling apart.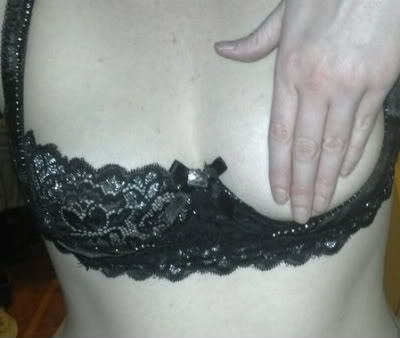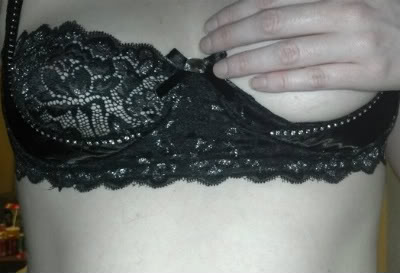 Follow-up commentary
3 months after original review
This sits in the very bottom of my closet storage box. I haven't worn it since I wrote this review, mainly because of how poor quality it is. It definitely wasn't comfortable, and it didn't look too sexy to me. I still recommend against purchasing something so flawed.
This product was provided free of charge to the reviewer. This review is in compliance with the FTC guidelines.

Thank you for viewing
Lace bra set
– bra and panty set review page!