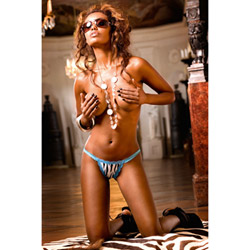 Zebra microfiber g-string with lace trim
Sexy panty
by Baci
Cheapness From the Safari
If you are used to wearing a size L in Victoria's Secret panties, you'll find that these fit more like a medium. The band is extremely stretchy, though. The material is light and comfortable but feels a tad starchy instead of being soft. For the price, these totally deserve 4 stars. I'll be buying more styles of panties from Baci.
Published:
Pros:
$, Light and comfy, Cute design, Bright coloring, Machine washable
Cons:
Cheap feel, Run small, Won't last
*Intro:
I really like Zebra patterns, but it's something that looks tacky if it is used in large quantities, in my opinion. For example, I'd totally tote around a zebra cellphone (which I do), but wouldn't be caught dead in a zebra dress. This panty has the perfect amount of the cute black and white pattern, and it looks really fun paired with the brilliant electric blue. If you are looking for a cute and loud thong that feels like you are wearing air, this fits the bill.
*Contents/overview:
One piece panty
These panties are from Baci. They are a string bikini thong with zebra print and blue trim. They hug the hips and are very thin. They come in S, M, and L, but are not offered on Eden in the M at this time. Compared to my usual panties, these do run a little small.
*Material:
Cheap and a bit starchy
From the white label collection by Baci, this is from the Animal Inside line.
These panties are made of 90% polyester and 10% spandex. My initial reactions of the material were that it was super cheap and starchy feeling. It's also really thin. The elastic band is VERY stretchy. It's comfortable to wear, but it doesn't feel high quality.
*Design/craftsmanship:
Good
These panties are basically a hip-hugger, string bikini g-string. The band is very delicate. It's unlike any elastic I've ever seen before. It is slightly ruffles, very stretchy and is 3/4" wide. The trim on the outside of the crotch panel is different. It's lace instead of this weird ruffled elastic. It would be better if they matched, but it is hardly noticeable anyways.
Laid flat, the hip straps are 13" from side to side. At the top of the crotch portion it is 5 1/4" if you include the lace trim and 7" from top to bottom. This is pretty normal. I was expecting it to be small, but thankfully, it is not. There is small cotton panty liner that is black in color. This is a poor choice because it can be faintly seen through the white fabric in certain lighting.
There is a typical small white satin tag in the front of the panties, sewn off to the side. It does not need to removed.
*Cleaning/packaging:
Machine wash, cardboard fold
The tag says these can be machine washed with warm colors, yeay! Tumble dry on low or hang to dry. Be careful with it around rings and sharp jewelry. The frills around the elastic band can snag easily. It comes in a thin cardboard fold with pictures of the model wearing the panties on the outside. It also has a holograph showing it really is from Baci. Inside the panties are laid flat on a white cardboard piece that is slid and sealed inside a plastic sleeve.
Designed in Paris, but of course made in China...
Experience
bold|*Sizing:] Run small
I only had the option of S or L, but usually wear a M in this kind of lingerie, so I chose the L. These seem to run small and fit more like a M, so I'll be choosing this size for their panties in the future.
According to the US chart, it shows why these L fit like my normal M from Victoria Secret. They claim that a woman who weighs 140-160lbs is a large wearing a size 10-14 dress with a 38-40" hip. I actually fit in the M size measurements, which also proves these run small. I'm a size 8 in jeans and my hips are about 38.5". I weigh about 144 pounds which is on the low end of the size range.
For those of you who don't live in the US, here is the international size chart:
Further, below is a picture of the Baci size L thong compared to a Victoria's Secret size L thong that is a little too big on me. I think their large is just sized smaller than most other companies I have encountered. So, if you are on the border, I'd order up unless you don't mind a little cut in. I do.
*Re-done Sizing/Best fit:
Dress size: 6-10
Hip size: 36"-40"
These will probably fit to the hip measurement that is in their size chart, but I don't think that the majority of women who have that hip measurement are the dress size or weighs listed. They just don't seem to match up right. The hips didn't cut in at all, but it might if my hips were an inch or two larger. These totally will stretch to fit larger than me, but might start to not lay flat.
Sorry for the teeny, off center picture! It was taken with my phone.
*Conclusion:
★★★★
I am giving these 4 stars because of their lower quality and the fact that they run a little small. I will be buying more from panties from this company.
Follow-up commentary
2 months after original review
I've started to like these even more. After one wash they are softer and fit even better. They are not my favorite from the company but I'd buy more in the same style.
This product was provided at a discounted price in exchange for an unbiased review. This review is in compliance with the FTC guidelines.

Thank you for viewing
Zebra microfiber g-string with lace trim
– sexy panty review page!