Clearly Cheap "Corset"
This item disappointed me and I do believe no one should waste their money on a corset that barely works. It's not made of satin but 100% polyester, the plastic boning is laughable and it has tiny shoelace lacing with matching (in cheapness) plastic eyelets that won't hold up to long-term wear. Even for costume use, this isn't a great buy, unless you already have a perfect body.
Published:
Pros:
Shiny, costume wear, zipper, soft edges.
Cons:
Tiny shoelace lacing, thin fabric, non-supporting, boning nonexistent, overpriced.
I decided to try my hand at getting lingerie to review. So off I went in search of a corset without reviews. (It's probably the only thing that would fit me and I would wear for my boyfriend on here.) This one seemed like it'd work and I wondered why no one had reviewed it yet. I soon found out why: It was made of cheaper materials than what you'd find in mall stores, but with the option for larger sizes than preteen.
It arrived in a plastic bag, rolled up with nothing else but the tags on the item. Incidentally, the corset claiming to be satin, isn't. On the tag it states that it's 100% polyester.
The feel of the fabric was nice at first, until I wore it for longer than 10 minutes. It really doesn't breathe and resulted in a sheen of sweat where my skin touched the corset. It's kind of surprising, considering that there's only one layer of fabric. The material doesn't stretch, so there's some form of compression, but nothing like a real corset. When sitting, it's really unflattering, everything bulges out oddly and I look better naked.
Thankfully, the 'tuxedo edging' is soft and non-irritating, but that's one of the few good things about this item.
If anyone gets this, I highly recommend wearing this over a shirt if you've already got a thin or athletic build.
The plastic 'boning' feels thinner than the plastic casing most sex toys come in, it's more like plastic ribbon than boning. There isn't a decent amount of fabric sewn around them either. I'd think after a few uses the plastic would start migrating out of the corset. The corset itself would last longer than the eyelets and string lacing.
The lacing: it's like really cheap shoelaces that you wouldn't trust to keep your feet within the shoe. The tiny plastic eyelets are worse as the hole only fits the crappy lacing so there's no option of changing it out.
I chose the largest one they offered: 38 inches. The Escante sizing chart didn't have the corset sizes listed, so I chose XL as that seemed to fit the corset's size frame the best.
|Pant size| |Cup size| |Bust/Band size(Inches)| |Waist(Inches)| |Hip (Inches)| |Weight(Lbs.)|
| 14 - 16 | | D - E | |38 - 40 | |34 - 36 | |38 - 40| |160 - 180|
|My pant size| |My Cup| |My band and over-bust size| |My waist| |My hips| |My weight|
|16-18| |DD-DDD| |Band: 37in. Across breasts: 44in.| |36in| |50in.| |195lbs|
I am outside the 'requirements' in a couple areas, but the corset did fit me, it just didn't do its job. I'd rather wear this loosely as part of a costume.
The inside of the corset, complete with measurements.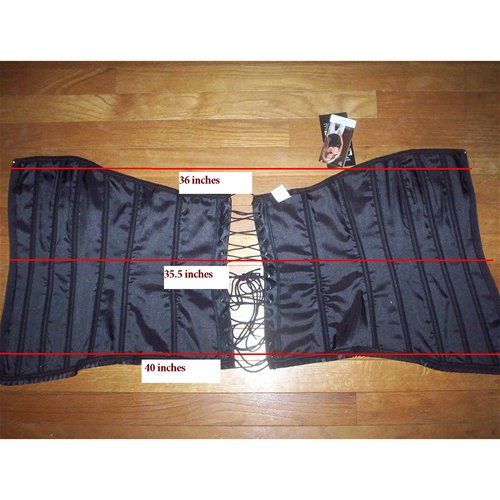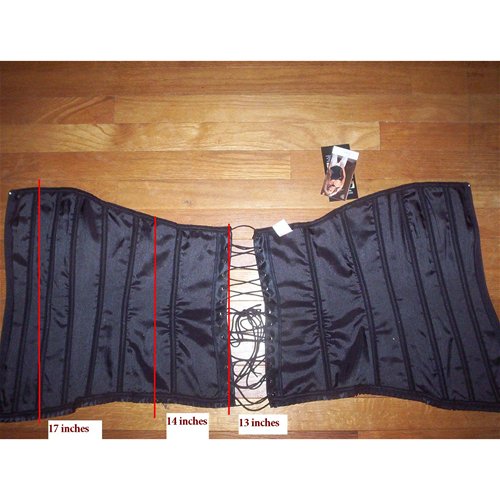 The shiny outside.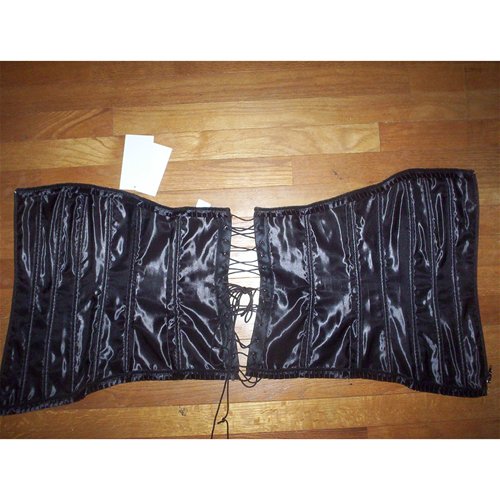 The back. (Sorry for the darkness of the picture.)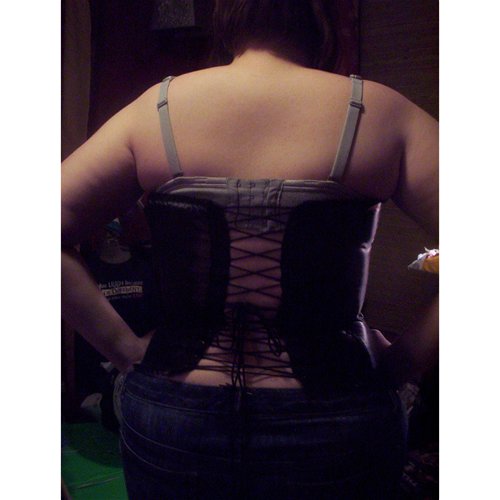 Side view.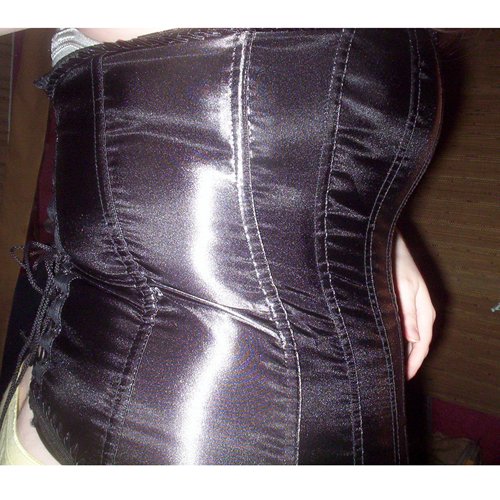 Front view of corset with a bra on.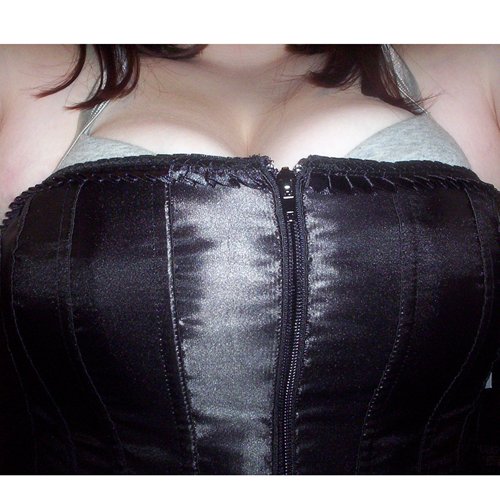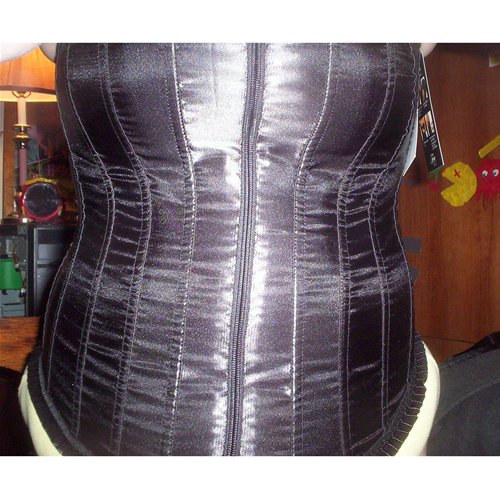 Front view without one. (You can really see that there's no support whatsoever.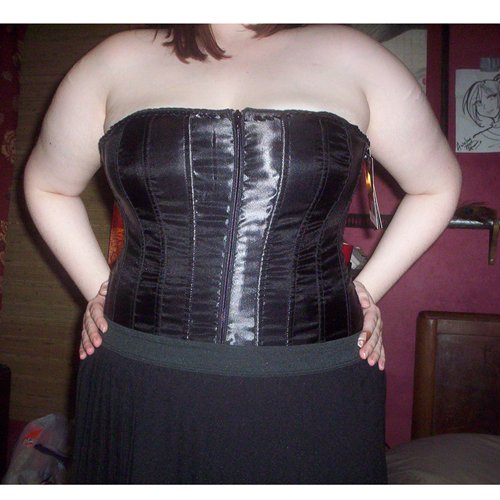 Washing instructions: Hand wash separately in cold water. Do not wring or twist. Use mild soap only, no chlorine. Drip dry only, do not iron or dry clean.
Experience
I do own a corset, so I may be spoiled by the actual support and layers of brocade fabric, but this felt extremely cheap. Not worth the asking price at all!
It felt laced up wrong to begin with and a friend of mine that has experience in lacing up corsets had issues with this.
I do like the fact that it has a zipper. That means I can lace it up, remove it with ease, and slap it on again if I wish to wear it again.
The boning is completely useless. At the price of $47.99, you think they'd have thicker plastic, if not, some extra fabric around the wafer-thin 'boning'.
This product was provided free of charge to the reviewer. This review is in compliance with the FTC guidelines.

Thank you for viewing
Jazzy satin corset
review page!