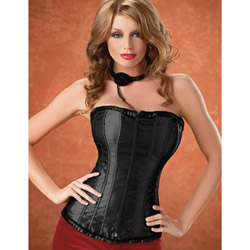 Jazzy satin corset
Corset
by Escante
Since when is satin made out of polyester?
I've begun to notice a theme with Escante's corsets. Will I keep buying them? Sure, because they are cheap, and they'll last me long enough. But they won't last forever. They have a lot of cute features, but the overall quality is only fair. It isn't going to form you, or give you super-cleavage, but you're still wearing a corset... and that's just hot no matter what.
Published:
Pros:
Cute, front zipper for easy on and off, cute ruffles on the bottom, decent quality for a beginner.
Cons:
No modesty panel, it's NOT made of silk as listed, doesn't give much form or support.
I'm very choosy about my lingerie. Especially corsets. When I saw that this was much more inexpensive than most, and it was listed as satin, I immediately wondered what was lacking in order for it to be that price. But I decided to go ahead and get it anyways, hoping for a pleasant surprise. I have
another corset by Escante
and it was a bit cheaper feeling than I had expected it to be. So when I got this one, I was relieved that the material was a bit sturdier. But it certainly wasn't silk. The tag said it is polyester. It seemed to be a thicker weave than the polyester used in my other Escante corset. The boning is plastic, and doesn't give the most incredible support ever, but it worked enough to make me happy.
Last time I ordered from Escante, I got a 34. After realizing that most of their pieces don't have modesty panels, I decided to get a 36 with this one.
My measurements are:
34 inches at the fullest part of my bust
31 inches underneath my bust
29 inches at my natural waist
37 inches at the fullest part of my hips
Escante size chart: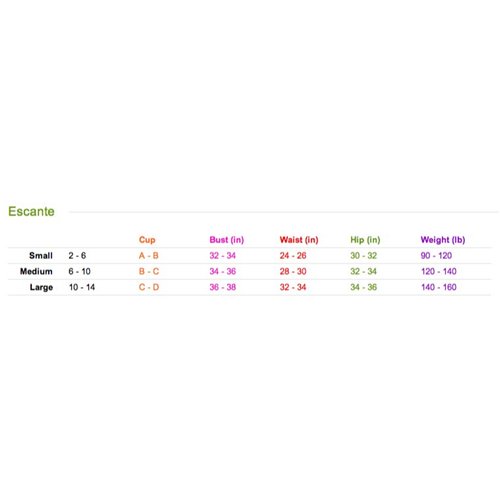 The 36 fit me much better. I realize that corsets aren't really known for being comfortable, but the 34 was a bit too tight, and showed too much in the back for my liking. The 36 fit more comfortably, making it a piece that I could actually wear on date night without wanting to rip it off halfway through the night simply so I could breath.
One thing I really liked about it was the zipper in the front. It was way more convenient than the ones that have zippers on the side, or no zippers at all.
The back looks similar to the other Escante corset I reviewed. No modesty panel, shoelace type ties (which I don't actually mind... they don't look that bad, and they actually stay tied, as opposed to a fancy ribbon or something), and the rings seem a little cheap. It probably won't last forever, but I'm sure I'll get some good use out of it. The bottom of the corset has cute little ruffles on it.
Hand washing in cold water is recommended. No bleach, wringing, ironing, or dry cleaning.
Summary: With this being my second Escante corset, and the quality being fairly consistant, I feel like I can say that I would buy another corset from Escante, but I wouldn't buy if I was looking for a quality piece that was going to last a long time, or actually form my body. I would buy for a halloween costume, or for date night, or something like that. It's a great beginners corset, but nothing to gawk at for the corset expert, unless you are broke and need a fix.
Follow-up commentary
5 months after original review
I haven't really worn this a lot since I got it, but it's mainly because I have so many corsets, and this one is just plain black. I still love it though, and the times I have worn it, I've gotten lots of compliments! And it doesn't seem like it's worn or anything like that. It's still in really great condition!
This product was provided free of charge to the reviewer. This review is in compliance with the FTC guidelines.
Thank you for viewing
Jazzy satin corset
review page!