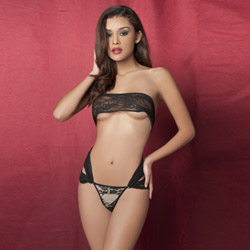 Tres Sexy teddy, g-string and mask
Teddy by Oh La La Cheri
Complex, But Definitely Sexy!
I bought this set purely out of curiosity, and I was pleasantly surprised by how sexy it is. This is a very creative piece of lingerie, being that it can be worn in multiple ways. It is a little difficult to put on, but once you get it on? Your lovers jaw will certainly drop when they see how sexy you look.
Published:
Pros:
Can be worn many different ways, A creative piece of lingerie, Decent quality, Comfortable
Cons:
Hand wash only, Wrap is a little long, G-string won't fit everyone, Difficult to put on
The product page currently lists this as a teddy, but that's not exactly accurate. This isn't a teddy, it's a wrap that can be worn multiple ways.

That said, let's move on. I purchased this because of curiosity. I wasn't expecting it to work for my body type, nor was I expecting it to be something I'd find sexy. Despite all of this, I was so curious about this piece that I couldn't resist. In the end, I'm glad that I couldn't resist, though this certainly isn't one of my favorite lingerie pieces.

Basics:
This set is made by Oh La La Cheri, and it includes three pieces. The three pieces are the black lace "wrap", the g-string, and the mask/blindfold.

The g-string can be worn with or without the wrap. The wrap itself can be worn in many different ways, so this is definitely a great choice for creative individuals. That being said, if you're someone that gets frustrated easily, you'll want to pass on this. This is because the wrap can be a real pain to get on right.

Material & Care:
The tag on the g-string states that the set is made out of 94% Polyamide and 6% Spandex.

There's really not a lot of material to deal with here. The entire set, including the little triangle on the g-string, is made out of a beautiful floral lace. Being lace, the entire set is see-through.

The lace feels slightly rough, though it doesn't irritate my sensitive skin. The edging on the lace is completely sewn, so you shouldn't have to worry about it fraying or unraveling.

As for stretch? The lace does stretch a great deal lengthwise. There is some stretch width-wise as well, but that stretch is very limited.

I want to note here that the material color on the g-string is different in person than it is on the product page. The product page makes the g-string appear to have a light color behind the lace, but really the g-string is just black lace.

To care for this set, you should hand wash it in cold water, and then allow it to line dry. You also shouldn't use bleach. Personally, I have chosen to stick with those washing instructions, simply as I worry about the little charm on the g-string falling off in the wash. Also, there's not a lot to this set, so it doesn't take long to hand wash and line dry.

Sizing:
This set is currently only available in one size fits most (at least on Edenfantasys.com). The packaging doesn't provide a lot of information on sizing, but it does state that this should fit anyone that weighs between 90 and 160lbs.

I think that weight is a terrible way of sizing outfits, so perhaps my own measurements will help. I wear a 34d bra, have a 32" waist, and my hips measure 40". The g-string does fit me, but it doesn't provide a lot of coverage. It also cuts into my hips quite a bit. For that reason, I wouldn't recommend this for anyone with larger hips than me.

The waist and breast measurements aren't really all that important, seeing as the wrap portion of this babydoll is completely adjustable.

As the only measurements that really matter are the g-strings, I took some measurements with the garment laying flat.

Waistband: 13.5" (unstretched), 20 (stretched to the maximum)
Triangle: 8" (up each side), 5.5" (across the top)
Pantyliner: 3" (long), 2" (at widest point)
Experience
Design:
Okay, let's begin with the blindfold. The blind fold is just a strip of lace. It's long enough that it'll easily fit around anyone's head, and it's wide enough that it'll certainly cover your eyes. That being said, it's lace, so you can see through it -- not really effective as a blindfold. If you fold it a few times (width wise), it works okay as a blindfold, though it doesn't look very pretty that way. Personally, I prefer to use the blindfold as a light restraint for my wrists during play.

Now, the g-string. The g-string is your basic g-string. It's a little triangle in the front, and then the elastic straps. The g-string does not provide much coverage, but it's a g-string so you can't really expect it to provide coverage. The g-string does feature a cotton pantyliner, making it suitable for everyday use. That being said, the g-string also features a little charm. The charm is a clear gem that's pretty large in size. The gem could make it difficult to wear the g-string underneath tight fitting clothing.

The g-string also features two little plastic rings. The wrap is meant to slide through both of those rings, connecting the g-string and the wrap together.

Finally, we have the wrap itself. The ends of the wrap come to a point, making it easy to slide the wrap through the small rings.

The wrap can be worn in many different ways, and it would be impossible for me to detail all the ways that you can wear it here. My favorite way to wear it is like it's pictured on the model, with it crisscrossing in the back, and laying flat across the chest, but it can be worn a number of different ways as well.

Getting the wrap on is difficult, and time-consuming. If you have the time, it's worth playing around with, as it's certainly very sexy. It should be said that it's also difficult to get the wrap to stay put. I had to tie it very, very tightly in order to get it to stay in place, and even then, it nearly slipped. Thankfully this isn't a piece I'd ever wear in public, so it's not a huge deal if it slips.

As for bust support? I think it kind of goes without saying that this thin lace wrap offers no bust support at all.

An issue that I had with the wrap was the length. The wrap is VERY long. I'm not petite, but even I found myself having to wrap this around me many times in order to take care of the loose fabric.


Packaging:
This came packaged in your basic cardboard envelop. The envelope is not really discreet as it does feature photographs of the model on both the front and back. The outside of the packaging lists minimal information, but the inside of the package does contain an insert that provides diagrams of 5 possible ways to wear the wrap. Sadly, however, the diagrams aren't really helpful at all, so you're pretty much on your own.

Quality:
The quality of this set is okay, though you shouldn't expect top quality. The lace feels durable, but I wish it was slightly softer.
Follow-up commentary
9 months after original review
I have actually started liking this piece a bit more. The g-string and mask don't get a lot of use, but the "teddy" (which is basically just a long strip of lace) has gotten tons of use. It's so versatile, which is fantastic.
This product was provided at a discounted price in exchange for an unbiased review. This review is in compliance with the FTC guidelines.

Thank you for viewing
Tres Sexy teddy, g-string and mask
review page!