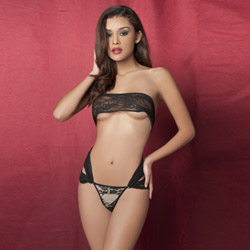 Tres Sexy teddy, g-string and mask
Teddy by Oh La La Cheri
Lace with the leather missing
If you love lace and the way it feels this is definitely a good product to buy as it feels soft and doesn't scratch the skin. The g-string is comfortable to wear and the pear-shaped diamond attached to the front is securely fastened. If you take the time to figure out how to wear the wrap then it's a good asset to the lingerie drawer. You can use it for soft bondage too as the lace is of good quality and doesn't cut the skin.
Published:
Pros:
Lace is of good quality
G-string can be worn separately
Can be used for more than just a wrap
Cons:
Instruction card on ways to use the wrap is confusing
I am not usually at a loss for words, but with this item I have had a hard time getting my thoughts onto digital paper. Does this mean that the sexy teddy, g-string and mask by OH LA LA CHERI is so awesome that it took my breath away? Not so much.

I had set up a hot date night with my boyfriend, sending him erotic text messages, a close up of part of the teddy so all he could see was black lace and another image of his favorite champagne. Although I had opened the box in which the teddy is presented, I had not yet tried it on. The box itself is very pretty, shaped like a rectangular diamond. High gloss black and red cardboard, with a pretty image of a woman wearing the teddy. I find it perfect as a gift.

The wrap, as it's not really a teddy at all, is basically one very long piece of stretchy lace, one short piece of stretchy lace and one g-string which is made of the same lace with a pear shaped diamond attached to the front of it. The gift box also contains an instruction card showing you five different ways to wear the wrap. The lace is soft and of good quality. I know because I tested it by pulling it hard in different directions and it didn't tear or lose it's shape. It would be a shame to buy it and then in the midst of a steamy sex session have it rip. Unless of course, that gets you even more horny, in which case, you or your partner would have to pull really hard!

The g-string has two mini plastic rings attached, one on each side of it, where you can loop the lace through to make different designs. The g-string can be worn by itself too, making it a good addition to my g-strings drawer. Still, either I am living up to the saying that blonde's have only one brain cell or the drawings on the card are not clear. I had a challenging time figuring out how to wrap the lace around my body to achieve the end result the card showed. Definitely not something to try to figure out after having had a few drinks unless your partner thinks being clumsy is sexy too.

I gave up on the instruction card drawings and tried to follow the picture on the front of the box. It worked after a few tries but only if I didn't move. By not moving I mean if you walk towards your partner swaying your hips trying to look sexy, then the lace falls down from your boobs and you are left with a g-string and a couple of meters of lace hanging around it. Instead of my boyfriend getting even more aroused by the sight of me in a sexy outfit, he just looked at me blankly before his smile turned into laughter due to the embarrassed look I had. I can understand that the size fits all, but for me the long piece is just too long. I had to wrap it around myself too often so I wouldn't trip over it and literally got caught up in it trying to take it off.

It does however make a good bondage piece if you are into soft S&M, all that is missing is some leather to go along with it.

For me, the end verdict is that I don't regret getting it,I am going to figure out the other ways to wear the wrap and I do like it, but a better instruction card would have been nice.
This product was provided free of charge to the reviewer. This review is in compliance with the FTC guidelines.

Thank you for viewing
Tres Sexy teddy, g-string and mask
review page!