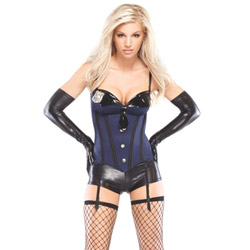 Cop bustier
Costume
by Coquette
Consider this only if you have implants and a better badge!
Buyers beware: Illusionary photography and modeling have done it again. Unless you stand just right with fake boobs for a photoshoot, you're going to be disappointed by this set. Don't even waste your time.
Published:
Pros:
I have extra garter and bra straps now.
Cons:
CHEAP! No support! Too stretchy! Deceiving!
Overeview
This cop bustier is one of many Coquette costumes that EdenFantasys recently released. It comes with the bustier that features
no underwire
, which is a problem if you want to wear this strapless and you're quite top-heavy. There are only two pieces of plastic boning in the front, which tells me they serve little purpose. It could be a great bedroom piece, and could possibly work at a costume party if you had support and nice bottoms to go with them, like wet look
booty shorts
,
capris
, or the
pants with zipper
that Eden offers.
The bustier does not come with stockings, boyshorts, or gloves. It's just the bustier. There are also a few accessories attached to the bustier: A wetlook "collar" and "tie" are sewn to the top of the bustier. There are three buttons that are also just skeuomorphs and serve no functional purpose. The badge is a flimsy piece of foil that broke off of the pin before I even finished putting the bustier on. Come to think of it, this entire costume is a cheap skeuomorph.
Vocabulary lesson: a skeuomorph is something that mimics another design that once had a purpose. The function has been made obsolete via technology most of the time. Examples of skeuomorphs include analog clock widgets, turning pages on an eReader, and the floppy disc save icon. You learn something new every day!
Here's a crappy webcam pic to go along with the crappy quality of this piece (note that I'm holding up the crappy badge that fell off):
I've run across a few lingerie pieces that were made to look supportive but did not actually do so. One corset was nothing more than a stretchy piece of thin fabric with some super flexible boning in it. This bustier really disappointed me, but it's my own fault for not noticing that it said no underwire. Live and learn!
Sizing
According to Coquette's sizing chart, a large would fit these requirements:
Dress size: 12 - 14
Cup size: C
Bust: 38 - 40 inches
Waist: 30 - 32 inches
Hips: 40 - 42
Here are my dimensions in comparison:
Dress size: 10
Cup size: D
Bust: 36 inches
Waist: 33 inches
Hips: 40 inches
As you can see, my measurements are all over the place. I would have gotten a medium if it weren't for my cup size, but that is almost always the most important part to size right for me, so I went with a large.
Aside from the lack of support, the sizing was fine for me. It was a bit shorter than I expected (didn't cover my wide 40" hips), but I am convinced that lingerie companies only increase width when making larger sizes!
Material/care
This bustier is a nylon/spandex blend, though the percentage isn't listed. It is soft and thin, and not itchy at all. The bustier is solid dark blue and features two different sets of hooks for the hook and eye closure in the back. It is quite stretch so I'm not even sure the two sets were necessary if you order your size, but it definitely can't hurt. The collar and tie on the top of the bustier is very thin and flimsy. It feels like someone just took a sheet of wet look material and used a cookie cutter and slapped it on the top.
To care for this piece, spot clean or hand wash this only. Line dry. Do not put this in the dryer, as the wet look material on top will most likely melt.
Packaging and storage
The bustier came in a plastic bag with snaps on it. It comes with bra straps and garter straps in separate packages. I highly recommend using the bra straps unless you have implants and don't need any support.
There are loops near the underarms meant for hanging. I recommend not folding or rolling this bustier, as the wet look material might warp or get wrinkled.
Experience
Once again, I was fooled by the model and pose and photography. Damn, they're good at making cheap stuff look buyable! This isn't the first time, and I feel grateful for Eden's review program so people can help others buy quality products.
I wasn't surprised about the bad quality of the accessories. No, not even the foil badge let me down as much as this bustier. I felt everything BUT sexy in this! My boobs were just hanging out, not really sure which way to go, but gravity said, "THE ONLY WAY IS WITH ME, MUAHAHAHAHA!" And so down they went, reluctantly sinking and sagging into the bustier, moping about how unsupported they were.
Sad, unsupported boobies:
Follow-up commentary
6 days after original review
I'm not changing my initial rating of this. I feel cheated and deceived, even though I received this as an assignment. The cheap accessories bummed me out, but the quality of the bustier itself was really disappointing.

I don't know why I thought this would work, but I learned a valuable lesson on checking for underwire even if it looks like I'll be fine. Even though I don't know anyone who would want this, I won't be keeping this. To me, it's just a waste of space.
This product was provided free of charge to the reviewer. This review is in compliance with the FTC guidelines.

Thank you for viewing
Cop bustier
– costume review page!