Convenient, versatile and totally twirl-worthy.
This flattering, stylish and convenient everyday dress that feels comfortable enough to sleep in. Ordering up a size will be flowier, but not too baggy while the small will accommodate a few inches larger than my measurements. It's perfect for dressy occasions or when you just want to twirl!
Published:
Pros:
Perfect length.
Simple.
Flattering.
Goes with everything.
Cons:
So thin that it may not withstand a lot of wear.
Pricey for what it is.

Slightly see-through.
For a girl who usually goes for a more bold style dress or something with a lot of bright color, this was surprisingly perfect for me. The simple black dress is great for almost any occasion -- and works with about any shoes -- since it isn't too revealing, but still super flattering with stylish design/cut. The dress has tank top style straps, which means it doesn't require a strapless bra. It features a V-neck and back (shown above) as well as ties on each side of the dress, that when brought together, tie under the bust. Once tied, the bow will hang on the left side. Then you have basically a wrap dress, but the piece of fabric you'll see in my photos keeps it from revealing your front when the wind blows or you shift a certain way.
The way you put the dress on is unique. When I first opened it and held it up, I almost had a fit seeing that it looked extremely wide. However, once you wrap the right piece around you and tie, it's fitting. I was thinking "this will slide right off me" at first, so I've included some photos in hopes of making it understandable.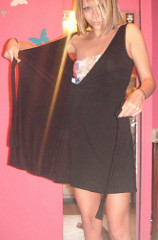 As you see, before you wrap the right side and tie in a bow, you have one breast exposed, hence the reason I wore a bandeau for photos. The wrap piece will cover the left side of the chest when tied. These allow plenty of room to tighten down to small or extra small size as well as loosen up to several inches for more room. I have a nice bit of room left, which is nice since it allows me to wear this on bloated days without feeling too snug. You can even wear any colorful bandeau underneath to peek out and to give more coverage for work or an occasion where it'd be appropriate to do so. This isn't any more revealing than your typical sun dress and it never shows too much chest, so it's fine as is.
Dress' Measurements
Length: 30 1/2"
Bust: 13" wide.
Waist 14" wide.
Hip: 16" wide
Hem: 17" wide
10" long from top of tank sleeve to v-neck.
Tank straps: 1 1/2" wide.
14" long from V-neck in back to hem.
Underbust tie on right side of dress is 1" wide and 19" long, left side tie is 27" long left tie.
There are 2 ribbon loops for hanging, but they aren't necessary since the tank straps hold it on the hanger.
My Measurements
Bust: Right: between a B and C cup. Left: 34B
Jean/shorts/size: Zero
Weight: 93lbs
Height: 5 2"
Waist: 26" Lower waist. Where I'm a bit wider, the love handle area: 29"
Since I'm petite, only barely 5 2" this dress is a perfect length and fit for me. It hits 3" above my knee. I can bend, sit and get out of a truck without the issue of exposing myself. It's even lengthy enough to chase around a 2-7 year old nieces & nephews in without falling out or revealing myself.
The chest will fit around a C cup, but really large chests will spill over. If you're hesitant about it, and want more room, the dress will work a size larger than your normal size, since instead of being baggy, it'll just be flowier.
The lightweight and bouncy material makes this one of the most comfortable dresses. It's comfortable enough to wear to bed. The sheerness of the thin material makes it slightly see-through, but not near as bad as other dresses like the Rhinestone Dress. You can see colored or white underwear under this and in light you can see the space bewtween my legs, but I've not been able to see the actual outline of my crack or cooter, so a pair of black boyshorts worked fine. You can see panty lines though, so the last time I wore the dress, I paired it with a mesh pink, purple and cheetah print thong and wasn't able to see them through it. So it seems colored mesh underwear aren't noticeable.
Made in Colombia.
Packaging The dress came packaged in the typical paper box that you see with a lot of Espiral and Baci lingerie. It's not useful and has the product page photos on it. Inside the dress is in a plastic bag with a hanger attached to the bag. The box doesn't resemble a regular store-bought dress' box, so I recommend taking the dress out and gifting it in the plastic or alone in a pretty box. However, it does make a nice gift for a girl who enjoys summer dresses. I bought the similar Classy Dress for my mom last summer and she loved it.
Experience
Material & Washing instructions: 94% Rayon, 6% Elastane.
Handwash, no chlorine, no iron, hang to dry, wash separely colors may bleed.

One thing about the tie straps is since the fabric is so lightweight and a tiny delicate due to the sheerness, the ties feel like if tied too tightly to where they're pulling, they could come unstitched. However, going over the stitches once or twice will add more

The size chart says the small will fit a 34" bust, 25" waist and 34" hip. It'll definitely fit up to a medium size. I have to tighten the underbust ties as tight as they'll go, and this dress outlines my curves, but doesn't cling at all. However, the wider you are at the hip, the more the dress will open, but the fabric that covers underneath should suffice.

The convenience and flattering qualities of this dress make it versatile. It's exactly the kind of dress I go for and the bouncy material gave me the urge to twirl. It's easy and one of those dresses you can slip on and automatically look nice. It's acceptable for wearing to even special occasions. Since it's simply with no color, it can be paired with colorful jewelry and almost any shoes. I like it with my zebra print heels, and ladies, you can even wear this with Zombie Stompers! I have some in green and black and it went wonderfully with this.

And for less special occasions, you can even pair this with some pretty flip-flops. I've been wearing it with a pair of pink strapped zebra print flip-flops with large rhinestones on the straps -- looks lovely together! You could even go with black flip flops.

I also love that this isn't clingy, so it's suitable for even those days when I feel like nothing looks nice due to being bloated and crappy. This is pretty much perfect and I couldn't imagine it not looking lovely on any size as long as you order the right size.

While I feel like the dress slightly highlights my curves -- also known as love handles -- I don't think it's unflattering at all. Ordering a size up if you're near the end of the size chart will definitely give you more bounce and flowyness.

*The inside itchy tag can be cut without damaging the dress.*
This content is the opinion of the submitting contributor and is not endorsed by EdenFantasys.com

Thank you for viewing
Black elegant dress
– mini dress review page!