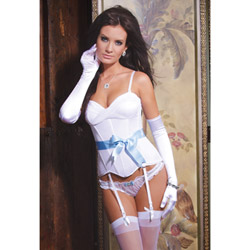 Satin bow corset
Corset by Coquette
Coquette: Why, why, why? What have I done to you?
Coquette has come up with another satin coset/bustier with boning, small cups and lots of stretch. This time it is white with a light blue ribbon sash. Change the color and details and repeat this review as needed. Coquette repeats their design so we can repeat our reviews. How easy.
Published:
Pros:
inexpensive
pretty
removeable straps and garters
Cons:
design not creative
hand washable
small cups
no breast support
Dear Coquette:

Today we received your "Satin and Bow" corset from our favorite store, EdenFantasys. The white corset, with a 2" wide light blue satin ribbon, came hanging on your standard (but lovely and high quality) padded hanger with 2 nails so the lingerie does not fall from the hanger (nice touch). However, like the hanger, this corset is pretty much the same as all of your corsets. Why? Why? Why can't you be more creative?

This corset, as other Coquette corsets we have, is 75% nylon and 25% spandex. You describe it as a "sheer powernet" bustier, but isn't that how you describe most, if not all, of your corsets and bustiers? Is this a corset or a bustier? You seem confused because in your literature you use both terms in reference to this item. There is no lacing, so for review purposes I will assume you consider this a bustier.

It is neither sheer not powerful (in the sense that it will pull you in). It is a shiny white, very stretch satin in appearance fabric. There are 6 plastic vertical bones evenly spaced around with a hook/eye closure in the center back. This is a variant of your designs--some have the closure in the center front and some in the center back. You like to keep us guessing.

This bustier, and the others, have a sponge like padding in the cups. The design of the front top is a wavy V. The cups, at least in the large size, will not accomodate breasts larger than a B cup. Lucky for me, the Mrs. is a nice solid D, so I get quite an eyeful when she models this for me. She, on the other hand, finds it pretty darn uncomfortable. There is no underwire for support and her voluptuous D's tend to pull the front of the bustier down, giving the unwanted illusion of a sagging bust. Why Coquette, why do this to me?

The bottom of the front is scalloped to be a mirror image of the top and reaches to the navel (at its lowest point). Like other corsets/bustiers of yours, this edge is finished off very plainy. Oh, you try to disquise the design by adding ruffles, bows, ruching, dots and/or lace to some of your lingerie, but we are not going to fall for that. We are too smart and see through your tactics. And don't think you are fooling us with some having front closures and some having back closures either. We are on to you.

And while I am at it, you may want to address this boning issue. Why do they bend in some places and bow out in others? Why does the Mrs. always (including this time) remove the front side bones because they dig in at the top? Why not use stronger boning and more padding? Or, better yet, why not fashion it so the bones are removable for washing? That way we would not need to hand wash and lay this flat to dry? Move into the 21st century. We have washing machines and electric dryers now.

Oh, Coquette, please don't think we are ungrateful. We love that on all your garments the straps and garters are easily removeable and adjustable. I love seeing the Mrs wearing stockings and garters. Kind of reminds me when whe was my young bride. She's still young, but after so many years I don't think I can still call her my bride. What do you think?

So, Coquette, let me leave you with a few more of our thoughts. The material you use is very stretchy and after several wearings/washing it seems to snag and pucker. It is more obvious on this white than on a blue with lacey overlay, but the fabric is the same. Be more generous with your cup sizes and consider some supporting underwire. And get crazy at that design board. You can only disquise meat with gravy for so long until we realize it is the same meat with different gravy.

With warmest regards, we look forward to hearing from you,

Oldman and the Mrs.
Experience
We like this white bustier without the blue ribbon. It looks nice in the picture, but in person it just looks awkward and like something you added yourself at the last minute to make it look different than all the other peices of lingerie in the closet. Coquetts does a nice job of using different colors and prints, but all of their bustiers/corsets are 90% the same. The details vary (lace, ruffles, ruching, dots, stripes, fluff) but the basic item remains the same. We are finding it boring now and would like different patterns to the body of the garment. Maybe we need a "Project Runway: Lingerie Edition".

Coquette does produce quality items but gets low marks in the creativity department.
Follow-up commentary
2 months after original review
You can only look at this for so long before it becomes really boring. When you come down to it, it is just a plain, white stretchy piece of lingerie. This is cut from the same pattern as so many others, it just doesn't have much detail or novelty! On the other hand, if this is for you, it has held up for many washings. It can be worn under a low cut shirt or sweater (so I am told) instead of wearing a tank top underneath if you want more coverage. In my mind, it looks best that way. We are still neutral on this one.
This product was provided free of charge to the reviewer. This review is in compliance with the FTC guidelines.

Thank you for viewing
Satin bow corset
review page!