Covering, Yet Open
I purchased this pair of panties to match other wetlook items that I own. I was happy to find that this matches everything perfectly. I was even more thrilled when I discovered that these panties are as comfortable as they are sexy! I just wish that this pair came in different colors, as I would gladly collect them all!
Published:
Pros:
Affordable, Matches other wetlook items, Provides coverage, Slit is nicely placed, Comfortable
Cons:
Hand wash only, Doesn't come in proper sizes, Only one color available
I've recently fallen in love with Coquette's Darque collection. I've fallen so in love that I've managed to collect several dresses, tops, and skirts -- and I'm still looking for more! The trouble is that Coquette's Darque collection doesn't come with bottoms, so what's a girl to do? Plain black panties just don't seem to look right against the shiny wetlook material... And while going commando is a blast, sometimes you just need to dress up a little.
As I searched for a pair of panties that would match my wetlook items, I stumbled upon this pair. I instantly fell in love. I waited anxiously for a pair to come back in stock, and as soon as they did? I snatched them up in a hurry! I'm so glad that I did, because these panties certainly have a place in my collection!
Basics:
These sexy black crotchless panties are part of Coquette's Darque collection. They match perfectly every other Darque collection item that I've tried (which is a lot). These panties are fantastic -- it's just unfortunate that they're only available in black!
Material & Care:
These panties are made out of 80% Nylon and 20% Spandex.
The fabric is very breathable, flexible, and stretchy -- all of which makes for a very comfortable pair of panties!
The outside of the material has the shiny wetlook to it, and a sleek feel. The inside, on the other hand, is just a matte black. The inside is something like swimsuit material, though it is a bit softer.
These panties should be hand washed only, and then allowed to hang dry.
Sizing:
This pair of panties is available in two different sizes: one size fits most, and XL. I purchased the XL.
A one size fits most XL should fit someone with 42" to 50" hips.
My own hips measure 40", so I am 2" below the size chart. I have a little "junk in the trunk", though, so I was worried that the OS would be too snug. I think that the XL was the right choice for me, as it fits comfortably. I do wish that the waistband was just a bit snugger, but I don't believe that my ass would've fit as nicely into the OS. I also feel like the OS would've probably given me muffin top.
I believe that the XL will fit the entire range of the size chart well, due to how stretchy these panties are.
Design:
This pair of bikini style panties provides coverage while still being open. The front of the panties are full coverage, with a little bow decoration at the top.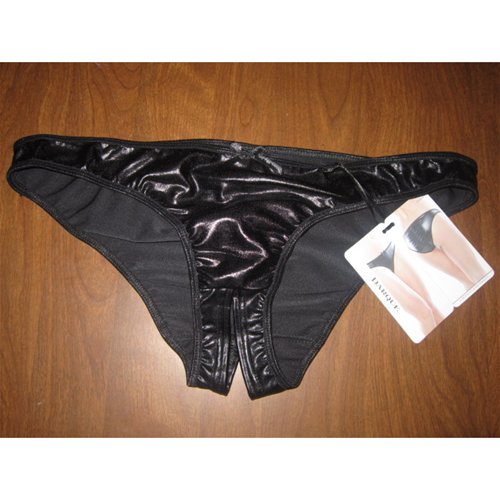 The back of the panties are also full coverage -- though if you have a larger ass, you might find that the lower half of your butt cheeks peek through the bottom of the panties. The back has a seam going down the center of it. The seam is sewn in a way that gives a runched look, which is sure to make any ass look fabulous.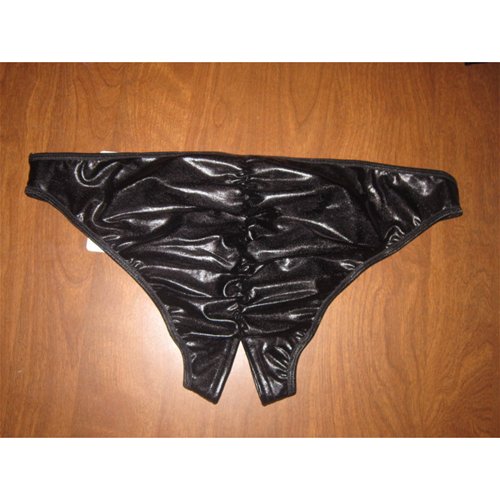 The crotch is, as the name might imply, open. The slit in these panties lines right up with my vaginal opening, which was a pleasant surprise. The slit is also large enough that I would easily have sexual intercourse without having to remove my panties. V
Quality:
For the price, the quality is great. There are a few areas where the seams look a little wonky, but I can't even see those areas unless I get right up close. Even with some of the seams looking a little wonky, the sewing does feel durable.
This product was provided at a discounted price in exchange for an unbiased review. This review is in compliance with the FTC guidelines.

Thank you for viewing
Wetlook crotchless panty
– sexy panties review page!