Cute, But Needs a Little Work!
I really like this chemise by Baci. It's cute and built very well for a low price. The three satin bows and tiny velvety polka dots make this very feminine, but not too busy looking. The mesh fabric has lots of stretch to it and feels soft against skin. While most of this piece can fit a variety of sizes, the underwire cups will only fit a size C cup very well.
Published:
Pros:
cute, price, color choices, feminine, stretchy, good quality
Cons:
underwire cups won't fit a variety of sizes
When I first saw Baci's mesh chemise with bows, I thought it looked cute and I liked the price. However, looking between the product's description and the pictures provided by Baci, I couldn't tell exactly what was going on with the chest. The pictures looked like the chemise had underwire, while the description said nothing about it. I figured it just must be how they made it look, since this piece is OSFM and EdenFantasys didn't say anything about the underwire. I was wrong, unfortunately. I chose the hot pink chemise as an assignment.
This chemise comes wrapped in clear cellophane. There is a hang tag attached to it. The hang tag states material content (90% polyester and 10% spandex) and that this piece is one size. Cleaning instructions state to machine wash warm and tumble dry on low. It should be washed with like colors.
This chemise's construction is very simple. The top is essentially a bra, complete with adjusting shoulder straps and a 2-hook closure in the back. The cups have underwire and feature a tiny pink bow between them. The cups are very lightly padded and are opaque. The tops of them are lined with some netting similar to lace. There is a large cut-out on the back underneath the bra hook closure that ends just above where the wearer's butt would sit. Both the front and the back of the chemise have seams running vertically down them that work to give you a slimmer look. At the bottom of the chemise, there is a slightly ruffled mesh trim with two hot pink bows on the sides. Aside from the cups, the chemise is made of see-through hot pink mesh. The entire piece is covered in tiny darker pink velvet-like polka dots. This matches the product photos almost exactly. If you look at the back photo, the bra back of this has cut outs next to the hooks. The chemise I received does not have cut outs, it has a solid back band like the average bra.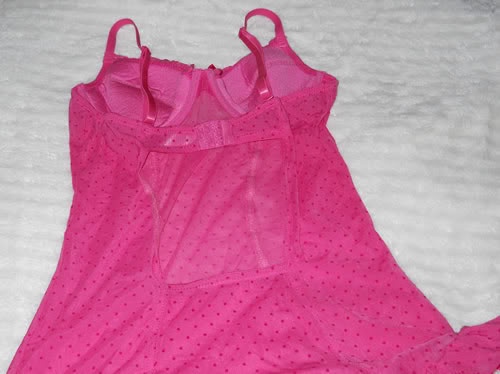 Generally, one size fits most pieces tend to fit small and medium sized bodies. This piece is no exception. It's stretchy enough to comfortably fit medium, possibly smaller large sized bodies, while not looking mega baggy on smaller bodies. Mesh can stretch quite a bit, so the main concern here is the underwire cups.
Unstretched Measurements:
Length: 24 inches from top of cup to bottom of ruffle
Under-bust measurement: 28 inches
Waist: 26 inches
Hips: 32 inches
Height from back opening to bottom ruffle: 11 inches
Back opening: 7 x 5 1/4 inches
Baci's Size Chart:
Dress size: 2 - 14
Cup size: B - C
Bust: 32 - 38
Waist: 24 - 32
Hips: 34 - 40
Weight: 90 - 160 lbs
My Measurements:
Dress size: 5 - 8
Cup size: B
Bust: 32 inches under bust, 34 over
Waist: 27
Hips: 35 inches
Weight: About 140
For the most part, I'm in the middle for Baci's sizing. I think most of this piece fits pretty well. Nothing is tight or straining on me. There is plenty of extra room, too. I'm on the tightest setting for the bra top and that's a bit too big on me. I think the size chart provided by Baci is perfect. I also think that someone with hips or a waist a couple of inches larger than stated could definitely still make this work. The biggest concern is breast size. I'm a smaller 34B and the cups on this were giant on me. The cup size is definitely closer to a C or smaller C. Larger B's might be able to make this work better than me. I really wish they had just done a wireless top for this, that way it could fit a larger variety of sizes.
On me, this piece looks okay. The front seams are a bit slimming for me and the mesh fits very comfortably. It's not too baggy and it's not tight on me, either. Since I don't fully fill out the cups, they look a little odd on me. Length-wise, this falls right below my butt. It doesn't ride up at all, even during sex. Since this doesn't come with panties, I paired it with some
pink lacy panties
. I think any kind of pink panty would work fine. I have a hot pink thong from another set that matches perfectly, too.
Continued..
Experience
I think the construction on this piece is pretty good. I received this in excellent condition, with no frayed ends, loose strings, or unraveling bows. If I gently pull on the fabric, the seams hold strong. I think the chemise itself will definitely make it through the washer and dryer okay, however the little details may not. Bows usually seem to start unraveling on me after a few washes regardless of how high their quality is. I also have some concern for the velvet spots. I have a comforter with designs done in the same velvet-like stuff, and they ended up coming off my comforter after maybe 5 washes. I'd suggest washing it on a hand-wash cycle if your washer has one, if not, I would do an actual hand-wash. Top-loading washing machines with agitators should be avoided. I think the dryer would be okay for this piece.
As far as storage goes, I would hang this up in a closet if I had one available. As it is, I have been storing it in a large chest at the foot of my bed. It hasn't gotten wrinkly or anything from being kind of folded up in there. The packaging is useless for storage and can be recycled.
If you fall within the size chart for Baci, I definitely recommend giving this piece a try. The opaque cups offer great coverage, while the see-through mesh body shows off just a bit of skin. This doesn't ride up at all when it is worn. I like the simple, feminine detailing. The three bows, slight ruffle at the bottom, and lace-like lining on the cups all make this look cute and feminine without going overboard.
**EDIT**
I didn't think this piece came with a thong at first. I was cleaning up a little bit and I found a thong matching it in my lingerie that seems to have come with this chemise. It's a typical cheap-ish thong that has very little material. It's made of the same hot pink mesh with velvety spots. There's a small cotton liner in it. It's sized as one size and measures 24 inches around the waistband, expanding up to 44 inches in the waist.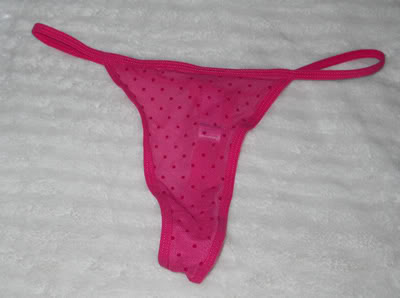 Follow-up commentary
2 months after original review
I still think the chemise is cute. I have been trying some herbal products that naturally increase bust size and have had some success so far. Despite the additional inch to my bust line (which did not effect my cup size), the cups on the chemise are still a bit too baggy on me.

The set is still in excellent shape and still looks the way it did when I took it out of the box.
This product was provided free of charge to the reviewer. This review is in compliance with the FTC guidelines.

Thank you for viewing
Mesh chemise with bows
review page!